ponedjeljak, 16.06.2008.
Black Water (2007)

Crna Voda (2007)

Produkcija: The Australian Film Commission / IndiVision / Territorial Film Developments
Redatelji i scenaristi: David Nerlich i Andrew Traucki

Glume:
Diana Glenn (Grace)
Maeve Dermody (Lee)
Andy Rodoreda (Adam)
Ben Oxenbould (Jim)
Fiona Press (Pat)

Film je izašao u kina 22. veljače, 2008 godine
Trajanje: 90 minuta
Buđet: 700 000$
Službena stranica filma
Nagrade:
Melbourne Underground Film Festival - osvojio nagrade za najbolju režiju i najbolju kameru (John Biggins)


Lee u problemima

SADRŽAJ:
"- Dok su na odmoru u Sjevernom dijelu Australije mlada žena Grace sa svojim suprugom Adamom i svojom mlađom sestrom Lee predloži da svi zajedno odu na turistički obilazak mangrove močvare u području zvanom Blackwater Barry.
Ubrzo pronalaze turističkog vodiča Jima iz agencije Blackwater Barry tour koji će ih provesti kroz močvaru i uz put im priuštiti malo ribolova. U trenutku kad započnu svoj ribolov nešto prevrće njihov mali motorni čamaca, a vodič Jim se više ne pojavljuje na površini. Adam, Lee i Grace se uspiju popeti na visoko drveće mangrova, te ubrzo saznaju da na njih vreba četvreo metarski krokodil.
Bez nade da će ih ubrzo naći spasioci, jer Jim nije javio svojima da odlazi sa novom turom turista, prestrašnei mladi ljudi će morati samo organizirati bijeg iz bezizlazne situacije... No, hoće li im neprijateljski krokodil to dopustiti?"


RECENZIJA:
"- Ovaj film se premijerno pojavio prvi put na Frightfestu u Londonu 23. kolovoza, 2007 godine, pa nema nikakvog govora da je pokrao na bilo koji način film Grega Mcleana "Rogue" (2007) (vidi prošli post).
Doduše oba filma imaju mnogo toga zajedničkog u radnji (turisti u bespuću močvara/rijeke sjevernog dijela Australije) i glavnom negativcu (neprijateljski raspoloženog i uvijek gladnog krokodila), no po svemu drugom filmovi su jako različiti (produkcija i buđet ovdje dolazi u prvi plan).

Film prvjenac dvojca Nerlich / Traucki je mnogo inferiorniji naspram slabašnom Mcleanovom filmu (ali do danas najboljem animal attack filmu što se tiče gignatskih krokodila) i to u par vrlo važnih detalja:
- kao prvo ovo je ultraniskobuđetni i nezavisni film kojeg krasi jako dobra režija i kamera
- najbolji dio u filmu jeste zlokobna atmosfera koja vlada od onog trenutka kad krokodil prevne čamac; jednostavno u svakom kadru koji padne na nemirnu mutnu močvarnu vodu imaš osjećaj da je tu negdje krokodilac (ovaj osjećaj nedostaje kod "Roguea" i to je jedan od glavnih krivaca što je kod mene film tako mlako prošao) i da čeka jedan krivi pokret nesretnih ljudi, pa da ih slasno pojede
- odluka da ne koriste CGI efekte (snimke krkodila su prave i odlično umontirane u scene sa živim glumcima) i da se oslone na sam neugodni ugođaj je bila hrabra i jako dobra ideja; anegdota sa snimanja je da je nakon drugog dana snimanja krokodil uhvatio raljama kameru i cijelu je izgrizao
- film u niti jednoj svojoj dionici ne postaje dosadan unatoč tome što u radnji pratimo samo 3 glumca na krošnjama grana, a krkodila vrlo rijetko viđamo


Lee će ućiniti sve za opstanak sebe i svojih bližnjih...


A ako je vjerovati priči da je film rađen prema istinitim događajima to dodaje na snazi samome filmu. Glumci su jako dobro odradili svoj dio posla (mlada Maeve Dermody dokazuje potencijal nove mlade glumačke nade).
Uglavnom ovo je odličan, napet film i jedan od najboljih filmova o napadu životinja na čovjeka. Ako volite filmove u kojima glavnu ulogu igra krokodil/aligator ovo je definitivno vaš prvi izbor, a ako se dvoumite između Mcleanovog filma i filma dvojca Nerlich / Traucki preporučam ovaj potonji, jer je mnogo zreliji i napetiji (istinu za volju "Black Water" je pojeo u svim jačim segmentima "Roguea")...

THE SCENA:
- pri kraju film ima dosta odličnih scena ali izdvajam ove dvije: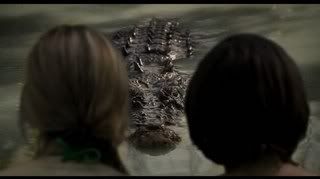 Lee i Grace oči u oči sa četverometarskim krokodilcem..


Lee trči kroz močvaru dok krokodilac lagano pliva prema njoj, jer zna da mu plijen neće pobijeći


p.s. - zaboravih napomenuti da su redatelji filma npravili od krokodila jednog pravog pravcatog negativca od kojeg zablenete od jeze kad su pojavi onako sa predatorsko mudrim očima i sa nevjerojatno samouvjerenom mirnoćom (i uvijek se pojavi kad treba i djeluje bez zajebancije)...a on samo brani svoj teritorij od uljeza (Grace i njezini)