utorak, 10.06.2008.
Rogue (2007)

Rogue (2007)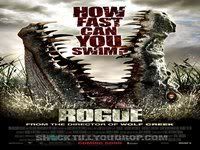 Produkcija: Dimension Films / Emu Creek Pictures / Roadshow Films / Village Roadshow Pictures
Redatelj i scenarist: Greg McLean

Glume:
Michael Vartan (Pete McKell)....................Radha Mitchell (Kate Ryan)
Stephen Curry (Simon).............................John Jarratt (Russell)
Heather Mitchell (Elizabeth)......................Mia Wasikowska (Sherry)
Sam Worthington (Neil)............................Robert Taylor (Everett Kennedy)

Film je izašao u kina 08. listopada, 2007 godine (Australija)
Trajanje: 93 minute
Buđet: 26,9 miliona AU$
Zarada: 2,140 000 AU$
Nagrade:
2007 godina - osvojio nagradu AFI 8najbolji specijalni efekti) i nominiran za nagradu Awgie u konkurenciji najoriginalnijeg filma
Site filma i foršpan: Rogue(2007)

SADRŽAJ:
"- Pisac putopisnih reportaža Pete McKell pridružuje se skupini turista u obilasku jedne od rijeka u divljini sjevera Australije. Vođa puta i ujedno turistički vodič Kate Ryan putem objašnjava način djelovanja cijelokupnog ekosustava flore i faune, a kad im se svima učini da su u daljini ugledali ono što bi moglo biti signalna raketa lijepa će Kate otići provjeriti i ponuditi pomoć ljudima ako su u nevolji.
No, putem bivaju napadnuti od nastrljivog i lukavog krokodila gigantskih razmjera. Kate i Pete sa ostalim turistima zaglave na malom otočiću, dok oko njih u rijeci kruži gladan krokodil. Noć se bliži, kao i dolazak plime, a ogromni gmaz uzima svoje prve žrtve... Hoće li tko od nasukanih ostati živ do prvih zraka zore ili će se krokodil uspijeti dočepati svih nesretnika?"


Odlazak u ljepote prirode i u jazbinu 8-metarskog krokodila...

RECENZIJA:
"- Greg McLean je iznenadio sve nas horor ljubce sa svojim remek djelom i prvjencem "Wolf Creek" (2005) da je većina (tu se i ja ubrajam) sa nestrpljenjem očekivala njegov novi uradak.
Kad se saznalo da mu je sljedeći film o gigantskom krokodilu koji terorizira turiste u nekoj pripizdini Australije, euforija je mogla početi. No, kako biva komplikacije uvijek dočekaju filmske projekte koji obećavaju.
Izgleda da je od samog početka film imao problema sa produkcijom, te sa svojom premijerom zbog filma sa sličnom tematikom (nesretni "Primeval" (2007)), pa je stalno odgađana i odgađana.
Kako se čini po gore predloženim problemima to je jako utjecalo na film (ovo je samo dio problema), jer mu je krajnji ishod njegova anemičnost.

Film odlično započinje, gdje u prvom planu do izražaja dolazi fotografija snimatelja Willa Gibsona. Polako se upoznajemo sa likovima - simpatični Michael Vartan kao Pete i slatka Radha Mitchell koju poznajemo iz filma "Silent Hill" "Wolf Creeka".
Ostali glumci odrađuju svoj posao korektno, ali sve iznad toga je ništa posebno. Problem nastaje kad se 8 metarski krokodil napokon pojavi. Od tada film kreće nekom drugačijom rutom i postaje razvodnjen, pati od nedostatka napetih prizora, likovi nisu razrađeni do kraja (iako je početak nagovještao dobru krakterizaciju), a sama pojava nemani ne oduzima dah (osim u THE SCENI....pogledaj dolje za opširnije objašnjenje), pa unatoč tome što je ekipa zadužena za specijalne efekte jako jako dobro obavila posao. Kako je film odmicao osjećao sam se prevarenim i nadasve razočaranim, jer nisam uživao gledajući film.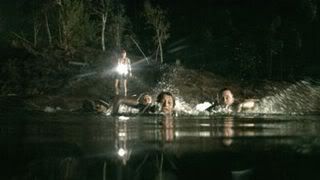 Plivajte nesretnici....nema vam tu Johnnya Weissmullera da vam pomogne

Izgleda da je najveća negativna točka ovog animal attack filma i još jednog filma o ubojitom krokodilu bio upravo scenarij, koji nije razrađen na valjan način (Greg što ti bi ??!?), jer obiluje nekim scenarističkim rupama koje nisam mogao podnijeti dok sam ga gledao.
Pri kraju filma (SPOILER!!! u nastavku) kad krokodilčina zgrabi svojim raljama Kate za nogu i odvuče je u mutnu vodu ja sam mislio ode ona nebu pod oblake, ali ne ona na kraju ostane živa sa minornim ozljedama (a kad ju je krokodil zgrabio okrenuo se u namjeri da otrgne nogu...baš kako to čine krokodili kad žele komad mesa pojesti).
Kad znamo da krokodil ima ugriz od 1500kg/cm2 (5000 psi) i da je kasnije dok je proganjao Petea kidao raljama stalagmite (ili nešto slično tome) u svojoj jazbini dolazimo do očite nebuloze u scenariju. Ali najveća scenaristička nebuloza je kraj filma i način na koji je Pete ubio krokodilčinu...scena graniči s glupošću.
Kada se sve zbroji ovo jeste jedan od rijetko dobrih krokodil / aligator filmova kao što su "Lake Placid" (1999) ili "Aligator" (1980), no ako težite nečemu boljem i dinamičnijem sa mnogo napetih scena onda vam je bolje gledati još jedan australski animal attack film "Black Water" (2007) , koji ima istu radnju no mnogo bolju izvedbu...ali o njemu ćemo u sljedećem postu koji se tiče filmske recenzije...
Dakle, da ponovimo....film nije sranje poput "Crocodile" (2000) ili "Krocodylus" (2000), ali nije i nova verzija Spilbergovih "Ralja" (1975) kako mu tepaju neki australski kritičari... Pogledati i zaboraviti.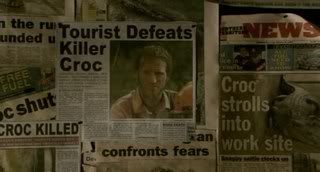 Kraj filma...


THE SCENA:
- kad prijo kaže "I am sorry... I am sorry..." i taman misliš sve je okej svi su se izvukli, a krokodilčina (prvi put vidiš kolika je on zapravo mrcina od životinje) izleti iz rijeke, dohvati raljama tipa i onda ga uz dva tri krc-krc baci iza sebe i okrene se te ga lagano povuče pod vodu....efektno i odlično napravljeno.... sa besprijekorno napravljenim specijalnim efektima. Možda i jeste kratko trajalo, ali je definitivno najbolji dio filma...


Krokodilac grabi nesretnika....