ponedjeljak, 19.05.2008.
The Gate (1987)

Vrata (1987)

Produkcija: Alliance Entertainment / Gate Productions / New Century Entertainment Corporation / The Vista Org. Ltd.
Redatelj: Tibor Takács

Glume:
Stephen Dorff...........Glen
Christa Denton.........Al
Louis Tripp...............Terrence 'Terry' Chandler
Kelly Rowan.............Lori Lee
Jennifer Irwin............Linda Lee

Film je izašao u kina 15. svibnja, 1987 godine
Trajanje: 85 minuta
Zarada: 13,540,000$
Nagrade:
1988 godina - nominran za nagradu Saturn (Stephen Dorff u kategoriji najboljeg mladog glumca) i nagradu Young Artist Award u kategoriji najboljeg mladog glumca u horor filmu (isto Dorff); osvojio nagradu Golden Reel Award (producenti Andras Hamori i John Kemeny) i Young Artist Award za najbolju mladu glumicu u horor filmu (Christa Denton)
Foršpan filma - The Gate (1987)


Alexandra i Glen

SADRŽAJ:
"- Dječaku Glenu i njegovoj starijoj sestri Alexandri roditelji odlaze na put tijekom vikenda i ostavljaju ih same. U istom tom trenutku dječak sa svojim pomalo čudnim prijateljem metalcem Terryem otkrije duboku rupu u zemlji koja je ostala nakon što su radnici isjekli jedno veliko staro stablo. Čistim spletom slučajnih događaja njih dva otvaraju prolaz iz kojeg bi trebali izaći bogovi demoni iz drevnih vremena, no za završni dio rituala koji im to omogućuje trebaju dvije krvne žrtve. Mnogobrojni gnomi, sluge drevnih bogova demona, odlaze u potragu, a prvi koji bi mogli nastradati jesu upravo Glen i njegovi prijatelji. Kad uspiju oteti Al i Terrya Glenu ne ostaje drugi izbor nego da ih pokuša vratit tako da zauvijek zatvori prolaz. Ali, hoće li malašni Glen uspijeti u svom naumu ili će drevni bogovi demoni uspijeti izaći iz svoje dimenzije i zavladati cijelim svijetom....?"


Angus (pas u gornjem desnom kutu) ima 97 godina kad se pseće godine pretvore u ljudske...a o tome Glen stalno priča kroz cijeli film (kako sam kaže: "- Angusu nije lako kad ima 97 godina." )

RECENZIJA:
"- Tamo negdje početkom 1990 godine sam stalno viđao u videoteci ovaj film sa tad jako glupavim plakatom (danas gledajući plakat je jako dobar) i nisam se mogao natjerati da ga uzmem. Dosta filmova nisam gledao baš zato jer su imali glupi omot. Kad sam prvi put pogledao ovaj film prije par dana ostao sam paf, jer tak sada vidim kakav sam biser 80-tih propustio.

Sam film je slabija mješavina filmova "Poltergeist" (1982) i "The Goonies" (1985), a ja sam sam ga okarakterizirao kao pravi dječiji horor film. Isto tako se film mogao shvatiti kao uvod u prvi pravi dječiji horor film "Monster Squad" koji je izašao tri mjeseca poslije.
Iako se o glumi da pričati (ja sam mogu reći da uopće nije loša ili iritirajuća....štoviše meni se stvarno dopala), pa tako i o samoj režiji (koja je jako dobra), ja bih rekao da su najveći plus filma jeziva atmosfera (na onaj spiritisitčki način) koja naglašava da će se nešto dogoditi i odlično napravljeni specijalni efekti napravljeni na stari dobri način ala Harry Harryhausen (stop-motion animacija), koji izgledaju bolje nego današnji neki CGI efekti višebuđetnih teen horora. Odlično napravljeni monsteri i montaža u sekvencama kad se stapaju efekti sa živim glumcima (posebno se to ističe na kraju filma).
Ima tu i par stvarno jezivih i BU elemenata (npr. prst u oko, pojava zombija, smrt psa, Tata: "- You've... been... BAD!" scena) što pospješiva muzika koja se jako uklapa u te djelove. Na početku je malo film usporen, ali to se može prišiti tome da se polako malo upoznamo sa likovima, ali i da se naglasi nadolazak zla, a onda u drugom dijelu filma kreće nered i obračun Glena protiv demonskih bića. Ne mogu se odati dojmu da su scenaristi izvukli inspiraciju iz djela H. P. Lovecrafta....


Terry vs. Gnom u podzemnom svijetu...

Moram spomenuti da Glena glumi Stephen Dorff (Deacon Frost u prvom "Bladeu") kojem je to bila prva velika uloga. Film je bio veliki hit u Kanadi i to mu je omogućilo da dobije nastavak "The Gate 2: Trespassers (1992)", a naveliko se šuška i o nastavku imena "The Gate - 20 Years Later" koji se odmah nastavlja na original (zanemarijući dvojku iz 92').
Film propagira obiteljske vrijednosti (odnos sestra brat) i odanosti među prijateljima (Glen i Terry). Sve u svemu film preporučujem ljudima koji tek trebaju ući u tinejđerske godine (11 - 14god), ali i onim ljubiteljima horor filma koji su djeca 80-tih (ovaj će ih film sigurno vratiti u djetinstvo....nostalgija 80-tih) i koji nisu imali prilike gledati ovaj lijepi film. Ovaj film o demonima je obavezno štivo za sve horor ljubce....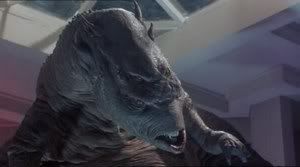 Jedan od Drevnih Bogova-Demona... Prije borbe sa Glenom

p.s. - ako je tko gledao smeće pod imenom "Ghoulies" iz 85', koji ima pomalo sličnu radnju sa isto malim demonima....nemojte mješati to nedjelo sa Takácsovim filmom.

THE SCENA:
Možda i najstrašnija - Terry (ovdje bez svojih karakterističnih naočala) pleše sa mrtvim psom misleći da mu je to majka (koja je umrla)....