ponedjeljak, 12.05.2008.
Žuti titl - drugačija filmska enciklopedija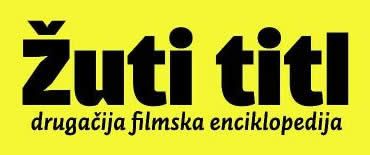 Autori: Velimir Grgić i Marko Mihalinec
Broj stranica i godina izdavanja: 191 (meki uvez) 2004 g.
Izdavač: AGM - ZAGREBAČKI HOLDING d.o.o., ZAGREB


RECENZIJA:
"- U Hrvatskoj je izašlo jako malo knjiga o filmu, a većina onih koje su izašle su rad i djelo legendarnog filmologa Ante Peterlića (preminuo prošle godine u 71 godini) koji je svakim svojim pisanim djelom uveseljavao filmofile (izdvajam Filmska enciklopedija, I-II (glavni urednik i autor koncepcije) (1986-1990)). No, od ostalih se ama baš ništa nije čulo u polgedu filma.
Jedini na ovim prostorima koji su o filmu pisali na način kako zanima sve nas filmofile (bilo da ste zagriženi ili vam je to tek povremena razonoda) su bila tri časopisa - "Super Film" (mislim da se tako zvao), "Hollywood" (koji se nažalost ugasio u 130 broju), te "TOTAL FILM" (koji nije doživio niti 20 broj).
Danas ako želite saznati nešto o filmu (bilo vijesti, bilo trivia...a bilo samo o pojedinom filmu) možete jedino to učiniti tako da čitate odlične članke Marka Njegića četvrtkom u "Reflektoru" (za horor fanove on i Mislav Pasini su radili odlične članke za časopis "Hollywood")...za ostalo jednostavno zaboravite, jer toga nema.

Mladi dvojac je uspio sa svojim projektom pod nazivom "Žuti titl" u potpunosti, jer iako neobična njihova knjiga, a i kasnije nastali istoimeni site obuhvaćaju filmski svijet kao takav (to znači da se ne drže samo blockbustera, zvjezda i zvjezdica, nego da grabe sa svih strana od trasha do zaboravljenih filmova, od arta do klasika...).
Još dok sam kao mali tamo daleke 1983 godine gledao prvi put "Conana" postao sam veliki ljubitelj sedme umjetnosti, pa sam napokon dočekao da netko izda knjigu koja odgovara mojim prohtjevima.
Dvojac Grgić / Mihalinec (koji su uzgred takoreći moje godište) su svoj posao odradili skoro bezprijekorno i nadasve zanimljivo, a sve to prošarano duhovitim dojsetkama i humorom koji je svojstven generaciji 80-tih.
Ovdje nećete naći zvijezde koje se spominju mnogo po raznim 'žutim' časopisima (Glorija, Story...i šta ti ja znam) ili će biti puno spomena o nekim blockbusterima i Brad Pittu ili A. Jolie...
Knjigu bih mogao ocrtati u jednoj rečenici - ona obuhvaća uglavnom filmsko razdoblje 80-tih, B produkciju i njihove protagoniste - "s naglaskom na akcijske heroje osamdesetih, azijsku kinematografiju, holivudsku teen produkciju, krv, crijeva i sise" (kako bi to Grgić sam kazao).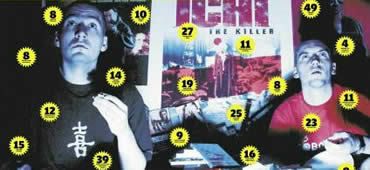 Autori: Velimir Grgić (lijevo) i Mario Mihalinec (desno)

Od prve stranice knjiga (Dejan Dragosavac Rutta za svoj dizajn knjige je osvojio nagradu Kiklop 2005) je prošarana raznim vrstama top listama (11 kultnih scena prđenja, 15 najboljih porođaja, 25 najboljih koljača...i td.), predstavljenje legendi (Chuck Norris, Van Damme, S. Segal...), a ja sam bih izabrao svoje favorite:

- 14 vitezova orijenta
- predstavljanje dvojaca: Feldman / Haim, Proyor / Wilder, Spencer / Hill
- 6 najboljih vukodlaka
- i moj omiljeni: 6 razloga zbog kojih Jackieju Chanu treba dići spomenik
- spominjanje Navaho Groma, kojeg sam imao sreće geldati u kinu i koji mi je ostao u pmaćenju već preko 20 godina
- na top listi 23 najveća frika otkinuo sam na onu što se tiće Čovjeka Slona u Lynchovu filmu - Aj em not eniml! Aj em ej hjuman bin! Yeah right. (legendarno!!!)

Iako, sam u nekim top listama bio začuđen da nisu neke scene (ili glumce) stavili u svoju top listu (npr. 8 najboljih ćelavaca...nije ušao u listu ni Woody Strode, ni Donald Pleasence, ni James Tolkan ili 15 naboljih brkova gdje nije ušao jedan Sam Elliott...), no to mogu shvatiti kao umjetničke slobode tj. kao u njihov izabir.
Sve u svemu ovo je knjiga koju mora pričitati svaki filmoljubac ili onaj koji će tek to postati (ja sam sam ju već 6 puta pročitao), ali i oni koji vole pročitati nešto novo, originalno i zabavno. Definitivno knjiga za nadolazeće ljetne dane.

Na kraju ću spomenuti i filmove koje ću morati pogledati a koji su spomenuti u knjizi (ostale sam gledao):
- Shogun Assasin (1980)
- Ninja osvetnik (1983)
- The Laughing Dead (1989)
- Blood Moon (1973)
- Suicide Club (2002)
- The Story of Ricki (1991)
- Visible Secret (2001)
- Ju-on TV (2000) - ovo je obavezno u sljedećim danima

p.s. (informacija o autorima)
Velimir Grgić
- je poznat kao zamjenik glavnog urednika Nomada, bivši novinar Playboya i Globusa, rapper i DJ Richelleux. Iza sebe vać ima dvije knjige: Eminemovu biografiju 'Američki ninja' nastalu u duetu s Tonćijem Kožulom, te 'Ritam i rima', zbirku eseja o hip hopu, r'n'b-ju, dancehallu i UK garageu
Marko Mihalinec
- poznatiji je kao Plazmatick, koji zajedno sa svojim Suburban Orchestra stvara glazbu i uveseljava okupljenu publiku željnu dobrog partija. Ovu mu je publicistički prvijenac.