četvrtak, 08.05.2008.
Izbavitelj (1975)

The Rat Savior (1976)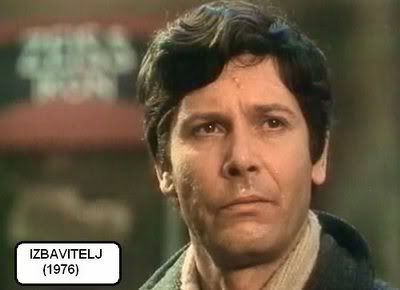 Produkcija: Croatia Film / Jadran Film
Redatelj: Krsto Papić

Glume:
Ivica Vidović (Ivan Gajski)
Mirjana Majurec (Sonja)
Fabijan Šovagović (profesor Bošković)
Relja Bašić (gradonačelnik)
Ilija Ivezić (šef policije)

Film je izašao u kina 01. siječnja, 1976
Trajanje filma: 80 minuta
Nagrade:
1977 godina - Grand Prix festivala u Trstu, Pulski festival - Srebrna arena za kameru, Zlatna arena za scenografiju, Diploma žirija za masku Berti Meglič

SADRŽAJ:
"- Siromašni pisac Ivan Gajski u vrijeme gospodarske krize primoran je prodavati knjige kako bi zaradio nešto novca da bi si platio hranu i možda sakupio dovoljno za stanarinu.
Tijekom prodaje svojih knjiga na obližnjoj tržnici upoznaje lijepu djevojku Sonju Bošković u koju se zaljubi. Iste te večeri snalazeći se kako zna i umije, ljubašnošću poznanika i čuvara parka Rupčića, prespava u napuštenoj zgradi Centralne banke. Ubrzo otkriva da je sama zgrada skrovište tajne organizacije ljudi-štakora, kojoj je na čelu tajanstveni Izbavitelj - kralj štakora. On i njegove pristaše žele zavladati svijetom, a Gajski uz pomoć Sonjinog oca profesora Boškovića pokušava ih spriječiti i u isto to vrijeme upozoriti ljude. No, ljudi-štakori su se infiltrirali u sve društvene slojeve, a kad prof. Bošković plati glavom svoju umješanost u uništavanju ljudi-štakora Ivan Gajski zna da su sljedeći na spisku on i njegova djevojka Sonja..."


Ilija Ivezić u efektnoj epizodnoj ulozi šefa policije...

RECENZIJA:
"- Izbavitelj je bio drugi jugoslavenski horor film (prvi i jedini pravi hrvatski horor film) nakon odlične srpske "Leptirice" (1973). Jugoslavenska kinematografija je imala vrlo malo filmova horor i SF tematike, no ono što je izašlo iz tih malobrojnih projekata je vrijedno divljenja.
Isto tako Papićev film mi je prvi naš horor koji sam gledao (kasnije je slijedila "Leptirica" i "Variola Vera").
Iako će se film po današnjim mjerilima gledatelja koji su naviknuli na razne "Hostele" gledati sa podsmjehom i sa dozom ismijavanja, film nipošto ne zaslužuje takvo podcjenjivanje. Najjači aduti ovoga filma su - priča, atmosfera i odlična glumačka postava. Baš ovo potonje je najbolji i najizraženiji dio filma. Kad vidiš kakva sve glumačka imena glume (Vidović, Šovagović i Bašić, te u epizodnoj ulozi Ivezić) film ne može nikako podbaciti u tom pogledu i bogme nije. Ivica Vidović je jedan od naših najboljih karakternih glumaca i jedan od rijetkih koji može u jednom filmu odglumiti komični lik, a već u drugom komplicirani tragični lik, a da se te dvije uloge gledatelju ne čine sličnima u glumačkom izričaju.
Jako mi je drago što baš on nosi glavnu ulogu antijunaka Gajskog, jer je u svojoj glumačkoj karijeri trebao imati više glavnih uloga. Meni samome Ivica Vidović (koji je ako se to može tako nazvati u hrvatskom filmu Papićev kućni glumac) je ovdje ostvario jednu od svojih najboljih uloga (svakako meni najdražu uz onu Pere u TV-filmu "Buža", te onu nezaboravnu u "Našem Malom Mistu", gdje je bio Servantes).
Ostali glumci su standardno odlični (izdvajam Relju Bašića u jako netipičnoj ulozi, ako se gleda cijelokupna njegova filmska karijera) u svojim glumačkim interpretacijama pa tu neću posebno trošiti puno riječi.

Sam film odiše pričom jako sličnom onom u SF klasiku iz 1956 godine "Invasion of Body Snatchers" redatelja Dona Siegela. Samo što smo umjesto Kevina McCarthya, Dane Wynter i ostalih imali domaće glumce, a umjesto tzv. Pod People vanzemaljaca bez osjećaja imali ljude štakore sa još boljom mimikom ljudskog obličija i njihovih osjećaja (otkriva ih jedino bezosjećajnost u nekim trenutcima i jak seksulani skoro animalni apetit).
Pa, ako ste gledali američki film sigurno možete očekivati slični atmosferu i u filmu Krste Papića (odličnog redatelja u periodu 70-tih godina prošlog stoljeća, koji je kasnije totalno popustio i izgubio se u svom redateljskom opusu novijeg perioda svog rada).
Scenaristički je film sasvim korektno i nadasve jako dobro odrađen iako u nekim dionicama malo pada (gubi se ritam napetosti), no zato u drugima naglo raste sa svojom radnjom i njenim likovima (scene sa Šovagovićem i Vidovićem, te odnos Sonje i Gajskog na kraju filma).
Sve u svemu "Izbavitelj" je uz "Leptiricu" i "Variolu Veru" film koji me je najviše puta uplašio dok sam imao 7-8 godina.... Vjerujem da su stariji filmofili vidjeli ovaj film barem jednom, a vi mlađi koji se tek upoznajete sa horor filmovima iz Ex Yuge jako toplo preporučam ovaj film....


Gajski (Vidović), Sonja (Majurec) i profesor Bošković (Šovagović)

p.s. - Malo je čudno da za dva odlična horora (Izbavitelj i Leptirica) Yugo produkcije budu zaslužni Šibenčani - Ivo Brešan scenarij za "Izbavitelja", a redatelj "Leptrice" je Đorđe Kadijević...kao da je moj mali grad od 37 000 duša možda rasadnik poznavatelja horor i SF žanra.

THE SCENA:
- kad Gajski ubije Sonju misleći da ona nije prava Sonja (a jeste), ali ubrzo otkrije kakvu je grešku napravio kad ponovo vidi Sonjinog 'klona' ljudi štakora, pa onda ubije i nju... (barem može biti siguran da je od njih dvije ubio onu lošu
)