srijeda, 30.04.2008.
Serijske ubojice u svijetu filma, stripa i književnosti... (II dio)

Evo i drugog dijela poretka ove top liste o serijskim ubojicama u svijetu zabave...

29) Carnage (Cletus Kasady)




Stvoritelji: David Michelinie / Mark Bagley
Prva pojava: The Amazing Spider-Man #361
- uz Venoma možda i najveći neprijatelj Čovjeka Pauka. Nastao spajanjem simbiota Venoma sa okorjelim serijskim ubojicom po imenu Cletus Kasady. Za razliku od Venoma Carnage je savršeniji simbiot zbog toga što je sa Cletusom povezan na krvnoj bazi (taj organizam iz svemira je takoreći dio Cletusa).
Koliki je Cletus psihopata i ubojica dovoljno govori da je rađen prema Batmanovu Jokeru (ne treba govoriti da je sto puta luđi kao crveni živi kostim; uz to se borio rame uz rame s Jokerom protiv Batmana i Spidermana u epizodi "Spider-Man And Batman"). Carnage je po fizičkim preformansama jači i od Spidermana i Venoma zajedno. Serijal od čak 14 epizoda pod naslovom "Maximum Carnage" gdje je Carnage okupio ekipu najvećih manijaka - Shriek, Demogoblin, Carrion, Doppelganger sa kojima je širio doslovno pokolj ulicama New Yorka (dugo u Marvelu nisam vidio toliko ubijenih ljudi), gdje se Carnage pretvorio iz serijskog ubojice u 'spree killera' ili masovnog ubojicu. Na rep su im jedva stali - Spider-Man, Venom, Captain America, Black Cat, Nightwatch, Cloak & Dagger, Iron Fist, Deathlok, Morbius i Firestar.
Carnage nema osjećaj za čast, moral ili suosjećanje. no što on voli jesti samo ubijanje.


28) Sweeney Todd (Johnny Depp) iz filma "Sweeney Todd: The Demon Barber of Fleet Street" (2007)




- brijač koji svoje žrtve prikolje i potom njihove ostatke pretvara u mesne pite (sličnih slučajeva je u Kini bilo na početku 20-tog stoljeća), a sve u jedinstvenoj interpretaciji Johnnya Deppa što ćeš bolje...


27) Joseph Ambrose Hilditch (Bob Hoskins) iz filma "Felicia's Journey" (1999)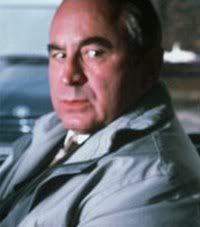 - Bob Hoskins je oduvijek bio jako dobar karakterni glumac (bez obzira što je imao gaže u nekim jako lošim filmovima) i uloga serijskog ubojice Hilditcha to vjerno pokazuje i dokazuje. Lik koji glumi je odglumio perfektno, tako da na početku sažaljevate i suosjećate sa njim, a onda vas šokira kad se otkrije da je on ubojica svih onih 'izgubljenih djevojaka'. Najzanimljiviji je taj njegov psihološki profil koji se vuče kroz cijeli film... Definitvno serijski ubojica od kojeg vas podilazi jeza dok se grabežljivo vrti oko jadne Felicije.


26) Patrick Baetman (Christian Bale) iz filma "American Psycho" (2000)




- odmah moram reći da mi Patrick kao lik nikada nije prirastao srcu, ali zato mi se jako jako svidjela gluma Christiana Balea. Odličan prikaz psihe i izopačensti mladog yupieea koji ubija ljude zbog minornih razloga (dosađuju mu, ljubomoran je na njih ili jednostavno iz seksualno-perveznog zadovoljstva) no, najbolji je način na koji Bale to prikazuje, te način na koji upada u psihoze istovjetne onima koje se mogu vidjeti u strip negativcu Jokeru. Inače u knjizi je lik malo bolje objašnjen.
Ovaj je serijski ubojica manijak najvećeg kalibra i bolje mu se ne zamjeriti, jer bi se lako sjekira mogla naći u vašoj lubanji, pa iako je on u svojem najboljem Armani odjelu...


25) Dr. Philip K. Decker (David Cronenberg) iz filma "Nightbreed" (1990)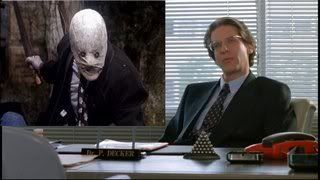 - najbolji lik u ovom filmu redatelja i prvenstveno horor pisca Clivea Bakera. Iako nije detaljnije karakteriziran (to ide na dušu Bakeru koji je ujedno i scenarist) Dr. Decker je jedan od malobrojnih serijskih ubojica koji ostane u pamćenju dugo vremena nakon što se film pogledao (i unatoč mističnim bićima koje se u filmu pojavljuju).
Ne znam zašto ali većina filmskih serijskih ubojica imaju nekakvu doktorsku diplomu. Dio za pamćnje lika Dr. Deckera (psihopata psihologa) jest njegova jeziva, ali jednostavna maska... Eto ni psihijatri više nisu bili što jesu.


24) Dr. Robert Elliott/ Bobbi (Michael Caine) iz filma "Dressed to Kill" (1980)




- Michael Caine kao transeksualac serijski ubojica, a uz to je priznati NY psihijatar (eto još jedan...jel to ima kakvu poruku?). Iako se čini kao da nije zaslužio se naći na ovoj listi Dr. Elliott je ipak morao upasti baš zbog tog načina pristupu lika, jer do tog doba to je još bila tabu tema (kao i "Cruising" (1980) W. Friedkina, koji je imao sličnu radnju). A jeben mu vidjeti Caina kao jednog od najneobičnijih serijskih ubojica je uvijek praznik za oči.


23) Azazel iz filma "Fallen" (1998)




- demon iz židovske mitologije; biće sposobno zaposjedati kako ljudska tijela tako i životinjska. Iako ga nikada ne vidimo (gornja slika je jedan od njegovih mnogih prikaza) kroz cijeli film se proteže njegova demonska prisutnost, koju lovu Denzel Washington. Sličan entitet je i Killer Bob iz serije "Twin Peaks".
Najeziviji je kad pjeva svoju omiljenu pjesmu "Time is on my Side" od Rolling Stonesa. Kad ne ubija ljude voli pojesti Kellogg's Corn Flakes i strast mu je kuglanje...ah da bez obzira na domaćina koji je možda i dešnjak on je uvijek ljevoruk....


22) Firefly family iz filmova "House of 1000 Corpses" (2003) i "The Devil's Rejects" (2005)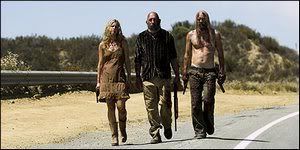 - iako više čistokrvne ubojice kao recimo Mickey i Mallory Knox iz "Natural Born Killers" (1994) (koji su opet lošija kopija Kita i Holly filma "Badlands" (1973)) ili legendarnog dijaboličnog velečasnog Harrya Powella (prejebeni Robert Mitchum) i banditi nisam a da ne spomenem ovu psihopatsku obitelj koja je i prvom filmu djelovala kao banda serijskih ubojica, ali opet jako loša (iako mnogo pametnija) verzija klana Sawyer iz TCM-a. Moj favorit je Captain Spaulding (čiko u sredini) zbog svog humora i načina obraćanja svojim sugovornicima.


21) Jame "Buffalo Bill" Gumb (Ted Levine) iz filma "The Silence of the Lambs" (1991)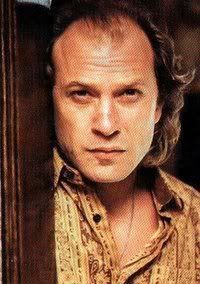 - lik nastao mješanjem najgorih stvarnih serijskih ubojica - Ed Gein (pravio 'odjela' od ljudske kože), Ted Bundy (kidnapirao žene glumeći ozljeđena čovjeka) i Gary Heidnik (žrtve žene koristio kao seksualne robinje).
Kako je Lecter rekao za Billa: "- "Billy was not born a criminal, but made one by years of systematic abuse." Teški sociopat kojeg nije dobro imati za susjeda...


20) John Reginald Christie (Richard Attenborough) iz filma "10 Rillington Place" (1971)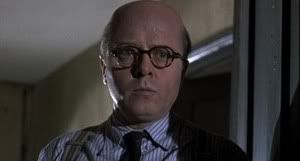 - lik rađen prema stvarnom ozloglašenom engleskom serijskom uboijici Johnu Reginald Hallidaya Christieu. Richarda Attenborougha većina pamti kao odličnog redatelja (Gandhi, Chaplin ili Magic) ili kao onog slatkog starca koji je klonirao embrije dinosaura u Jurskom Parku.
Ipak, iako odličan redatelj Richard je i sjajan glumac, a to dokazuje ovom svojom najboljom ulogom. Malo je glumaca koji mogu ovako ozbiljno i jezovito potretirati serijskog ubojicu običnog lica.


19) Henry (Michael Rooker) iz filma "Henry: Portrait of a Serial Killer" (1986)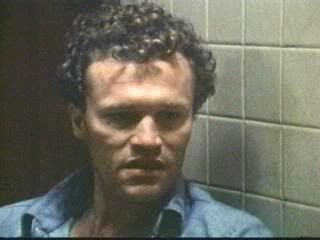 - još jedan filmski serijski ubojica baziran prema stvarnoj osobi - Henryu Lee Lucasu (najozloglašeniji američki serijski ubojica sa preko 100 ubojstava, dok se čak govori i o nevjerojatnoj brojci od čak 3 000 ubijenih). Michael Rooker je sjajni karakterni glumac kojeg Hollywood teško podcijenjuje dajući mu uvijek iste stereotipne uloge policajaca/detektiva. Koliko je dobar glumac i koliko nama gledateljima može pružiti svojim glumačkim talentom pokazuje u ovom filmu na najbolji način, jer mu je gluma bez omaške. Njegova najbolja uloga do sada. Snažan i sirov (baš kao i cijeli film).


18) Stranac (Philippe Nahon) iz filma "Haute tension" (2003)




- teško mi je reći bilo što za ovaj film u strahu da ne otkrijem sadržaj samog filma, jer bi to pokvarilo gledanje onima koji ga nisu imali još prilike gledati. Ali oni koji su gledali film znat će na koga se odnosi i tko je zapravo Stranac (zanemarimo onu jednu rupu u scenariju). Odlično odglumljeno, ali još bolji je prikaz psihe ubojice na neočekivani način (sličnim pitanjem se bavi i film "Identity" (2003))....

17) The Scorpio Killer / Charles Christopher Davis (Andrew Jordt Robinson) iz filma "Dirty Harry" (1971)




- najezovitiji serijski ubojica u nekom akcionom filmu. Andrew je ovdje dao sve od sebe, te odglumio lik kako treba i spada, pa tako uz Prljavog Harrya pamtimo i njega (i to jako dobro). Baziran na pravom serijskom ubojici koji nikada nije uhvaćen - Zodiacu, koji je kasnih 60-tih djelovao tako da je ubio 5 ljudi i dvoje ranio.
Inače ironije radi Andrew je pacifista koji prezire oružje. Koliki je psihopata i manijak dovoljno govori i rečenica upućena Harryu Callahanu (kojeg je uzgred izmlatio ko vola u kupusu):
"- No, don't pass out on me now cop! No, no, no, no, no. Do we understand each other? I said do we understand each other? Listen up cop, I changed my mind. I'm going to kill the girl after all, I just wanted you to know that. "


16) Dr. Anton Phibes (Vincent Price) iz filma "The Abominable Dr. Phibes" (1971) i "Dr. Phibes Rises Again" (1972)




- kako vidimo genijalni Dr. Phibes je znanstvenik, orguljaš, doktor (dva doktorata) ima dva lica, a sve zbog automobilske nesreće koju je preživio (u kojoj mu je žena poginula). Genij dobro isplaniranih ubojstava, koje na najneobičnije načine izvršava, ali uvijek učinkovito. Jedan od likova Vincenta Pricea koji odmah zavolimo iako je čistokrvni negativac, kojeg je loša sudbina izludjela i odvela na krivi put.
Za glumu mogu samo reći Vincent Price, a oni koji znaju njegov jako velik opus znaju o čemu pričam (inače legenda horor filma je opet kultno odglumila još jedan jako pamtljiv lik)... Tko nije gledao filmove sram ga bilo.

Zadnji dio sutra...