nedjelja, 27.04.2008.
Serijske ubojice u svijetu filma, stripa i književnosti...

Možda jedno od najpopularnijih filmskih podžanova u sedmoj umjetnosti zasigurno jesu i filmovi o serijskim ubojicama. Iako se taj pojam uglavnom veže uz trilere, sam podžanr se dobrano uvukao u i područje horora.
Ono što je najbolje kod tih filmova jeste to što nam nude mnogo toga u par smjerova - odličnu karakterizaciju likova (bilo gl. negativca ili gl. junaka/nje), neprestanu napetost (hvatanje negativca, bojazan za glavni lik) ili jednostavnu 'puzzle' atrakciju (rješavanje umorstava, odgonetanje tragova koji navode na ubojicu). No, za sada neću spominjati ništa konkretnije o samoj povijesti serijskih ubojica u svijetu zabave, nego ću svoju zanimaciju okrenuti prema najupečatljivijim filmskim serijskim ubojicama. Dakle ovo je lista najboljih :

35) PJ Maybe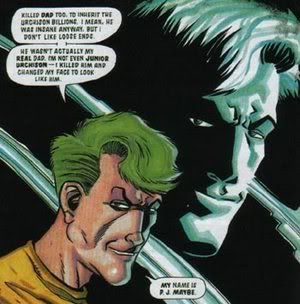 - stvoritelji lika: John Wagner i Alan Grant;
- prva pojava: "Bug" u strip magazinu "2000 AD" , prog 534 (08, kolovoza, 1987).
- stripovi su uvijek bili nepresušni izvor za raznorazne manijake, luđake i naravno serijske ubojice. Među mnogo njih (serijali "Dylan Dog" i "Batman" prednjače u količini serijskih ubojica da je teško sada sve njih poimenice spominjati).
PJ Maybe pravim imenom Philip Janet Maybe je jedan od najistaknutijih neprijatelja futurističkog suca Dredda u istoimenom serijalu. Vjerujem da se svi barem malo upoznati sa Dreddovim svijetom i da ne trebam puno razglabati o tome kako u tom jako nasilnom svijetu samo najopakiji preživljavaju.
PJ je genij (to dobro skriva glumeći idiota) koji je mnogo puta pobjegao Dreddu i počinio mnoga ubojstva (prvo je počinio sa 12 god.) od kojih je svako napravljeno eksperimentalno. Zaljubljen u ženskog robota Ingu. Kad bi ga se opisivalo u jednostavnoj rečenici onda bih upotrijebio riječi - on je britanska verzija Jokera.


34) Catherine Tramell (Sharon Stone) iz filmova "Basic Insticts" (1992), "Basic Insticts 2" (2006)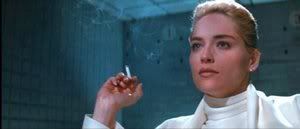 - najbolji primjer opasne i lijepe žene (savršena kobinacija femme fatale i psihotične ubojice) jest Catherine, koja bi mogla doći glave i nedodirljivom Jamesu Bondu. Ima doktorat iz psihologije, diplomirala magna cum laude. Da ima nadimak sigurno bi joj bio - bogomiljka, zbog toga što se efikasno riješava svojih muških partnera. Modus operandi joj je da ubija kao što piše u svojim knjigama.


33) John Wayne Gacy (Brian Dennehy) - iz filma "To Catch a Killer" (1992)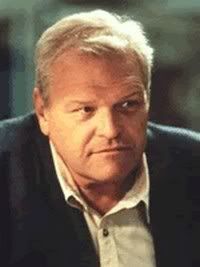 - lik rađen prema pravom manijaku i serijskom ubojici. Biran Dennehy u svojoj najboljoj ulozi (jako realan i neugodan). Isti lik je dobro odglumio i Mark Holton u solidnom filmu "Gacy" (2003).


32) Boston Strangler / Albert DeSalvo (Tony Curtis) - iz filma "The Boston Strangler" (1968)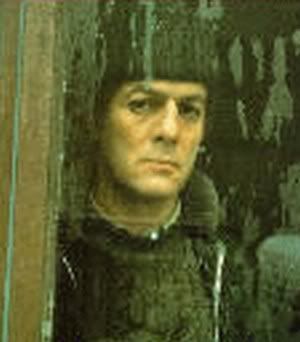 - druga najbolja uloga Tony Curtisa (uz njegovu najbolju u filmu "Sweet Smell of Success" (1957)) za koju je barem morao biti nominiran za Oskara. Ono što sam rekao za Briana Dennehya ovdje vrijedi čak i duplo. I nema veze što mu se gluma ograničila samo na posljednih 30 minuta, jer je Tony sve odigrao maestralno (trebalo je imati muda uzeti ovakvu ulogu u to vrijeme).


31) Mark Lewis (Karlheinz Böhm) - iz filma "Peeping Tom" (1960)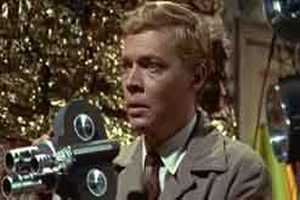 - njemački glumac Karlheinz Böhm odlično potretira jednog od najneobičnijih serijskih ubojica koji su se pojavili na filmu. Ono što je najbolje u svemu jest da nitko u njemu ne bio mogao vidjeti nekoga spremnog ubiti sa onako nevinim izgledom. Odlično potretirana psihologija ubojice. A nitko se ne pita zašto svuda nosi onu svoju kameru.


30) The Phantom Killer (Bud Davis) iz filma "The Town That Dreaded Sundown" (1976)




- iako se većina neće složiti (a neki će se pitati - koji je ovo?), ali The Phantom Killer i sam film su rađeni prema istinitom događaju i stvarnom serijskom ubojici iz jako daleke 1946 godine, kad su se u mjestu Texarkana (Texas) dogodila ubojstva znana u policijskim dosjeima kao "Texarkana Moonlight Murders".
Kao da se Jason Voorhees iz drugog dijela pojavio u stvarnosti. Ubojica nikada nije uhvaćen. Razlog zbog kojeg sam ga stavio jest da je ubojica bio misteriozan i slasherski nastrojen, a još sve prema istinitom događaju.


Sutradan nastavljamo sa odbrojavanjem...slijedi lista od 29 do 15...