četvrtak, 27.03.2008.
Murder Party (2007)

Zabava s Ubojstvom (2007)

Produkcija: The Lab of Madness
Režija i scenarij: Jeremy Saulnier
Nagrade:
2007 godina - ocvojena nagrada publike (Slamdance Film Festival) i glavna nagrada Vail Film Festivala
Web stranica - Murder Party (2007)

Glume:
Chris Sharp (Chris Hawley)
Alex Barnett (Alexander).........Macon Blair (Macon)
Paul Goldblatt (Paul)...............William Lacey (Bill)
Stacy Rock (Lexi)...................Skei Saulnier (Sky)
Bill Tangradi (Zycho)..............Beau Sia (Cicero)

Izašao u siječnju, 2007 (Slamdance Film Festival)
Trajanje: 79 minuta
Foršpan filma - YouTube foršpan (jako dobar)
Murder Party (2007)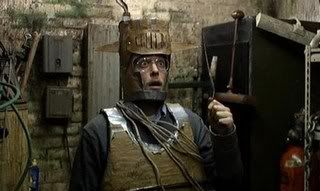 Chris u velikim brigama...jer luđaci ga pokušavaju ubiti

SADRŽAJ:
"- Kad usamljenik Chris na sam dan Noći Vještica vraćajući se iz videoteke pronađe pozivnicu na zabavu pod imenom "Murder Party", odluči otići na nju. Nakon mnogo traženja stiže na adresu gdje bi se trebala održati fešta, no kad upozna par čudaka koji prisustvuju samoj zabavi....ubrzo shvati da naslov iz pozivnice ima doslovan prijevod i značenje. Nesretni Chris se ubrzo nađe vezan za stolicu među grupom samozvanih mladih 'hoću biti' umjetnika i ubrzo spoznaje da je on glavna zvijezda večeri...jer je on taj koji bi trebao biti ubijen...."

RECENZIJA:
- "Murder Party" je još jedan mali nezavisni indie film koji je većinom ostao nezamijećen od šire publike. A ovaj film bi se trebao pogledati. Kao prvo film je rađen sa jako malo buđeta, no struktura priče i čudnih likova je ono što se broji u ovom malom filmu.
Ono što se u njemu prvo primjećuje jest jako izražena doza suptilnog i lijepo urađenog crnog humora, koji se proteže cijelinom Saulnierovim djelom. Rijetko me je koji film uspio nasmijati, ali kod ovoga sam se nasmijao na par scena koje te istinski natjeraju na smjeh. Posebice zabavan mi je bio usamljenik Chris, koji po cijele dane gleda trash horor filmove, a najbolji mu je prijatelj mačak po imenu Sir Lancelot (scene sa mačkom su odlične), pa kad se nađe u kaši i onda nekako uspije pobijeći, a oni svi za njim. Legendarno.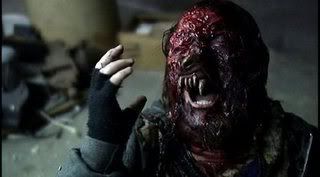 Macon Blair kao Macon u izgorenom izdanju...

Koncepcija filma je jednostavna od početka do kraja, no nekako on sam ima onu privlačnost da ga gledate sa zanimanjem, iako negdje pri sredini film malo upada u letargiju (tu se film slobodno dao iskidati u montaži kojih 8 - 9 minuta), no kad krene u završnicu film postaje krvava kupka (doslovno).
Koliko sam shvatio film ima jaku poruku tj. kritizira moderno društvo i u ono što se je pretvorilo (tip obučen kao lik Baseball Furiesa iz filma "The Warriors" (1979) cijelo vrijeme igra PSP i ima jako malo dijaloga kroz cijeli film, a onda odjednom skrene od droge počne ubijati sve oko sebe vičući: "Everybody Dies!"; grupa ljudi obučena u likove iz raznih kultnih filmova dosađuje se, te žele biti umjetnici, a umjesto da rade umjetnost oni samo o njoj pričaju što zorno dokazuje da su oni obični jebivjetri koji od dosade ne znaju što će).

Pohvala ide ideji, humoru, odličnom sountracku (izdvajam "Full Moon"), sumornoj dokumenatrističkoj režiji (posebice početak filma), čudnim i intrigantnim likovima, lijepim krvavim scenama i ponekim stvarno iznenađujućim obratom, ali i scenom. Osim što je sredina filma malo usporena (tu su se svi urokali natrijevim pentolatom tzv. serumom istine, pa si iskreno govorili o nekim stvarima, a tu se čak priključio i Chris), sve ostalo štima u najboljem redu.
Šteta je velika da ljubitelji horor filmova propuste ovaj mali neobrađeni dijamant....


THE SCENA:
1) Kad Bill uzme sjekiru u ruke i počne vikati: "Everybody Dies!"


Ekipa manijaka na okupu ušlagirani "Serumom Istine"....

2) Kad se Chris oslobdi a svi ga love