nedjelja, 23.03.2008.
The Rage (2007)

Bijes (2007)

Produkcija: Precinct 13 Entertainment
Redatelj: Robert Kurtzman

Glume:
Andrew Divoff.................Dr. Viktor Vasilienko
Erin Brown......................Kat
Reggie Bannister............Ujak Ben
Ryan Hooks....................Josh
Rachel Scheer...............Olivia
Sean Serino....................Pris

Izašao 01. prosinca, 2007 godine (festivali)
Trajanje: 86 minuta
Buđet: 2 miliona $

SADRŽAJ:
"- Ludi znanstvenik dr. Viktor Vasilienko eksperimentira sa modificiranom verzijom virusa bjesnila na nevinim žrtvama koje uhvati u zabačenom dijelu šume, gdje mu je ujedno i laboratorij. Kad nakon jednog eksperimenta jedan od mutanata uspije pobjeći u šumu i tamo nakon mukotrpnog napora izdahne, jato lešinara se nahrane njegovim zaraženim truplom. Uskoro i oni počnu mutirati i u svom bijesu traže ljudsko meso sa kojim bi se nahranili. Cilj im je grupica tinejđera koji su pukim slučajem zaglavili u šumi. Hoće li preživjeti užas koji ih očekuje dublje u šumi ili će postati hrana mutantima i mutiranim lešinarima...?"


Jedna od najboljih maski u filmu (ne ovo nije Toxic Avanger)

RECENZIJA:
- Gledajući prve fotke iz tog filma pomislio sam da će film ponuditi solidnu niskobuđetnu zabavu, a čim sam vidio i prvi foršpan moje mišljenje je ostalo isto. Problem je nastao kad sam pogledao dotični film.
Iako je film započeo stvarno obećavajuće (upoznanvanje ludog doktora, eksperimenti...), kasniji redosljed (upoznavanje 'junaka' filma) je jako jako mlak. Zadnji dio filma i nije loš, no nikako nije i svijetli dio svega.

Ono što ne valja kod filma:
- dugo nisam vidio ovako jako loše glavne likove, a sami glumci (koji su redom jako mladi) ništa svojom antipatičnom glumom nisu pokazali, jednostavno dok gledate njihove patnje i agoniju dok se bore protiv lešinara govorite si kad će ovome kraj, jer stvarno gluma je ovdje zadnja rupa na svirali
- da je film bio scenaristički dotjeraniji možda bi i bolje izgledao, ovako je prepun rupa i jako izraženih nelogičnosti koja vrijeđa sva ona horor pravila koja je film u svom početku zacrtao; dijalozi među likovima su plošni i prepuni klišeja (no u onom još gorem nedovršenom djelovanju)
- isto tako montažni djelovi filma u nekim važnijim djelovima štekaju u trenutcima gdje to nije primjereno
- koliko god Erin Brown (ovdje igra djevojku Kat) bila odlična u "Masters of Horror" u epizodi "Sick Girl" (1sez./10epiz.) toliko me je razočarala u ovom filmu (inače ona sama preživljava u C produkciji horor filmova), ali što očekivati od glumice koja je poznatija po skidanju u filmu nego po glumi...vjerujem da je sama sebe osudila na preživljavanje u raznim ŽNJ produkcijama, gdje je važnije prikazati što više sisa i krvi nego same priče ili radnje
- loša kopija Re - Animatora, te nepotrebne aluzije naslova filma na istoimeni virus iz "28 Days/Weeks Later"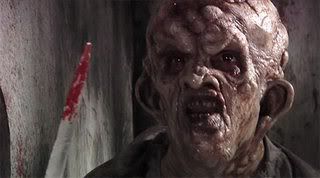 Jedan od iritatnijih mutanata ludog doktora

Završna misao:
- Robert Kurtzman je još jedan od make-up majstora koji se vinuo u redateljske vode, no sa jako slabim učinkom do sada (osim jako dobrog Wishmastera (1997)...no nemojmo zaboraviti da je tu ekskluzivini producent bio Wes Craven, pa sam mišljenja da je ovaj imao dosta prstiju umješanih u film). Iako je imao suradnju sa velikanima horor filma (Raimi, Carpenter, Don Coscarelli, William Lustig i još mnogi drugi) izgleda da nije naučio ništa od njih, pa su mu filmovi tako mlaki i nikakvi (iako bolje film bolje djeluje u scenama skučenog prostora, nego u vanjskom prirodnom okolišu), te on sam nije sposoban ispričati priču filma kako spada. Kako se vidi u ovom filmu Kurtzman je jedan od najboljih ljudi za specijalne efekte, no unatoč odličnim maskama (koliko je slab redatelj Kurtzman sam dokazuje, jer u nekim scenama se vidi da su otkinute glave obični plastični rekviziti) i FX efektima za potrebe ovog B horor filma, ovo djelo nema ničega drugoga da bi se mogao pohvaliti kakvim takvim dostignućem.
Jedina prava zvijezda je Andrew Divoff (legendrani Wishmaster) kao ludi znanstvenik, no iako veteran B filmova u Kurtzmanovom filmu se u nekim scenama preglumljiva što je veći minus redatelju nego njemu samome (Robert bi kao režiser to trebao obuzdati), no untaoč tomu on je jedina svijetla glumačka točka filma. Uz sve spomenuo bih i CGI efekte, koji mnogi drugi horor recenzenti ne maze baš...no meni samome su u samo 2-3 scene ispasli loši (ovdje naglašavam na jadne CGI eksplozije), dok ostalo jako solidno izgleda ako gledamo da je ovo film sa jako malo buđeta (ovo je ipak B horor film, koji je na granici sa C produkcijom).


Jedna od scena gdje se primjećuje da je glava crnca tek gumeni rekvizit...

Sve u svemu film koji se da pogledati (ako nemate ništa bolje, naravno) najviše zbog mnogo 'gore' scena, dobrih maski i uvijek rado viđenog Andrewa Divoffa...a potom ćete ga jako brzo zaboraviti.