ponedjeljak, 03.03.2008.
Unearthed (2007)

Ispod Zemlje (2007)




Produkcija: Ambush Entertainment / Cold Iron Pictures / Combustion Studios
Redatelj i scenarist: Matthew Leutwyler

Glume:
Emmanuelle Vaugier (Šerif Annie Flynn)...........Luke Goss (Kale)
Beau Garrett (Caya)...........................................Charles Q. Murphy (Hank)
Tonantzin Carmelo (Nodin)................................Whitney Able (Ally)
Tommy Dewey (Charlie)....................................M.C. Gainey (Rob Horn)
Russell Means (Djed).........................................Miranda Bailey (Carla)


Film je izašao u kina 09, prosinca, 2007 godine
Trajnaje: 90 minuta
Službena stranica - Unearthed (2007)
Službeni foršpan filma

SADRŽAJ:
"- U malom izloiranom gradiću u Novom Meksiku uslijed arheološkog iskapanja gdje su nekada živjeli drevni Anasazi budi se opako čudovište nalik na kukca, koje odmah počinje sa ubijanjem malobrojnih građana tog mjestašca. Šerif Annie Flynn sa nekolicnom preživjelih mora pobjeći opakom i ubojitom monstrumu, no noć je tek počela...a oni se nalaze u bezizlaznoj situaciji."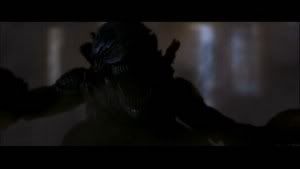 Prvi pravi prikaz monstera...

RECENZIJA:
"- Moram reći da obožavam gledati filmove o čudovištima iz svemira, pa ne treba puno govoriti kako sam se obradovao kad sam prvi put čuo za ovaj film. Dugo sam pratio realizaciju i svaku novu informaciju o filmu. Na kraju sam se ovog filma i dočepao. A kad sam ga pogledao doživio sam jedno veliko - RAZOČARENJE.
Da dobro ste pročitali. Film je stvarno loš da je o tome uopće bolno pričati, ali ću ipak nastaviti sa recenzijom, jer zaslužujete biti upozoreni kako ćete gledajući ovaj film potrošiti bez veze 90 minuta svoga života. Dakle krenimo.

Prvi put kad sam ga išao gledati uspio sam vidjeti nešto malo više od 15-tak minuta,a onda sam zaspao snom pravednika. Drugi put sam mu dao šansu danas po danu (da ne bih opet zaspao).
Redatelj Matthew Leutwyler (Dead & Breakfast (2004)) spada u onu skupinu režisera koji imaju dobru ideju (ako su ujedno i scenaristi istog projekta), ali nemaju nikakve redateljske finese koje bi film učinile zanimljivim za gledanje.
Tako je cijeli film beskrvan i nezanimljiv, sa tempom nelineranim od trenutka do trenutka (scene koje bi trebale biti kratke i jasne prerazvučene, a djelovi kad monstrum nastupa prekratke, nejasne i prebrze; isto tako film je prerazvučen i dosadan u prvih 35 minuta). Također film ima jednu od slabijih montaža koje sam vidio u horor filmovima (za to je zaslužna Shawna Callahan), te u nekim djelovima nestatičnu i jako drmusavu kameru (ala Blair Witch stil) koju kao da drži Stanko Herceg koji je bio zadužen za kameru u katastrofi pod imenom "Operacija Kajman". Da ne zaboravim spomenuti djelovi gdje bi se monstrum morao barem malo vidjeti su premračni (oni koji su gledali AVP: Requiem znat će na što mislim).


Doslovno kopiranje scene iz "Aliena 3"...eh to je kad nemaš svojih ideja

Kako je sve u filmu katastrofalno, tako je raspodjela uloga od kojih izdvajam - Luke Gossa (nama znan po odličnoj ulozi Nomaka, vođe Reapera u filmu "Blade II" (2002) ) kao Kale, koji je neprepoznatljiv i jako drven u glumačkoj prezentaciji, te Emmanuelle Vaugier ("Saw II" (2005) glumila Addison) u ulozi ženskog šerifa (kako uopće glasi ženska inačica riječi šerif?), gdje je totalno neuvjerljiva i ispod svake razine nekakve barem solidne glume. Neću zaboraviti spomenuti ni epizodnu ulogu M.C. Gaineya (Con Air (1997) glumio Swamp Thinga), koji je još i najsvjetlija točka u glumačkom smislu.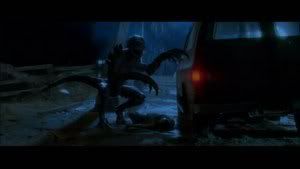 Kopija Gigerova Aliena je preočita zar ne?

Za kraj sam ostavio dio koji se tiče samoga čudovišta (koji je sigurno neka vrst kuckolikog vanzemaljskog organizma).
Iako svi spominju da je monster teška i očigledna kopija Gigerova Aliena (to se odmah vidi i tu nema dileme), meni samome ne izgleda loše (mnogi drugi rip.offovi Aliena su izgledali jadno) u onim kratkim djelovima od par sekundi gdje se cijeli vidi. No, izgleda da je najveći scenaristički propust taj što nije do kraja objašnjena funkcija njegovih parazita koje izbacuje iz sebe (inače čemu uopće to, ako nema svrhe nikakve?).
Uz to gledajući mu oblik glave baca mi malo na jednu od lubanja koje se vide na samom kraju "Predatora 2" (1987) . Najveći minus ide opet redatelju (koji mu je to?) što vanzemaljcu (ali i samom filmu) nije dao (a nama ponudio) nešto novo, a ne samo reciplirao (i ovaj slini, kesi stalno zube i sl.; a čak je preslikana ona najpoznatija scena Aliena i Ripley u "Alienu 3"...zašto pobogu?) već spomenutog Xenomorfa (tj. Aliena). CGI efekti solidni, ali ništa više od toga.
Završnu misao bih izrekao ovako - film nema smišljenu radnju, likovi su nezanimiljivi, a ako vam se gledaju filmovi o monsterima iz svemira onda vam je bolje gledati klasike poput - Carpenterovog "The Thing" (ili odličnu crno bijelu verziju iz 51'), bilo kojeg Aliena ili "Feast"... ovaj film zaobiđite bez ikakve grižnje savijesti.
Ne znam što bih mislio o festivalu "After Dark Horrorfest", ali ako su im uzdanice filmovi poput ovoga..e jebeš ga onda.