utorak, 26.02.2008.
Day of the Dead (2008)

Dan Mrtvih (2008)

Produkcija: Millennium Films / D.O.D. Productions / Emmett/Furla Films / Nu Image Entertainment GmbH
Redatelj: Steve Miner

Glume:
Mena Suvari............Sarah
Ving Rhames..........kapetan Rhodes
Nick Cannon...........Salazar
Ian McNeice............D.J. Paul
Stark Sands............Bud Crain

Izlazak ravno na DVD: 08. travnja, 2008 godine
Trajanje: 87 minuta
Buđet: 18 000 000$

SADRŽAJ:
"- Kada u malom gradiću izbije neka nepoznata epidemija gdje je većina stanovništva zaražena nekom čudnom vrstom gripe, koja uzrokuje krvarenje. Vojska užurbano izolira područje. No, ubrzo se se bolesnici počnu preobražavati u zombije i napadati one koji su bili imuni na 'gripu'.
Mala grupica, kojoj je na čelu Sarah (M. Suvari) okuplja se u podzemnom bunkeru, ali ono što ne znaju jeste da je taj bunker služio za tajna ispitivanja...a nove opasnosti ih čekaju, iako nisu svjesni toga..."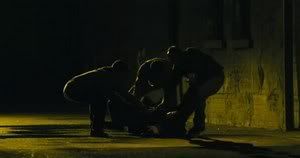 Zombiji napadaju jednu od mnogih svojih žrtava

RECENZIJA:
"- Kad sam prvi put čuo da se radi rimjek Romerovog filma istoimenog naslova iz 85' godine, bio sam jako skeptičan u pogledu cijelog projekta. Ono što me je naglnalo na takvo mišljenje je bila sama produkcija te ekipa koja se okupila za potrebe filma.
I moram vam reći da su moja predviđanja bila u svakom pogledu u pravu. Pa, krenimo u recenziju ovog nesretnog filma.

Steve Minera sam smatrao kao solidnog redatelja rutinera, kojem se znaju dogoditi i iznadprosječni filmovi (Friday the 13th Part 2 (1981), House (1986), Warlock (1989) i Lake Placid (1999) ), a koji uz to sve ima iskustva suradnje sa pravim maherima horor žanra (Wes Craven i Fred Dekker), ali izgleda da što više stari da sve veće gluposti snima.
Nadalje Jeffrey Reddick je svojim scenarijem uništio film (pitam se kako je uopće smislio onaj za "Final Destination"??), pa tako imamo nezanimljive likove (karakterizacija i interakcija među likovima je jedna od najgorih koje sam vidio u horor filmovima), radnja je prepuna neznamiljivih klišeja koji vječno prate zombi podžanr. Isto tako ne trebam govoriti niti da je scenarij prepun rupa.


Jako agilni zombiji...vizualno lijepa, ali vrlo stupidna scena...

Što se tiće glumaca cijenim Menu Suvari za koju mislim da može postati dobra karakterna glumica (pod uvijetom da počne izabirati bolje projekte nego ih je do sada imala...ali uskoro stiže njen novi film "The Garden of Eden" (2008), pa ćemo vidjeti jesam li u pravu), a stari dobri Ving Rhames je nedovoljno iskorišten u filmu (vjerujem da je jadnik mislio da radi stvarni rimjek Romerovog filma i da će to biti kvaliteta kao Snyderov "Dawn of the Dead" iz 04' godine...ali malo su ga zaribali...no barem je pokupio svoj honorar).
Ostali glumci nisu vrijedni spomena (totalno neuvjerljivi u svojim ulogama)....eh da moram spomenuti jednu malu opasku - zašto, ama zašto baš svaki noviji B-horor zombi film mora imati nekog 'gangsta' tipa (ovdje je to iritantni Nick Cannon) koji neprestano laje li laje i baca glupe fraze?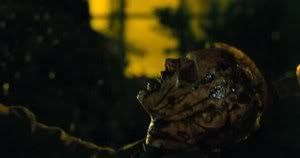 Close up jednog od zombija (prije nego ga ubiju)

Za kraj moram spomenuti sam film - film je teška kopija "Dawn of the Dead" Zacka Snydera (Mineru ovako se radi remake) i "28 Days/Weeks Later", ali na onaj jako negativan način (nekoliko scena je doslovno iskopirano iz ta tri filma...pogotovo se to odnosi na "Dawn...").
Tako zombiji (da u filmu ih baš tako zovu) trče kao manijaci (koliko sam vidio još su agilniji i brži od od zaraženih u "28 Dana..."), penju se po plafonu poput Spidermana (aha ima i toga), veru se poput Zagora, skaču poput žaba...a jebem ti nema što nema...ah da i izbjegavaju metke u stilu Matrixa (ovo niste mislili da ćete vidjeti
), te čak pucaju iz oružja, a da ne kažem da se glasaju kao nenormalni psi (dobro to me baš i nije toliko smetalo). Akcija je ponekad prebrza.
Nema tu one čari kakvu treba imati jedan zombi film - niti su zombiji jezivi, niti tu ima napetosti i jeze, međusobni odnosi među likovima...ama baš ničega.
Jedini plus filmu je ponekad ugođaj (negdje na sredini), te stvarno veliki eksterijer gdje zombiji napdaju po gradu (neki kadrovi stvarno dobro izgledaju) i gore scene kojih je pregršt (meni su se svidjela obezglavljenja zombija...kao da gledam igranu verziju "City of Rott"). Sve u svemu film je jako loš (blizu toga da ga nazovem proljevom)...ali doduše mnogo puno bolji nego stvarni proljev "Day of the Dead 2: Contagium" (2005) tzv. prequel, ali ako želite baš pravu stvar strpite se i čekajte Romerov novi uradak - "Diary of the Dead" (2007), koji već igra u nekim kinima u svijetu (a buđet mu je samo mizernih 2 miliona $).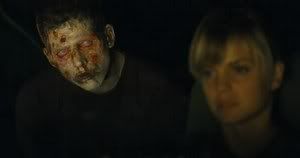 Bub (lijevo od Mene Suvari)...ne znam za vas ali meni je onaj stari i dalje legenda