utorak, 19.02.2008.
My Bloody Valentine (1981)

Moje Krvavo Valentinovo (1981)

Produkcija: Canadian Film Development Corporation (CFDC) / Famous Players / Paramount Pictures / Secret Films
Redatelj: George Mihalka

Uloge:
Paul Kelman (Jessie 'T.J.' Hanniger)...........Lori Hallier (Sarah)
Neil Affleck (Axel Palmer).............................Keith Knight (Hollis)
Alf Humphreys (Howard Landers)................Cynthia Dale ... (Patty)

Film je izašao u kina 11. veljače, 1981 godine
Trajanje: 91 minuta
Buđet: 2,300,000 CAD
Zarada: 5,673,000$


Harry Warden čeka...čeka 14. veljače da se vrati i sve pobije (jedna od naj scena filma)

Sadržaj:
"- U gradiću Valentine Bluffs, Nova Scotia se nakon 20 godina ponovo priređuje zabava za Valentinovo. I dok se svi u rudarskom mjestašcu veselo pripremaju, duh prošlosti se vraća na naplatu. Zbog nesreće koja se dogodila u obližnjem rudniku 1960 godine, kada su ljudi zasluženi za osiguranje prije vremena otišli na zabavu ne provjerivši jesu li svi izašli iz rudnika, pa se dogodio odron gdje je odsjećeno nekoliko rudara.
Nakon par dana misije spašavanja, samo je jedan od rudara preživio hraneći se ostacima svojih drugova. Bio je to Harry Warden, koji zbog preživljenog šoka završava u psihijatrijskoj bolnici... No, on sam se zarekao da će se svaki put vraćati ako stanovnici gradića budu slavili Valentinovo. Ubrzo ljudi počnu nestajati i ljude na zabavi očekuje kravava noć...jer Harry Warden dolazi uzeti svoj danak u krvi."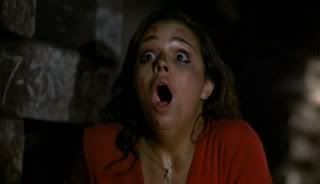 Strava u očima djevojke sve govori...The Miner je u gradu

RECENZIJA:
"- Ah, slasheri. Kako su bili predivni u 80-tima. Mislim da su mnogi horor obožavatelji zasigurno čuli za ovaj film, ali rijetki su ga pogledali (a oni koji su ga gledali vjerujem da nisu bili te sreće da gledaju uncut verziju).
Najprije ću odmah spomenuti da ovaj film nije došao iz SAD-a nego iz Kanade, te ga ja prvenstveno gledam kao zaseban film nego (kako neki kažu) na preočiti 'rip-off' "Petka 13-tog" (doduše film ima par dodirnih točaka sa dotičnim filmom, ali to je više plus nego minus; hej radnja filma se događa i tijekom petka 13-tog...), jer nemojmo zaboraviti da se Jason pojavio tek u drugom nastavku Petka 13-tog (točnije 01. ožujka, 1981 godine) pa se ovdje sigurno ne može govoriti o nekom kvazi 'rip-offu'...
Što se tiče samoga filma on je imao tu nesreću da su ga cenzori iskasapili i skoro mu tim činom izvadili srce tj. sve one aspekte koji čine slasher podžanr toliko zanimljivim. Prokleta MPAA (cenzori) mu je najprije dala X oznaku (to je koliko se sjećam imao samo TCM 74', a samu oznaku su uglavnom imali porno filmovi), ali je onda uskočio distributor Paramount i 'pametno' se dosjetio da 9 minuta naj izraženijih scena grafičkog nasilja izbaci (što će se kasnije pokazati kao big mistake) da bi potom zaradio R oznaku.

Jako mi je žao kad se ovako dobrom filmu oduzme sva njegova čar sa par malverizacija ljudi koji ne cijene horor žanr, nego samo profit. Iako je moje ogorčenje u pogledu ovog kanadskog horora vidljivo, sam film i bez tih scena koje su u montaži skraćene na najmanje moguće mjere djeluje predobro (bolje nego današnji moderniji slasheri, koji čak i imaju previše nezanimljivo razbacanog grafičkog nasilja) u pogledu same radnje, ali i jako zanimljivih likova (posebice ističem ljubavni trokut glavnih junaka)...a najveći pečat daje ona finesa koja krasi svaki dobar slasher - dobar tajming, zlokobna atmosfera i naravno nezaboravni gl. negativac tj. killer koji se oblači u rudara sa maskom na licu i pijukom traži svoje mlade žrtve (dobro sve one koji slave Valentinovo u njegovom gradiću). Isto tako nemojmo zaboraviti da je ovo film iz ranih godina slashera, pa je i sam preokret (tko je ubojica?) u filmu jako dobro napravljen, te pravo osvježenje (koje se kasnijih godina mnogo puta isponavljalo i to u različitim varijantama).


Još jedna žrtva ili je to tzv. "Final Girl"?

Iako je po mom mišljenju film bio na pozitivnoj nuli sa svojom zaradom na box officeu je po samim ljudima koji su uložili trud u film bio podbačaj (opet damn you MPAA), jer je film zaradio nešto više od 5,5 milja $ (a možda su im ciljevi bili preveliki, jer koliko vidim nadali su se zaraditi oko 10 -15 milja$).
Kako se svi horor recezenti slažu (naravno i ja sam među njima) čovjek koji je najviše izgubio u ovom projektu zahvaljujući cenzuri (tih 9 minuta maestralno izvedenih FX spec. efekata, jednako ravnima onima napravljenima u prvom "Petku 13") jeste majstor šminke i FX specijalnih efekata - Thomas R. Burman, koji nije imao sreće niti sa "Cat People" (1982), jer mu se istovjetna stvar dogodila kao i u ovom kanadskom projektu.
Dosta vas horor ljubitelja vjerojatno ima začuđeno lice, a iznad glave veliki upitnik (čitaj a WTF je taj T. R. Burman??) o ovom jedinstvenom majstoru...neću ništa govoriti nego ću samo nabrojati par filmova (koje ste zasigurno gledali) na kojima je radio bilo šminku bilo FX efekte - The Island of Dr. Moreau (1977), Invasion of the Body Snatchers (1978), The Star Wars Holiday Special (1978) i dr.
Sami filmovi govore za ovog meštra u rangu jednog Bottina, te naravno Savinija.


Jedan od najboljih killera u slasher žanru, sa originalnom odjećom i rekvizitima

Ako tražite jedan od najboljih izdanaka slasher podžanra i ako se želite dobro provesti uz hororac ovaj film ne smijete propustiti niti po bilo koju cijenu (odlično paše za mini maraton uz isto tako odlični "The Burning" iz 81'), jer svi segmenti našega žanra su tu (a uz sve to oni koji ne vole previše krvavih scena...bit će zadovoljeni)...
Uživajte u Valentinovu na jedan nov način...

THE SCENA:
Smrt djevojke Sylvije...