utorak, 12.02.2008.
Red Sonja - kraljica fantasy žanra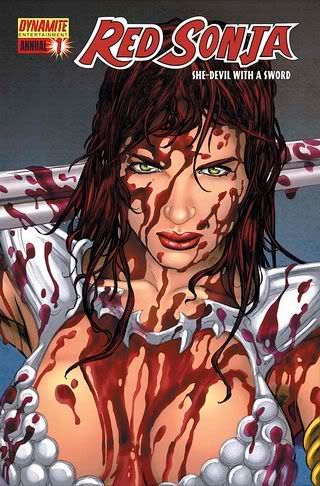 She Devil - With a Sword

Red Sonja je zasigurno najpoznatija heroina fantasy žanra (uz Eowyn neki bi rekli), ali više zahvaljujući devetoj umjetnosti nego književnim predlošcima. Ta crvenokosa ratnica ušla je među onu malu probranu ekipu jakih ženskih likova koje generacije stripofila jako dobro pamte – Kraljica džungle Sheena, Modesty Blaise, Axa, Cat Woman i Wonder Woman.
Zahvaljujući ovim potonjim današnji izgled ženskih junakinja izgleda više nego odlično, jer mnogo je kasnijih likova dobilo više pažnje, pa čak i svoje samostalne edicije (kao najveći primjer bih spomenuo Legs Weaver).
Zato pogledajmo kako je započela blistava strip karijera Crvene Sonje….

Red Sonya iz Rogatina prema Robertu E. Howardu u priči ''Sjena Lešinara'':
Njoj je REH posvetio samo jednu kratku priču pod naslovom ''Shadow od the Vulture'' (izašla u siječnju, 1934 godine u izdanju časopisa ''The Magic Carpet Magazine'') koja se zbivala u 16 st. (točnije 1529 god.), a pratila je vrijeme poslije bitke na Mohačkom polju tj. vrijeme opsade Beča od strane vojske Osmanskog carstva kojem je na čelu u to doba bio Sulejman Veličanstveni
Netipično za Howarda ova je priča bila povjesna priča sa fiktivnim likovima i događajima. Protagonist originalne priče je njemački vitez von Kalmbach i crvenokosa ratnica poljsko-ukrajinskih korijena, vješta u rukovanju hladnim oružjem i pištoljima po imenu Sonya.
Daljni tijek priče prati njihovu borbu protiv najjačeg mačeovaca Osmanskog carstva po imenu Oglu i izbjegavanju zamki od samoga Sultana, koji je naredio da ih se ubije, jer su uvrijedili njegovu čast.


Ne predaje si ni kad je ranjena i okružena nadmoćnijim neprijateljom...

Strip i stvaranje Red Sonje kakvu danas poznajemo:
Prvo pojavljivanje u stripu imala je u Marvelovoj ediciji pod naslovom ''Conan the Barabrian'' br.23 (originalni početak Conanovih avantura) , gdje se našla uz bok mišićavom Cimmerijancu (17 str.).
Tvorac je bio Roy Thomas a crtač Barry Windsor-Smith. Sama epizoda je imala isti naziv kao i kratka priča, ali je zato imala par znatnih izmjena:
- iz ratnice koja se bori u 16 stoljeću prešla je u Conanovo Hyboriansko doba
- ime su joj promjenili iz Sonya u Sonja (iako je u stripu dosta puta svi uključujuću Conana zovu Son-ya, kasnije je ostalo Sonja)
- više nije bila iz Rogatina, već sa zapadnih stepa Hyrkanije (današnja Ukrajna i dio Mongolije)
- u originalnoj Howardovoj priči Sonya nije bila silovana (od osmanskih vojnika), nego joj je sestra završila u sultanovom haremu
- Conan je preuzeo ulogu njemačkog viteza Kalmbacha tj. priča je prerađena kao jedna od Conanovih avantura


Predivan crtež Gabrielle Dell'Otto

Evo spiska i 6 knjiga autora David C. Smitha i Richard L. Tierneya, sa prelijepim coverima by Boris Vallejo :
#1 The Ring of Ikribu (Ace 1981)
#2 Demon Night (Ace 1982)
#3 When Hell Laughs (Ace 1982)
#4 Endithor's Daughter (Ace 1982)
#5 Against the Prince of Hell (Ace 1983)
#6 Star of Doom (Ace 1983)

U serijalu ''Kull and Barbarians'' (1975) saznajemo u epizodi br.3 "The Day of the Sword" cijelo porijeklo Red Sonje i kako je postala ratnica:
''- Kad je tek navršila 16 godina njeno imanje je posjetila plaćenička vojska pod kraljevom zaštitom i koja je tražila od njenog oca ratnog veterana, sada bogalja da pristup vojsci. On to odbija i vojnici potom ubijaju njega, ženu mu i sina, a Sonju brutalno siluju.
Obeščašćena i sama, sa krikom osvete na usnama u pomoć joj dolazi božica Scathach i daje joj moć savladavanja mačevalačke vještine i nepogrješivost u vitlanju najrazličitijim oružjima.
Samo se jednog pravila morala držati – da ne liježe sa niti jednim muškarcem koji je nije pobijedio u ravnopravnoj borbi.'' (sad bi netko rekao da je ovo otvoreni poziv na lezbijstvo…)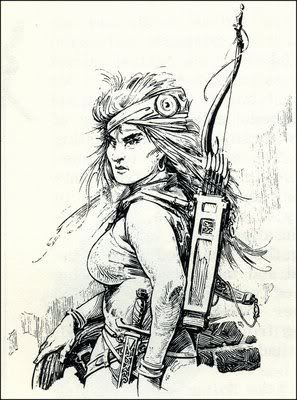 Red Sonya of Rogatin

Evo što sam Conan misli o Red Sonji:
''- Crvenokosa đavolica ljepša nego plamenovi pakla…prava vragolanka, u opijanju pod stol pospremi bilo kojeg snažnog muškarca…a psuje bolje nego Zingaraijanac.''
Meni samome najbolje dvije epizode su bile baš u Conanovim epizodama:
#23 - #24 – gdje je Red Sonja prikazana vrlo ženstveno (bez one kasnije pretjerane kreposti i djevičanske aureole) sa odličnim crtežom Barrya Windsora-Smitha (vinjete gdje joj je lice u gro planu su kao preslika glumice Virginije Madsen
#115 - #116 – gdje su se opet susreli Conan i Red Sonja i to u epskoj borbi na str. 10, gdje su oboje ukrstili mačeve jedno protiv drugoga (…u danima koji su uslijedili, mnogi će govoriti kako je Conan pokazao da je bolji od dvoje boraca…drugi su rekli da je pod Sonjinim nogama bila lokva vina…bilo što da je bilo…Sonja je tu borbu bila izgubila..)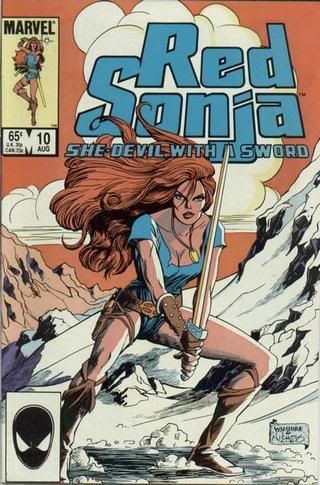 Crvena Sonja iz trećeg serijala by Marvel

Evo što su si rekli na 15 str. broja 116, gdje vode jedan od najdirljiviji razgovora između njih dvoje (i pokazuje kakvi se ljudi kriju iza ratničkih lica):

Conan: ''- Čekaj! Neću se sam vraćati u Akkhariju…Ali zašto ne bismo pošli zajedno? Možemo jahati jedno uz drugoga…barem za nekovrijeme.''
Red Sonja: ''- Ne smijemo Conane…premda bih ja to vrlo rado htjela.''
Conan: ''- Što? To nema smisla.''
Red Sonja: ''- Zar ne razumiješ? Ja sam imala proročanstvo… Rečeno mi je da ću biti ono što jesam samo dotle dok ne budem imala ljubavnika koji me porazio u bici.
Možda me i jesi porazio. A možda nisi… Ali ja ću izgubiti moć budem li jahala s tobom. Postat ću samo jedna od tvojih žena koju ćeš ostaviti čim naiđe neka nova koja će te više zanimati.
Možda ću jednoga dana moći biti oboje…i žena i ratnik. No, zasad moram birati između toga.''

Uz Conana jedini muškarac koji ju je pobijedio u ravnopravnoj borbi je bio Wolverine u specijalnoj epizodi "What if?" Vol. 2, #16 – gdje je u toj drugoj stvarnosti postala njegova družica.
Čak se udružila sa Spidermanom u dvije prilike ("Marvel Team-Up" # 79 – gdje je Sonjin duh preuzeo tijelo M. J. Watson i gdje se uz Spideja borila protiv svog starog neprijatelja Kulan Gatha; te mini serija u produkciji Dynamite Entertainmenta gdje se Čovjek Pauk i Crvena Sonja bore protiv Venom i kulan Gatha).


Niti zvijeri joj ne čine probleme...

Prava je šteta što njen lik nije književno zaživio i što su je u stripovima (zar to nije slučaj sa svim ženskim likovima u svijetu stripa?) uvijek prezentirali kao sisatu skoro nagu žensku, bez imalo prave karakterizacije njenog lika.
Pogledajmo samo njezinu odjeću – žičani bikini koji više otkriva nego pokriva. Meni samome se najviše sviđala u robi kako ju je crtao Barry Windsor-Smith (žičana košulja dugih rukava i uska haljina) ili kako je izgledala u 3 serijalu od 13 brojeva (83' – 86' god.). Nadam se samo da će za raszliku od trash fijaska iz 85'-te, novi najavljeni film biti mnogo bolji…
Od 74'-te Red Sonja je ostvarila više od 85 brojeva kao glavni lik, te isto toliko brojeva kao sporedni protagonist (uglavnom su to avanture sa Conanom).
Njene nove avanture se sad izdaju pod paskom Dynamite Entertainmenta, koji se polako probija na tržištu i postaje jedan od 5 najboljih izdavačkih kuća što se stripova tiče.
Red Sonja – Đavolica sa mačem će uvijek ostati prva i jedina heroina u mom srcu, pa iako njena popularnost varira u svijetu stripa…


Red Sonja & Conan...tandem kojeg sanjaju kraljevi drevnoga svijeta

(Uz mali odmor od REH likova…vraćamo se legendama Kralju Kullu i najvećem junaku Hyborianskog doba – CONANU od CIMMERIJE…stay tuned)