utorak, 05.02.2008.
Solomon Kane - neumoljivi borac protiv Zla

Književnost:
Mišljena sam da je Solomon Kane zasigurno najkompleksniji lik kojeg je Robert E. Howard u svom spisateljskom životu stvorio. Tajanstven koliko i same njegove mistične avanture S. Kane je pravi prototip antijunaka sa izraženom herojskom areolom u svom smrtnom biću, jer za razliku od drugih junaka REH - a koji su obdareni Herkulovskom snagom i koji sve svoje probleme i nedaće rješavaju više snagom i umjećem svojih mišica nego vještinom i mozgom. Ostali likovi su uvijek imali u sebi neku besmrtničku neodirljivost i u svojim najgorim neprilikama, a dok je naš neumoljivi mačeovac uvijek bio na rubu, ranjiv kako to može biti običan čovjek u neobičnim, ali i u sasvim običnim situacijama.

Kaneove avanture imaju onu magičnu točku koja odmah privlači čitaoca svojim obratima, neočekivanim i napetim situacijama, koje graniče s onostranim, te se tako skoro u svaku avanturu uvuče gotički ugađaj a sve priče odišu avanturama, pa tu konstantno imamo :
dvoboje mačevima - kao u avanturama o trima mušketirima Alexandra Dumasa, oca
moreplovce, galije i gusare - kao u "Otoku s Blagom" Roberta Louisa Stevensona
svakojaka mitološka bića (zmajeve, vampire, vukodlake...) - čijim se gotičkim ugođajem najviše približava "Drakuli" Brama Stokera ili "Modernog Proteusa" (tj. nama poznatijeg kao "Frankenstein") Mary Shelley, no sa izrazitom crtom priča H. P. Lovecrafta...


Česta scena Kane vs. gusari

Sve te poveznice čine smjesu koja mene kao osobu koja voli takvo štivo neprestano vuče da se nanovo vraćam njegovim avanturama, pa iako ih je vrlo malo, ipak ih ima dovoljno da se čitatelj može opustiti i uživati u svakoj njegovoj avanturi.
Priče o Solomonu Kaneu imaju dublju dramaturgiju u priči i odonos među likovima, ali ono što najviše upada u oči jeste sam lik misterioznog borca protiv Zla.
Tog čistokrvnog Puritanaca koji se skita svijetom i uništava Zlo u bilo kojem obliku, gdje god stigne, a odlikuju ga vrline vještog mačeovaca koji besprijekorno barata hladnim oružjem, ali kad zatreba i vatrenim. Uvijek u crnom, obružan 'rapir' mačem, bodežom i dvama pištoljima kremenjačama, mračan, turoban, često zaklonjen spuštenim šeširom širokog oboda koji mu krije blijedo lice i hladnog pogleda vreba nepravdu i uvijek staje u obranu Dobra.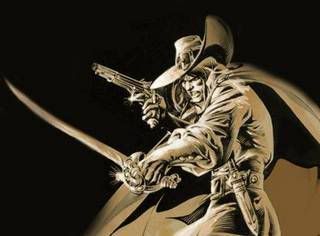 Uvijek sa isukanim mačem i prkosom u očima...Zlo gubi uvijek (fenomenalan crtež Rudy Nebres)

Sve priče u kojima se Solomon Kane pojavljuje (REH pisao) :
"Red Shadows"
- Weird Tales, kolovoz 1928. Poznata i kao "Solomon Kane" i prva je priča ikad objavljena o S. Kaneu
"Skulls in the Stars" (Weird Tales, siječanj 1929)
"Rattle of Bones" (Weird Tales, lipanj 1929)
"The Moon of Skulls" (Weird Tales, Part 1, lipanj 1930; Part 2, srpanj 1930)
"Hills of the Dead" (Weird Tales, kolovoz 1930)
"The Footfalls Within" (Weird Tales, rujan 1931)
"Wings in the Night" (Weird Tales, srpanj 1932)
"Blades of the Brotherhood" (Red Shadows, Grant, 1968). Poznata i kao "The Blue Flame of Vengeance."
"The Right Hand of Doom" (Red Shadows). Kane ima epizodnu ulogu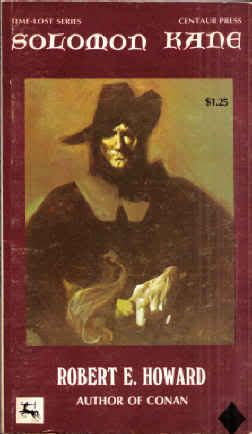 Jedna od knjiga...

Nedovršene priče:
"Death's Black Riders" (The Howard Collector #10, ljeto 1968)
"The Castle of the Devil" (Red Shadows, Grant, 1968).
"The Children of Asshur" (Red Shadows)
"The Hawk of Basti" (Red Shadows)

Pjesme: "The One Black Stain", "The Return of Sir Richard Grenville", "Solomon Kane's Homecoming"

- pisci kao Ramsey Campbell, Javier Martin Lalanda i Gianluigi Zuddas su ili dovršavali nedovršene priče ili ubacivali nešto svoje...

Ono što je započeo prof. Abraham Van Helsing 1897 godine u Stokerovom "Drakuli" nastavio je Howardov 'mračnjak' i lutalica Solomon Kane. No, iako su obojica dosta slični i misteriozni Solomon Kane je više akcijski lik, koji sve riješava brzim potezom mačem (u kršćanskom zanosu), srebrnim mecima ili sličnim oruđem koji uništava Đavolove sljedbenike, dok je dotični profesor ipak više 'mirniji' tip tj. više oprezan i bez neke prevelike akcije...no nemojmo zaboraviti i on postaje ubitačan kad vrijeme to zatreba).
Zato mnogi današnji junaci (poput Bladea ili Buffy, pa čak bih se usudio reči i Hellboya) mnogo duguju baš Solomon Kaneu, koji je otac takve vrste junaka koji su svoje živote posvetili uništenju Zla.
Koliki je utjecaj izvršen na takvu vrstu junaka iz jako naglašene gotičke sredine (točnije gotičkog horora) dovoljno oslikavaju dva junaka novijeg datuma i to jedan književni "Vampire Hunter D" (koji je kasnije poznatiji po dvama odličnim manga crtićima) i Gabriela Van Helsinga (modernizirana verzija dobrog profesora), kojima je odjeća totalna preslika Solomona Kanea (no tu ne prestaju sličnosti)...


Evo sami procijenite jel bacaju po odjeći na Solomon Kanea

Solomon Kane kronologija (na informacijama zahvaljivam Richardu Toogoodu i Matthew Baugh):

1549 godina
- Solomon Kane je rođen u Puritanskoj obitelji u Devonshireu, Engleska

1566 godina
- Kane pristupa trgovačkoj mornarici, te u nizu par godina dugih putovanja dobiva čina kapetana broda

1566 godina
- njegovo prvo putovanje u Novi Svijet (Amerika) dovodi ga u sukob sa opakim čudovištem, ali i tu upoznaje princezu Azteca
"The Island of the Feathered Serpent" napisao Gianluigi Zuddas

1572 godina
- postaje pirat koji napada Španjolske brodove kod Hispanole (drugi najveći otok na Antilima u Karipskom moru)

1573 godina
- vraća se u Europu, te se bori protiv Hugenota u Francuskom ratu religija

1575 godina
- odlazi iz Francuske u Black Forest (Njemačka) gdje proživljava svoje najbolje avanture; upoznaje John Silenta u trećoj priči
"Death's Black Riders," "The Rattle of Bones" i "The Castle of the Devil"


Još jedna odlična crno bijela vinjeta za novi seijal u produkciji Dark Horsea

1576 godine
- putuje na Mediteran gdje uz Johna Silenta postaje pirat (tzv. privateer), gdje bivaju uhvaćeni od muslimanskih snaga i potom prodani kao veslači an galiji

1577 godina
- oslobađa se i bježi od muslimana i vraća se u Englesku da bi se pridružio ekspediciji proputovanja svijetom Sir Francisa Drakea

1578 godina - događaj u pjesmi "The One Black Stain"

1579-80 godina - događaji u priči "Red Shadows"

1585-86 godina
- pomaže Sir Richard Grenville u kolonizaciji Novog Svijeta

1587 godina - događaji u "Skulls in the Stars"

1588 godina
- prisutan kad je Engleska mornarica pobijedila Španjolsku Armadu (Bitka kod Gravelines)

1588-90 godina - događaji u"Blades of the Brotherhood"

1591 godina
- služio na brodu "Revenge" kad je napadnut od Španjolaca; brod je brzo zauzet, a Sir Richard Grenville ubijen; Kane je kao zarobljenik odveden pred Inkviziciju gdje je okrutno mučen, ali uspijeva pobjeći

1592-1605 godina
- odlazi u Afrki gdje upoznava misterije kontinenta; to vrijeme uključuje priče - <strong>"The Moon of Skulls", "The Hills of the Dead", Hawk of Basti," "The Return of Sir Richard Grenville" (pjesma), "Wings in the Night," "The Footfalls Within" i "The Children of Asshur."

1605 godina
- vraća se u Englesku u priči - "The Right Hand of Doom"

1610 godina - događaji u pjesmi "Solomon Kane's Homecoming" (gdje se opet vraća lutanjima i avanturama)
- prema Gianluigievoj verziji, njegova posljednja avantura je bila na Grelandu gdje pomaže posljednjoj kolnoji Vikinga da se obrani od ljudi-vukova i to u priči "The Crown of Asa"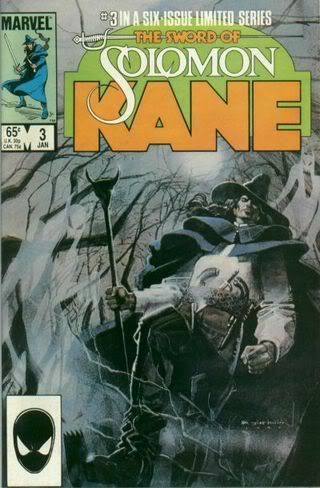 Jedan od 6 djelova mini serijala o Solomon Kaneu

Solomon Kane u stripu:
Ja sam sam upoznao Solomon Kanea kroz strip iz Marvelove produkcije (kao i ostale Howardove likove...o kojima ćemo u narednim postovima) koji je izlazi u sklopu serijala stripova o Conanu Cimmerijancu..
Sve priče su crtane vrlo dinamično i u pravim horor elementima, sa ponekad stvarno odličnim monolozima (kao kada prvi puta susretne Drakulu...da dobro ste čuli)...a evo i cijelog popisa:

Prva pojava: Marvel Premiere #33 (Prosinac, 1976).
Ostale pojave: The Conan Saga #17, Kull and the Barbarians #2-3, Marvel Premiere #33-34, Marvel Preview #19, Monsters Unleashed #1, The Sword of Solomon Kane #1-6, Savage Sword of Conan #13-15, 18-20, 22, 25, 26, 33, 34, 37, 39, 41, 53, 54, 62, 83

Za kraj mogu reći da mi je najbolja vijest što ove godine možemo očekivati punokvrni film naslova:
SOLOMON KANE (2008)


Jako dojmljiv poster moram reći....

Redatelj i scenarist: Michael J. Bassett
Glume: James Purefoy (Solomon Kane), Max von Sydow (Josiah Kane), Rachel Hurd-Wood (Meredith Crowthorn), Mackenzie Crook (otac Michael), Ian Whyte (Reaper), Pete Postlethwaite (William Crowthorn)

- Puno očekujem od ovoga filma, ali sam i zabrinut jer film bi trebao biti pravi kostimografski, sa izraženim depresivnim ugođajem (hoću reći bez nekog veselog pristupa), tonova kao recimo u "Brotherhood of teh Wolf" (ali bez kung fua); moj izbor za Solomon Kane bi bio Christian Bale (ima ono mračno što odiše u Howardovim pričama o puritancu), no što je tu je (valjda će James biti dobar vidjet ćemo); dva velika plusa su što je produkcija počela na moj rođendan 14. siječnja ove godine i što je ejdan od glumaca veliki Max von Sydow...


James Purefoy kao Solomon Kane

Dotle, uhvatite koju priču ili barem strip (novi serijal uskoro izlazi u izdanju Dark Horsea) o Solomon Kaneu i iskusite iz prve ruke jednog od najvećih junaka gotičkog horora...Uživajte...

(Slijedi RED SONJA)