utorak, 22.01.2008.
102 godišnjica rođenja oca žanra mača i magije...

Robert E. Howard (1906 - 1936)




Na današnji dan se navršava 102 godine od rođenja oca žanra mača i magije (eng. sword & sorcery) - Roberta Ervina Howarda, ali i jednoga od prvih začetnika fantasy žanra uopće.
Vjerujem da ljubitelji fantasya dobro znaju tko je ovaj pisac, ali za onu većinu (ima ih ima) kojima ovo ime ništa ne govori (a trebali bi ga znati) saznat će dosta toga u nastavku ovog posta (koji se će imati par nastavaka)...

Robert se rodio 22. siječnja, 1906 godine u malom mjestašcu Peaster (okrug Parker) u Teksasu kao jedinac u obitelji Howard (oca liječnika Isaaca Mordecaija i majke Hester Jane, čije je djevojačko prezime bilo Ervin), a ime je dobio po ujaku (iako neki navode da je dobio ime po djedu).
No, kako bilo činjenica ostaje da je po staroj tradiciji njegove obitelji (korjene vuče sve do škotskih gorštaka u vrijeme legendarnog William Wallacea i Roberta de Brusa, lorda od Annandalea) svakom muškom prvorođenom djetetu davano ime Robert.
Od Robertovog rođenja obitelj Howard se mnogo selila i to najviše zbog očeva zanimanja:
Dark Valley (1906) - proveo cijelo ljeto u brdima Paolo Pinto, najverojatnije zbog boležljive majke Hester, koja je cijeli Robertov život imala velikih problema sa zdravljem; Seminole (1908) - mjesto u blizini granice s Novim Meksikom na zaravnima Staked; Bronte (1909) - gradić u zapadnom Teksasu, gdje je uzgoj ovaca bila prva gospodarska grana; Poteet (1910) - gradić u okrugu Atascosa, područja od 3.9 km; Oran (1912) - gradić na sjevernom dijelu okruga Palo Pinto, gdje prevladava farmerski način života; Wichita Falls (1913) - stočarski grad oko vodopada Wichita (oko 30 km južno od granice sa Oklahomom); Bagwell (1913) - skroman gradić u šumovitom istočnom dijelu Teksasa; Cross Cut (1915) - mjesto u okrugu Brown; Burkett (1918) - mjesto u okrugu Coleman; Cross Plains (1919) - gradić između gradova Abilene i Brownwooda u okrugu Callahan, gdje će Robert s obitelji živjeti ostatak svog života (tu već ima 13 godina i ponekad odlazi na predavanja na Tulane University, a sve zahvaljujući svom ocu liječniku).


Sir Arthur Conan Doyle (otac Sherlocka Holmesa) jedan književnih utjecaja...

Uz sva ta proputovanja uglavnom kroz manja mjesta u Teksasu (te kratkotrajni vremenski boravci u Oklahomi, Missuriju, San Antoniju i New Orleansu) Robert je već u ranoj dobi (sa 9 godina napisao prvu priču) pokazao zanimanje za pisanje, ali njegova intezivnost za pisanje se iskazuje tek kad navršava 15 godina.
Ono što je najviše utjecalo na njegovu kasniju plodnu spisateljsku karijeru su priče koje je slušao od veterana Američkog građanskog rata, bivših robova (među kojima se isticala crna kuharica Teta Mary Bohannon), ali najviše je upijao priče svoje bake.
Ona je bila ta koja mu je usadila ljubav prema pričanju priče i koja je raspalila taj njegov spisateljski žar. Evo što je on sam napisao o utjecaju bake:

"- Nijedna crnačka priča nikada u meni nije izazvala takvu jezu kao priče koje mi je ispričala baka. Sva tama i mračna mistika glaske prirode bile su dio nje, i njoj nije bilo nimalo vedrine i veselja. Njezine priče su dokazivale da se među škotsko-irskim doseljenicima američkog Jugozapada razvija čudan foklor, u kojem se preneseni keltski mitovi i bajke susreću i miješaju s legendama o robovima.
Moja baka je predstavljala generaciju koja je napustila južnu Irsku, i znala je napamet sve priče i praznovjerja koja su išla uz to, i bijelaca i crnaca. Kao djetetu, kosa mi se dizala na glavi kada bi pričala o kočiji koja je noću išla niz put Wilderness, bez konja koje bi je vukao - kočija je bila puna odrezanih glava i osakaćenih tijela; zatim o žutom konju, nestvarnom konju koji je trčao gore-dolje po stepenicama velike kuće smješetene na plantaži u kojoj je ležala zločesta umiruća starica..."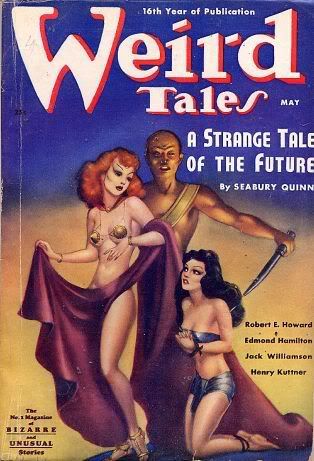 "Weird Tales" časopis kojem je REH bio odan do kraja svoje smrti...

Osnovnu školu (deseti razred) je završio u Cross Plains Hight School, a srednju u Brownwoodskoj gimnaziji (Brownwood High School) gdje u proljeće 1923 godine maturira (tad objavio i svoju prvu pjesmu, a uskoro počinje pisati i za novo nastali časopis "Weird Tales").
Negdje baš u to vrijeme upoznaje dva mladića Truetta Vinsona i Clydea Smitha koji ga potiču da svoje priče počne zapisivati, ali isto tako imaju isti ukus u književnosti (posebice Smith koji je obožavao poeziju).
Kao tinejđer je radio razne poslove za đeparac (pomoćnik u trgovini, bio akviziter u krojačnici...), ali ono što mu je bila odlika jeste - da je bio jako inteligentno dijete (jedan od njegovih rijetkih prijatelja Lindsey W. Tyson sa kojim je upisao u jesen 1924. godine akademiju u Howard Pyne Collegeu u Brownwoodu i sa kojim je zajedno stanovao u jednom pansionu je pričao kako je Robert pjesmu engleskog pjesnika Samuela Taylora Coleridgea "The Rime of the Ancient Mariner" zapamtio napamet u samo dva čitanja).
Najjači utjecaj na njegov intelekt je imala njegova majka, koja je bila jako brižna i draga osoba, te je uvijek pomagala drugima u nevolji ili bolesti. Ona mu je usadila ljubav prema poeziji i književnosti, pa tako mladi Robert od najranijih dana počinje čitati djela pisaca koji će utjecati na njega:
Arthura Conana Doyla, Jacka Londona, Marka Twaina, Sir Waltera Scotta, Edgara Allana Poa, H. P. Lovecrafta ali i mnogih drugih književnika.




Iako je upisao koledž, odslušao je nekoliko semestara (tečaj stenografije i daktilografije), čak je razmišljao i o glazbenoj karijeri (svirao je violinu, valjda je uzor vidio u Sherlocku Holmesu), ali se napokon odlučuje na pisanje (iako u početku ima problema sa prenošenjem svojih zamisli i usmenih priča na papir ipak mu naposljetku kreće i sve tečnije, sa velikim žarom počinje pisati razne priče i pjesme).
Kad je došao kraj proljetnom semestru napušta koledž i iako ne može ništa objaviti, vraća se svome domu u Cross Plains. Opet se prihvatio mnogobrojnih, ali kratkotrajnih poslova (novinar, nosač štapova za geologe, tajnik u odvjetničkoj kancelariji, stenograf) što zbog ne slaganja sa predpostavljenima, što radi toga što se nije želio uligavati poslodavcima.
Svo vrijeme provodi danonoćno čitajući što je odlika mladih pisaca, ali i pisajući pjesme i priče, koje šalje raznim pulp časopisima ali bez nekog velikog uspijeha.
Tad dolazi 1925 godina...i njegov stidljivi početak....

NASTAVIT ĆE SE....