četvrtak, 27.12.2007.
D-Wars (2007)

Zmajevi Ratovi (2007)


Produkcija: Younggu-Art Movies
Redatelj i scenarist: Hyung-rae Shim
Foršpan filma: D-War (2007)


Uloge:
Jason Behr (Ethan)...............................Amanda Brooks (Sarah)
Robert Forster (Jack)............................Aimee Garcia (Brandy)
Chris Mulkey (Agent Frank Pinsky).......Elizabeth Peńa (Agentica Linda Perez)
Billy Gardell (Čuvar Zoološkog vrta)


Film je izašao u kina 8. veljače, 2007 godine (na Europskoj Filmskoj Tržnici)
Trajanje: 107 minuta (Njemačka verzija) / 90 minuta (J. Korejska verzija)
Buđet: 75,4 milijuna $
Zarada: 11 milijuna $ (SAD) / 53,6 milijuna $ (Svjetska zarada) / 54 mlijuna $ (Južna Koreja)


"Nakon što je progutalo slona...ta stvar me je gledala kao moja bivša žena." : Zoo Guard (u manjoj slici završio u luđačkoj košulji...najsmješniji lik u filmu)

SADRŽAJ:
"- Prema drevnoj Korejskoj legendi svakih 500 godina drveno reptilsko biće Buraki (200 metarska *Imugi zmija) želi se domoći moći zmaja Yeouijoo koji se nalazi u djevojci sa posebnim biljegom na ramenu u obliku zmaja. Kad bi se domogao Yeoujiooa dobio bi moć pretvorbe iz Imugi zmije u čistokrvnog zmaja što bi mu omogućilo da prkosi volji nebesa i da stvara kaos na Zemlji.
Nakon što mu to nije uspijelo 1507 godine, Buraki se vraća 2007 godine i daje se u potragu za djevojkom po imenu Sarah koja ima biljeg na ramenu i nosi moć zmaja - Yeouijoo. Burakiju u potrazi pomaže i njegov sluga zapovjednik njegovih zlih snaga. Djevojci Sarah pomaže mladi reporter Ethan Kendrick (koji je reinkrancaija ratnika Harama), no hoće li njih dvoje uspijeti pobijeći vojsci mraka i Burakiju, koji moderni Los Angeles pretvaraju u hrpu ruševina ili će dobro izgubiti bitku ovaj put?"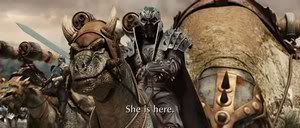 Lošija kopija "Gospodara Prstenova" u svom najboljem svijetlu

RECENZIJA:
"- Kad sam vidio prvi foršpan na netu bio sam oduševljen što ću uskoro moći pogledati još jedan monster movie nakon fenomenalnog "Gwoemul" (2006) tj "Domaćina". Sam film je u toj reklami prikazao neke vrlo spektakularne prizore, no što je najgore to i jesu bili najbolji dijelovi cijelog filma.
Upravo sam ga pogledao i mogu reći da je sam film veliko veliko razočarenje - dakako film ima dosta spektakularnih prizora, ali jednostavno to nije to (redatelj je previše gledao "Gospodare Prstenova").
Prvi veliki minus filma jeste to što je scenarstički napravljen katrastofalno, jer je sam film u pogledu tog dijela prepun rupa, potom su likovi vrlo plošni štoviše nezanimljivi, a radnja kako ide svom kraju je ubij me Bože.
Što se likova tiče niti su upotrebljeni kako treba (Robert Forster kao Jack recimo; iako zasigurno vrlo važan lik u filmu samo statira??) niti je gluma na nivou na kojem bi trebala biti kad su u pitanju veliki buđeti (pogotovo dvoje mladih glavnih glumaca koji su prikazali dugo neviđenu drvenu glumu, a da ne spominjem najgoreg negativnca ove godine ili da kažem ovih godina - Michaela Shamusa Wilesa kao zlog zapovijednika).


Zmaj i njegove smrtonosne ralje...

Sljedeći veliki minus kod ovoga filma jeste to što redatelj nema pojma o režiranju. Ne zna suzdržati neke scene, kompozicija nekih scena je vrlo manjakavo napravljena pa tako ponekad imamo nabacivanje CGI efekata bez ikakvog smisla i sa takvim pristupom ubija onu megalomansku veličinu koju imaju monster filmovi. Isto tako neki CGI efekti su napravljeni vrlo žalosno (isto tako i prikazi bitki na početku filma više naliče na stare wuxia filmove sa ograničenim buđetom).
Najveći problem kod svega toga jeste što je redatelj filma ujedno i scenarist (ponekad ubitačno loša kombinacija za neke filmove, pa tako to vrijedi i kod ovoga) i koji nije imao nekih jakih filmskih ostvarenja, ali se bogme nije niti proslavio zadnjim svojim monster filmom - 2001 Yonggary (1999), pa je pitanje kako se ovaj južno korejski Uwe Boll uspio dočepati ovako skupog projekta, koji pod njegovom palicom izgleda kao najskluplji Sci-Fi Channelov projekt.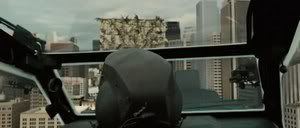 Zgrada prepuna zmajeva (rijetka i dobro napravljena CGI scena)

Kad se pogleda da je Joon-ho Bong sa svojim monster remek djelom "The Host" i buđetom od tričavih 11 milijuna $ napravio jedan od najboljih filmova u 2006 i najboljih monster filmova svih vremena....čovjek se zapita vrijedili li uopće gledati "D-War" (koji dođe skoro 7 puta više zelembaća) ili se baciti na neka ostvarenja od prije 74 godine (King Kong) ili čak na reprizu gledanja Bongovog filma (film to zaslužuje svakim svojim kadrom)...pa mislim da je to ipak stvar izbora, ali ako se mene pita...pa ipak sam za to da film zaslužuje biti pogledan (ali vjerujem da ćete ga odmah brzo zaboraviti) zbog par stvarno dobro napravljenih CGi scena, ali ponajviše zbog toga da čovjek nauči razlikovati dobar od lošeg filma o titanskim čudovištima koji razaraju gradske metropole.


Borba zmaja i Imugi zmije - dobra i zla

Završna riječ:
- Hyung-rae Shim je napravio vrlo loš posao (dobio vrlo skupu igračku sa kojom se nije znao na pravi način igrati) i scenaristički i redateljski, pa mu je cijeli film postao prezentacija CGI efekata (vjerujem da je mnogo love otišlo baš na njih, a opet je većina takvih prizora začudo vrlo loše nabavljeno) bez radnje, bez zanimljivih likova, ali sa vrlo malo jako dobrih scena (kretnje Burakija po L.A.-u, borbe zmajeva i helikoptera, dvoboj 200 metarskih Imugi zmija na kraju filma i to je sve)... film vrijedi jednom pogledati (ako nemate vremena onda preporučam pogledati prvih 18 minuta i zadnjih pola sata kada krene dernek po ulicama Los Angelesa), a ako ste probrani gledatelj onda ipak preporučam Gojira/Godzilla filmove u produkciji kuće TOHO....

*Imugi - biće iz Korejske mitologije, vrlo slično zmaju iz mitologije Dalekog Istoka. Po nekima je biće koje mora preživjeti 1000 godina da bi se pretvorilo u odraslog zmaja, dok je za druge prokleto biće koje nikada neće postati zmaj. No, svi se slažu u jednom - da su to skromna bića nalik na pitone, koja obitavaju u vodama ili pećinama. Samo viđenje tog bića donosi sreću vidiocu. (možda su vodene zmije iz kriptozoologije baš Imugi?)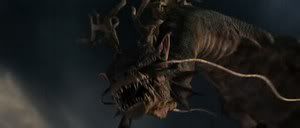 Zmaj izbliza... (nice zar ne?)