ponedjeljak, 10.12.2007.
Planet of Vampires (1965)

Planet Vampira (1965) / Terrore nello spazio (1965)

Produkcija: America-International Pictures (AIP) / Castilla Cooperativa Cinematográfica / Italian International Film
Redatelj: Mario Bava
Prema kratkoj priči Renata Pestriniera: "Un nolte de 21 orc" (One Night of 21 Hours)

Uloge:
Barry Sullivan (Kap. Mark Markary).............Norma Bengell (Sanya)
Ángel Aranda (Wess).................................Evi Marandi (Tiona)
Stelio Candelli (Brad / Mud)........................Franco Andrei (Bert / Garr)
Fernando Villena (Dr. Karan)......................Mario Morales (Eldon)
Ivan Rassimov (Carter / Dervy)..................Federico Boido (Keir)
Alberto Cevenini (Toby Markary / Wan)


Film je izašao u kina 15. rujna, 1965 godine
Trajanje: 86 minuta / talijanska verzija 88 minuta
Buđet: oko 100 000$


Staloženi kapetan Markary i njegova zabrinuta posada

SADRŽAJ:
"- U bliskoj budućnosti svemirski brodovi Argos i Galliot su poslani da istraže nepoznat planet Aura. Kad Galliot izgubi vezu sa Argosom, počnu se događati vrlo ozbilnje i neobjašnjive stvari. Posada se uslijed slijetanja na planet počne ponašati vrlo neobično i jako nasilno jedno prema drugime. Na kapetanu Markaryju je teška odluka da li da istražuje nesvakidašnje događaje ili da se orjenitra na pronalazak Argosa...a onda njegova posada pronalazi Argos prazan, bez posade, a čudne se stvari počnu događati oko Galliota.
Uskoro strašna istina dolazi na vidjelo...mrtva posada Argosa, koja se međusobno pobila, se počne pojavljivati i prijetiti preživjelima sa Galliota."

RECENZIJA:
"- Evo jednog filma koji se vrlo slabo spominje u SF krufovima a trebao bi jer to zaslužuje i kao jedan od najboljih, ali zasigurno najneobičnijih SF filmova ikada. Iako je Bava prvenstveno redatelj horor žanra (podžanrovi - giallo i gothic) odvažio se na tu njemu nesvojstveno područje (prvi i jedini put kao redatelj) i to sa jako dobrim uspijehom.
Iznenađuje kako je Bava sa minimalno mogućim buđetom napravio tako mnogo (pitanje je kako bi to još bolje izgledalo sa pristojnim buđetom), a sve zbog odlično provođenih ideja i tehničkih riješenja, ali i zbog toga što je uz sebe imao Antonioa Rinaldija, sjajnog kamermana, sa kojim je uspio prikazati vrlo relaistično interijer i okoliš tajanstvenog planeta Aure.
Ono što je najdojmljivije jeste ta gotička struktura koja se proteže kroz cijeli film i tako daje jaku i jezovitu atmosferu u kojoj uz tmurnu glazbu prevladava okoliš (neprestana izmaglica koja leluja po planetu i tako daje crtu onostranog...kao da nešto stalno vreba protagoniste filma iz te magle).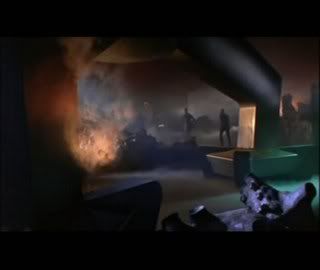 Ozračje vanzemaljskog okoliša panete Aura

Uz veliki posao što je napravila montaža i sama kamera, ono što je po mome skromnom sudu odlično jeste sama priča, bez obira što drugi kritičari rekli (na netu većina njih baš kritizira priču u pogledu da je manjkava), koja po meni odlično funkcionira kao kritika tzv. civiliziranog društva (napredniji podređuju slabije), ali i kao kolorit moralnih dilema modernog čovjeka (cijela jedna civilizacija bori se da preživi pa makar to značilo neku vrstu kraja druge).
Zbog ovih skrivenih poruka (pogotovo odlično napravljen kraj, koji je iznenađujuće šokantan i skoro kao da doziva sličan kraj u "Invaziji Tjelokradica" iz 56') dosta gledatelja nije shvatilo poantu filma (jer su ga gledali kao običnu SF akrobaciju...što film definitvno nije) i zbog toga mi je jako žao.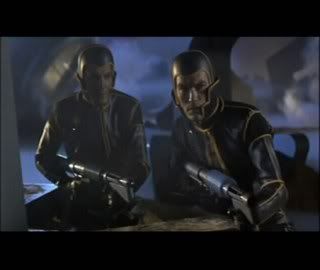 Na straži (jesu li filmski X - Man od njih posudili krecije svojih odijela?)

Sam film balansira na rubu trivijalnosti i trasha (smješno oružje, izgled planeta i letjelice u svemiru kod kojih se vidi da su makete), no to je sve kako sam naglasio zbog vrlo malog buđeta (jadni Bava se snalazio kako je znao...i opet podcrtavam dobro se stari meštar snašao). I ovo je dosta kritičara osporavalo talijanskom redatelju, no nisu imali za pravo jer nisu shvaćali u kojoj se situacija nalazio.
Što se tiče glumaca oni su solidno odradili svoj dio posla (jedna sasvim solidna ali i skoro nepoznata međunarodna ekipa glumaca), no cijela zasluga ide na adresu Barrya Sullivana kao odvažnog i vrlo smirenog kapetana Marka Markaryja (jedan od najboljih kapetana u SF-u što sam ikada vidio).

Da zaključim:
Zaboravio sam spomenuti da je film sigurno inspirirao Dana O'Bannona za njegov scenarij na čijem je temelju kasnije nastao "Alien" (1979) Ridleya Scotta, pa iako su u više navrata govorili da "Planet Vampira" nikada nisu gledali (kako da ne..volio bih da usporedite scene iz ta dva filma tj. scena kad i u jedno i drugom filmu gl. likovi pronađu okamenjene kosture neke nepoznate vrste svemiraca) malo im ljudi vjeruje (a i oba filma djele sličnu atmosferu, ali i imaju više horor elemenata nego što to običan SF film inače ima).
I za kraj vjerujem da neću puno pogriješti ako kažem da je ovo uz "Peti Element"najbolji europski SF ikada.
Zato bi svaki SF znalac morao pogledati ovaj pomalo šundovski film (sa najrealnijim vanzemaljskim okolišem prikazanim u 60-tima) kojeg ja svrstavam u jedinstvene klasike SF žanra uz jednog "Forbidden Planet" (1956) ili "The Day the Earth Stood Still" (1951)... Long Live Mario Bava!

THE SCENA:
Ima ih čak tri ali da ne pokvarim užitak sa trećom scenom reći ću da je to sam kraj filma, aostale dvije su redom:

a) Ustanak reanimiranih mrtvaca iz grobova (vrlo jezovito odrađeno)



b) Scena koja je inspirirala "Aliena" (1979)...i iako se film zove "Planet Vampira" film baš nema puno veze sa bilo kakvim vampirima...