četvrtak, 06.12.2007.
30 Days of Night (2007)

30 Dana Noći (2007)

Produkcija: Ghost House Pictures / Columbia Pictures / Dark Horse Entertainment
Redatelj: David Slade

Uloge:
Josh Hartnett..........šerif Eben Oleson
Melissa George.......Stella Oleson
Danny Huston.........Marlow
Ben Foster..............Stranac
Mark Boone Jr.........Beau Brower
Mark Rendall.......... Jake Oleson

Film je izašao u kina 19. listopada, 2007 godine
Trajanje: 113 minuta
Buđet: 32 miliona $
Zarada: 39, 13 miliona $
Foršpan filma - 30 Days of Night (2007)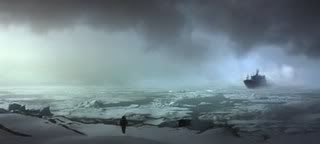 Dolazak...vampirolikih zvijeri (brod u daljini)

SADRŽAJ:
"- U malom gradiću Barrowu na najsjevernijem dijelu arktičkog kruga 152 stanovnika se priprema za 30 dana bez danjeg svijetla. Na samom početku tog perioda počnu se događati vrlo čudne stvari - najprije budu pobijeni svi psi u mjestu, a onda gradić ostane i bez struje i telefonske veze.
Uskoro stanovnici počinju nestajati, a onda se pojavljuju krvožedni stvorovi - vampiri. Šerifu i nekolicni preživjelih ne preostaje drugo nego se sakriti i nekako ostati živim slijedećih 30 dana. Namirnica je malo, sniježne oluje sve jače i haldnije, a stvorovi sve gladniji i bliži....hoće li mladi šerif i njegovi bližnji preživjeti taj težak ispit...?"


RECENZIJA:
"- Kad sam čuo da će se krenuti u adaptaciju grafičke novele (ili kako bi neki krivo upućeni rekli stripa) vrlo dojmljivog imena "30 Days of Night" u kojem vampiri igraju glavnu ulogu malo bi bilo reći da sam bio ushićen (iako nisam imao tu sreću da čitam djelo Stevea Nilesa znao sam o kakvom je remek djelu riječ).
Moja očekivanja su bila sve veća i veća što je film bio bliže kraju snimanja. A kad sam vidio prvi pravi foršpan bio sam u ekstazi...
Prvo što sam uzviknuo nakon gledanja ovog iznimnog horor filma jeste to da je - Ghost House Pictures (produkcijska kuća Sama Riamija specijalizirana samo za horor filmove) napokon krenuo u ozbiljne horor vode. Da. Nakon što nam je ta ista kuća servirala neuspjehe poput - "The Messengers" (2007) i "Boogeyman" (2005), sa ovim uradkom nam je vratila vjeru u odlične horore koji će biti isporučeni u slijedeće dvije godine (remake "Evil Dead" koji dolazi 09').


Šerif i njegova vjerna sjekira...

Da se vratimo filmu gornjeg naslova, koji bi se kod nas mogao prevesti kao - 30 Dana Noći. Prvenstveno veliki plus samog filma je bio onoga dana kada je Raimi odlučio za redatelja uzeti Davida Sladea, koji se odlično predstavio svojim prošlogodišnjim trilerom (kod nas nepravedno zapostavljenom u recenzijama) "Hard Candy".
Slade je iako vrlo mlad redatelj (69' godište) sa malim redateljskim stažom (bio redatelj spotova) odmah pokazao da zna režirati i da je jedan od majstora napetosti i jeze. Već sada mogu reći da je nanovo preporodio vapirski podžanr, kojega je na životu držao samo Blade (no to lako možemo i zanemariti, jer je ipak bliži superherojskom žanru).
Ako bi se držali 'čistokrvnog' vampisrkog filma...onda mogu reći da se nije vidio bolji još od "From Dusk Till Dawn" (1996) Roberta Rodrigueza.
David je uspio u svom vampirskom djelu prikazati jezu vrlo vjerodostojno i to u neobično depresivnom tonu, ali isto tako i napetost koja se vuče kroz cijeli film i prisutna je u svakom kadru, sa tim da filmu ne nedostaje akcije (ubijanje građana od strane vampira) i krvoprolića (sjekirama se glave kidaju, vampiri se bacaju u mašine za mljevenje željeza...). Likovi su uvjerljivi (pa i Josh Hartnett), a radnja tečna bez da ima nekakvih komplikacija ili skretanja sa puta.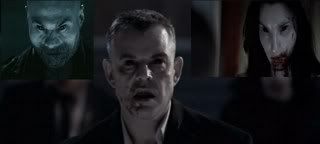 Glavni vampiri (lijeva slika Arvin, Marlow velika slika, te vampirica Iris desna manja slika) - pogledajte oblik lica...zar ne izgledaju kao rođaci Maxa Schrecka (vjerno prenesena bestijalna energija, pa tako nisu nimalo slični ljudima, kao u većini drugih filmova...više su nalik zvjerima, a tek kad počnu urlikati...da ti se krv sledi)

Velika pohvala ide kameri Jo Willemsa (tmurna i jako siva fotografija, gdje do izražaja dolaze samo krv i snijeg od svijetlijih boja), te Sladeovim malim kamermanskim idejama i bravurama (neobični kutevi snimanja, a pogotovo snimanje iz ptičije perspektive...ali o tome nešto kasnije.)
Sami vampiri su nešto najjebenije što sam vidio u zadnjih 10-12 godina i drago mi je da ih se netko sjetio prikazati malo drugačije tj. da su se keratori distancirali od klišejiziranih vampirskih kreatura koje smo viđali u serijalu o Buffy (a koje je palilo tamo negdje polovicom 80-tih).
Ovdje su i ranjivi i brzi i vrlo vrlo jaki, ali što je najvažnije tako su divlji i nemilosrdni da Reaperi iz "Bladea 2" se prema njima čine kao mala djeca. Isto tako da ne zaboravim fenomenalnu glumu Dannya Hustona kao glavnog vampira Marlowa, koji sa svojim vampirskim govorom i nemilosrdnim aktima daje nešto najbolje što je mogao dati horor, a što se tiče vampirskih vođa (a da nije Dracula).

Da ne bude sve na hvalospjevima spomenut ću kao jedini rijetki minus (ali vrlo mali minus) jeste malo vodnjikav kraj i to prvenstveno mislim na borbu Marlowa sa mladim šerifom Ebenom Olesonom, koja je trebala biti malo drugačije izvedena... ali sve u svemu ovo je jedan od najboljih horor filmova u zadnih 10 godina i uz - "Altered" i "28 Weeks Later" najbolji horor film godine, jer ima sve što pravi film tog žanra mora imati - jezu, napetost i odlične zle negativce, a uz to nema niti malo pretjeranog i nepotrebnog grafičkog nasilja (vrlo efektna scena i pravi primjer toga jeste kad šerif jednog od glavnih likova koji se treba pretvoriti u vampira ubija u susjednoj sobi...bez 'gore' scena...samo zvuk sjekire i svi znamo što je šerif napravio) kojeg su današnji moderni horor filmovi prepuni (Hostel i ostale gadarije).
Definitivno film koji morate...ali morate pogledati..."


THE SCENA:
Evo napokon film koji ih ima par i to stvarno odličnih...idemo redom:



- Pokolj građana Barrowa od strane Marlowovih vampira iz ptičije perspektive (ovakva scena nije viđena još od remaka "Dawn of the Dead" i scene sa sudarom i benziske pumpe)



napad djevojčice vampira i njeno obezglavljenje nije baš za svačiji stomak



vampir ostaje bez ćunke uz pomoć par udaraca sjekire (što ćeš kad nije bilo Laurie Strode pa da to učini jednim udarcem kao u Halloween: H2O)