nedjelja, 18.11.2007.
Fido (2006)

Fido (2006)

Redatelj: Andrew Currie
Produkcija: Lions Gate Films / Anagram Pictures Inc. / Astral Media Inc. (i još par kanadskih prod. kuća)

Uloge:
Carrie-Anne Moss / Helen Robinson....................Billy Connolly / Fido
Dylan Baker / Bill Robinson..................................K'Sun Ray / Timmy Robinson
Tim Blake Nelson / Mr. Theopolis.........................Henry Czerny / Mr. Bottoms
Sonja Bennett / Tammy........................................Jennifer Clement / Dee Dee Bottoms

Film je izašao u kina 07. rujna, 2006 godine (Kanada)
Trajanje: 91 minuta
Buđet: 8 milijuna $
Zarada: 10.4 milijuna $
Nagrade:
osvojio 2007: VFCC Award (najbolji film Britanske Kolumbije i najbolja glumica u kanadskom filmu - Carrie Ann-Moss), nagradu publike Londonskog Kanadskog filmskog festivala, Gérardmer filmski festival (specijalna nagrada žirija i orginalnu muzičku temu - Don MacDonald), nagradu DGC Craft (montaža - Roger Mattiussi), Leo nagradu (orginalnu temu, kameru, najbolju šminku);
nominacija 2007: Leo nagrada (montaža zvuka, najbolji scenarij, montaža, najboljeg redatelja)


Fido i prijatelji....

SADRŽAJ:
"- Nakon što su Zemljani vodili bespoštedne ratove protiv zombija uspijeli su ih kako tako dovesti u red, pa sad oni rade za njih kao robovi. Dječak Timmy uskoro dobiva svog prvog zombija od majke an dar. No, kad se jednom zombi po imenu Fido oslobodi i napadane staru Timmyevu susjedu...neprilike mogu započeti..."

RECENZIJA:
"- Definitvno film koji me je najviše iznenadio svojom pojavom, ali i sadržajem. Priča samog filma je smještena u alternativnu stvarnost koja izgleda kao period 50-tih godina prošlog stoljeća i prati priču o prijateljstvu malog dječaka i njegovog kućnog zombija...da dobro ste čuli zombija.
Ljudi su uspijeli pomoću elektronskih ogrlica pripitomiti zombije koji sada za ljude rade kao sluge, a sve zahvaljući korporaciji ZomCom i sve izgleda slatko i pupasto kao da je film neka vrst "Gradića Peytona" ili "Pleasntvillea", no zapravo i nije baš tako sve idilično.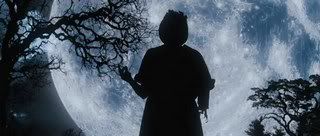 "- Zombie in the night exchanging glances...."

Sam film skriva nešto dublje nego što većina gledatelja može primjetiti a to je da film ima skrivene poruke ili ako ćemo se jednostavnije izraziti - Kanadsku kritiku američkom društvu i to sve zakamuflirano u horor crnu komediju.
Dobrodržeći bijelci drže kao kućne ljubimce i sluge zombije što je više nego očigledna aluzija na američko stanje tih istih godina u pogledu crnačkog stanovništva (segregacija), dok moćna korporacija od koje svi potajno strahuju vlada u despotovskom i utopijskom društvu (slično kao što je to bilo u filmovima "Equilibrium" (2002) ili "Fahrenheit 451" (1966)). Tu je i problem naizgled sretne obitelji koja disfunkcionalno djeluje unutar svog doma, ali i veliki problem koji SAD ima sa zakonom o donošenju oružja što se dobro vidi u sljedećoj sceni:

Bill Robinson: "- Dakle, znam da ne bi trebao dobiti pištolj dok ne napuniš 12...ali ti može dobro doći."
(Bill daje svom sinu pištolj radi zaštite iako dječak ima još nepunih 11 godina)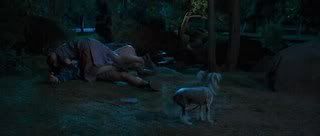 Baka zombi kasapi svog debelog susjeda

Svi likovi u filmu su odlično karakterizirani, a najviše bih istakao:
- Carrie-Anne Moss (njena najbolja uloga...uz to zrači ženstvenošću više nego u serijalu "Matrix") u ulozi dječakove majke, koja se na početku doima hladnom i proračunatom, ali se kasnije ispostavlja da je to topla i vedra osoba koja daje mnogo ljubavi svojim ukućanima i koja je neshvaćena od strane svog supruga, pa se na kraju okreće Fidu u potrazi za ljubalju (smiješna je činjenica da je muž veći 'zombi' od samog Fida i seksualno, ali i osjećajno)
- Dylan Baker (ostvario fenomenalnu ulogu Billa Maplewooda u odličnom filmu "Happiness" (1998) gdje je glumio oca pedofila...čovječe nije čovjek dobio niti nominaciju za Oskara!!!) u ulozi dječijeg oca koji je morao upucati svog oca koji se pretvorio u zombija i od tada je sve svoje osjećaje zakopao duboko u sebe, a zbog čega cijela njegova obitelj pati - to najbolje ocrtava slijedeći dijalog između Helen Robinson (Carrie) i njegovog lika Billa:

Bill Robinson: "- Rekao bih da sam prokleto dobar otac. Moj otac me je pokušao pojesti. Ne sjećam se da sam ja pokušao pojesti Timmya."
Helen Robinson: "- Bill, samo zato što je tvoj otac želio tebe pojesti, da li to znači da svi mi moramo biti nesretni?"

Što se tiče ostalih stvari u filmu sve radi besprijekorno od vrlo koloritno bujne koreografije, interijera, fotografije do odlično napisanog scenarija. Posebno bih naglasio na odlični sountrack u filmu u stilu muzike 50-tih godina. Iako se na prvi pogled čini da je film dosadan...nije. Ima tu i zombi krvoprolića, napetosti i dobro napravljenih zombija, iako film nije made in Romero ili Fulci tip po pogledu akcije i krvoprolića i 'gore' scena. Definitvno film koji se mora pogledati za sve uzraste (djeca vide i gore stvari na TV-u za vrijeme vijesti) i gledatelje, pa čak i oni koji baš ne mare ili ne vole gledati horor filmove (ipak ovo je netipična crna horor komedija kako sam već spomenuo u pra redaka iznad i sadrži dosta elemenata romantične drame).

Posebni preporučam video igru koja je vrlo slična ovom filmu - Stubbs the Zombie.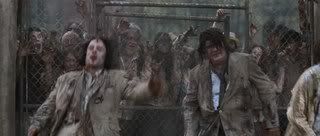 "In the brain and not the chest. Head shots are the very best"