ponedjeljak, 15.10.2007.
Planet Terror (2007)

Planet Teror (2007)

Redatelj i scenarist: Robert Rodriguez
Produkcija: Dimension Films / Rodriguez International Pictures / Troublemaker Studios

Glume:
Freddy Rodríguez (El Wray)................Rose McGowan (Cherry Darling)
Marley Shelton (Dr. Dakota Block)...................Josh Brolin (Dr. William Block)
Michael Biehn (Serif Hague).............................Jeff Fahey (J.T. Hague)
Michael Parks (Earl McGraw)..........................Tom Savini (Zamjenik Tolo)

Film je izašao u kina 21. lipnja, 2007 godine
Trajanje: 105 minuta (internacionalna verzija)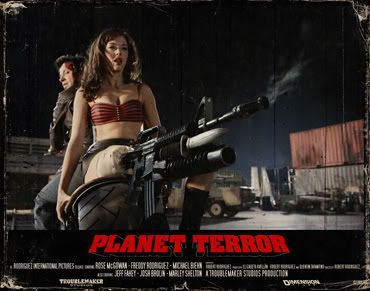 Cherry sa M-16

SADRŽAJ:
"- Nakon što vojska na čelu sa tajnovitim poručnikom Muldoonom (Bruce Willis) pokuša oteti eksperimentalni nervni plin DC2 (tajnog imena "Projekt Terror") od kriminalnog znanstvenika Abbya (Naveen Andrews), koji ima veće zalihe nego što ih je želio prodati, događa se vatreni okršaj u kojem plin biva pušten u zrak.
Ubrzo u malom gradiću u Teksasu četiri kilometra od baze počnu se događati jezive stvari, jer neka vrsta kožnog virusa mirne građane pretvara u mutirane spodobe koji žude da ubiju svaku osobu koja nije 'zaražena'.
Mala grupa ljudi kojima su na čelu El Wray (Freddy Rodriguez) i njegova bivša djevojka, go-go plesačica Cherry Darling (Rose McGowan) pokušavaju pobjeći iz gradića, no horde mutiranih i krvožednih spodoba su svuda. Jedina nada im je američka baza u kojoj su vojnici poručnika Muldoona...no ono što preživjeli ne znaju, jeste da Muldoon i njegovi ljudi kriju strašnu tajnu...tajnu koja će ih možda koštati života..."


RECENZIJA:
"- Nakon fenomenalnog "From Dusk Till Dawn" (1996) i više nego zabavnog "The Faculty" (1998) došao je i treći horor film iz radionice vještog horor frika Roberta Rodrigueza - Planet Terror (drugi dio omnibusa "Grindhouse").
Ja sam moram reći da mi je uz "28 Weeks Later" ovaj film bio najočekivaniji ove godine (što ću kad se najviše palim na kvazi 'zombi' filmove i na sam zombi podžanr) i bogme nisam se razočarau niti u jednom (za razliku od katostraflnog nedjela po imenu "Black Sheep").



Vizualno vrlo lijepa scena (dostojna Zagora), ali smeta mi što se kosi svim zakonima fizike...

Što valja kod filma:
- grindhouse ugođaj u pogledu toga što film ima onaj izvorni izlizani, prljavi izgled (preljevi boja, izgrebani kadrovi...pri kraju jednostavno pukne film i izgubi se kojih 10-tak minuta filma prije nego opet dođe slika, što je sa mog gledišta genijalno napravljeno)
-sama atmosfera je vrlo jezovita (sa malom dozom depresivnosti i tuge), pa se tako većina kadrova i soundtrack upotpunjuju u samu radnju filma te pomažu vizualnoj naraciji (ovo najviše vrijedi za početak filma i sam kraj)
- odlična podjela epizodnih uloga jako karizmatičnim glumcima -Tom Savini (Sexmachine iz "FDTD"), Michael Biehn (Kyle Reese iz "Terminatora" i satnik Dwayne Hicks iz "Aliensa" (1986)), Josh Brolin (Brand Walsh iz "The Goonies" (1985)), te najvažnija pojava Jeff Fahey kao J.T. (Bill Chrushank iz "Body Parts" (1991) i Peter Rooker iz "Darkman III: Die Darkman Die" (1996)) koji je zasigurno odglumio ulogu karijere; i da ne zaboravim Michael Parks koji je glumio šerifa i u "FDTD"
- posveta filmovima Georga A. Romera, "ROTLD" prvjencu i svim onim filmovima nalik na zombi filmove
- film se diči pamtljivim soundtrackom (pogotovo bih izdvojio "Grindhouse" i "Two Against the World") i besprijekornom montažom
- film obiluje vrlo efektivnim scenama (pun mjesec i zelena izmaglica od plina što se širi, prilaz 'zaraženih' prema zapaljenom restoranu nakon 'pucanja filmske trake', Abby headshot, kad Tammy šeta cestom a u daljini se čuje mumljanje, svaka sce gdje Cherry trči sa nogom od stola umjesto noge...)
- dosta stvari u filmu je sam Rodriguez napravio (glazba, supervizor specijalnih efekata, montaža zvuka...), te svaka čast na napravljenom foršpanu - Machete
- akcijske scene su predobre i prepune headshotova, 'gorea' i trganja ljudi


Ugođaj je prejeben...

Što ne valja u filmu:
- nedovoljno iskorišteni epizodni glumci (pogotovo Tom Savini), a previše je pažnje posvetio Rose McGowan/ Cherry (koja mu je tada već bila družica zbog koje je napustio ženu) što mi puno smeta iako je gl. lik (Carpenter je to bolje radio sa A. Barbeau dok su zajedno surađivali, jer nije dopuštao da njihova veza smeta radnji i ostale glumce baca u drugi plan); pored toga Rose (uz to pjevala je na tri pjesme na sountracku...i to ne baš uspješno) iako je vrlo seksi u filmu i samouvjereno kroči u svakom kadru nije niti blizu svojoj glumačkoj prezentaciji u "Fantomima" (netko bi rekao i u "Vrisku")
- scenarij pati od manjih praznih hodova i scena koje mi nisu baš sjele (kako to da se Dr. Block našao baš tamo gdje se našao na kraju filma; Cherry ima M-16 jurišnu pušku nataknutu na nogu i sa njom izgleda vrlo cool, ali jebem ti kako uspijeva pucati sa njom???; Cherry leti zrakom kojih 10 metara i pada na prsa i ništa joj nije???; Abby i njegova želja za sakupljanjem tuđih mošnji...WTF??) ; kraj nekako zbrkan (ovo ne mislim na onaj dio gdje nedostaje 10 minuta)
- epizodna uloga Q. Tarantina, koja je tako loša da sam ostao bez komentara (jedino vrijedno spomena jeste kad primi nogu od stola u oko), a bogme je loš glumac...no ovo prelazi sve granice
- nedovoljno iskorištena priča i sami 'zaraženi' (čak mislim da ih je trebao osmisliti malo bolje...jer ovakvi nisu baš uvjerljivi..onako svi nabubreni, pa imam dojam da bi nakon dan-dva najviše sami od sebe eksplodirali), te Bruce Willis koji je trebao uz Dr. Blocka trebao biti glavni negativac, a oba se pretvorili u ništa)


Jeff Fahey kao J.T....njegova najbolja uloga

Završna misao:
Zanemarimo li ovih nekoliko potonjih negativno narisanih redaka i činjenicu da je Robert u nekim djelovima pokazao dječačku razigranost koja se može svakom dogoditi film je definitivno u samom vrhu horor žanra i već sada mogu reći da spada među najbolje horor filmove snimljenih u zadnjih 15 godina.
Nije niti blizu kultnom statusu "From Dusk Till Dawn", ali mu to ne treba biti neka velika mana. Zato se lijepo zavalite u svoj naslonjač i uz dobru dozu piva/cole i hrpu grickalica i uživajte u ovom trash/grindhouse izvornom i osebujnom uratku horor žanra, jer ovaj film zavrijeđuje svu vašu pažnju i gledanje više puta...

Zanimljivosti u vezi filma (TRIVIA):
- Rose McGowan je željela da njen prijatelj Rey-Phillip Santos glumi ulogu El Wraya. Nasreću ulogu je dobio Freddy Rodríguez.
- originalno ime filma je trebalo biti "Project Terror".
- Robert Rodriguez je ulogu Dakota specijalno napisao za Marley Shelton nakon što je sa njom radio na "Sin City" (2005).
- R. Rodriguez je napisao prvih 30 stranica scenarija za "Planet Terror" (2007) još 1998.
- John Carpenter je izabran da komponira glazbu za film, no uslijed svojih osobnih projekata nije bio u mogućnosti, pa je posao preuzeo sam Robert, ali jako nadahnut Carpenterovom glazbom iz njegovih filmova (a to se jasno vidi u muzičkim dionicama) iako se dio teme iz Carpenterovog "Escape from New York" (1981) pojavljiva cijelim filmom (The Crazies Come Out)
- dok je bio na snimanju Rodriguez je puštao sonutrackove Carpnterovih filmova iz "Escape from New York" (1981) i "The Thing" (1982) zbog boljeg ugođaja
- Rose McGowan pati od fobije bacilima pa je podij za striptizete je morao biti steriliziran

THE SCENA:
Bilo je dosta scena (komadanje zamjenika Toloa, nezgoda sa Dakotinim sinom, kad Dakota slomi šaku, Abby headshoot,...) ali ova nadvisuje sve jer sam se dobro ismijao...


El Ray & makina...