četvrtak, 11.10.2007.
Mulberry Street (2006)

Mulberry Street (2006)

Redatelj: Jim Mickle
Produkcija: Belladonna Productions / Mulberry Street Films LLC

Glume: Nick Damici.........Clutch
Kim Blair..........................Casey
Vonia Arslanian................Christine

Film tek obilazi festivale po americi
Trajanje: 85 minuta

SADRŽAJ:
"- Na području Manhattana izbija nepoznata vrsta infekcije koja ljude polako ali sigurno pretvara u krvožedna štakorika stvorenja. Šest stanara jedne zgrade moraju preživjeti noć i zaštiti se od sve većih napada tih stvorenja, jer susjedstvo se svakim satom sve više mijenja, a sama 'štakorska infekcija' davno je izmakla kontroli gradskim vlastima...."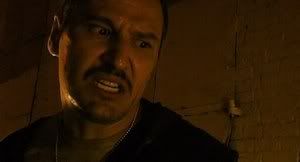 Glavni junak u brizi i strci...

RECENZIJA:
"- Evo još jednog niskobuđetnog, ali vrlo dobro napravljenog horor filma. Ne znam baš, ali u zadnje vrijeme imam dobar odabir stvarno iznenađujuće kvalitetnih 'amaterski' napravaljenih filmova.
Primjetio sam da kritike u Americi nisu baš bile negativne u pogledu samoga filma, ali su se puno uhvatili usporedbi ono zombi filmova što ipak nije u redu, jer ovaj film ne zaslužuje takve usporedbe iako ima malu dodirnu točku sa tim filmovima, a to je kako se infekcija širi.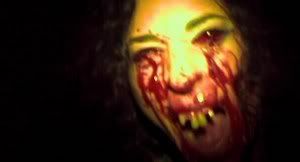 Žena štakor licem i bradom....

Ono što sam prvo primjetio u filmu jeste dokumentaristički način snimanja kamere (na skoro isti način kako je sniman "Blair Witch Project"), koji funkcionira na najbolji mogući način jer predočava od prve minute filma da se nešto sprema (većinom prevladava slabo osvjetljenje i kontras sivila). Neću niti spominjati da film odiše izrazito jakom depresivnom atmosferom, jer se to vidi u svakom kadru.
Sam film kao što sam rekao ima dodirnu točku sa zombi podžanrom samo u načinu kad se infekcija širi gradom (vijesti obavještavaju građane za neki nepoznati virus...i kako vrijeme u filmu odmiče ta upozorenja su sve jača i strašnija...no to je tako lijepo i nenametljivo napravljeno da uživancija slušati dok se prati radnja).

Karakterizacija likova je napravljena sasvim zadovoljavajuće i vrlo se brzo simpatiziraš sa likovima (svi glumci su nepoznati, ali ipak daju dobre glumače interpretacije), iako je taj dio ipak mogao još malo bolje biti napravljen. Sam film je metaforistički iskaz za probleme koji prate Ameriku i amerikance već kojih 5-6 godina (9/11, uragan Katrina, ali i vanjska politika - Irak, Afganistan...). Iako je film imao stvarno mali buđet snimanja (što se u nekim kadrovima baš i vidi) Jim Mickle uspijeva sve držati pod kontrolom, a uz to dobro barata montažom u pravim vremenskim intervalima. Efekti su savim solidno odrađeni (iako sa malo novca napravili su par dobrih FX trikova) i film se diči sa 2-3 prave 'gore' scene. Još jedan plus jeste (da ne zaboravim) glavni junak - Clutch (Nick Damici, koji je ujedno i scenarist filma) i to ne u pogledu akcije (ima je puno...čak i boksački mečevi sa štakorikim spodobama) nego u prikazu ljudskosti......ja već dugo nisam vidio ovako ljudskije napravljenog lika u nekom horor filmu.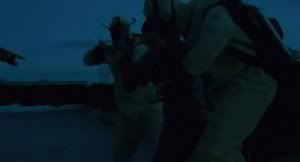 Filmovi kao ovi ne mogu bez ljudi u zaštitnim odjelima...

Oni koji imaju čast pogledati "Izbavitelja" Krste Papića preporučam da se odmah prebace i na ovaj film, jer jedno drugo odlično nadopunjuju..."Izbavitelj" započinje i prikazuje štakore ljude kako djeluju kod nas, a "Mulberry Street" kako djeluju ljudi štakori u Americi. Što se tiče dvojca Mickle/Damici kao redatelja/scenarista nadam se da će im ovo djelo biti odskočna daska za nove i financijski potkovanije filmove, pa da nam tako potvrde svoje jako autorstvo ali i znanje u pravljenju kvalitetnih horor filmova....jer nama ljubiteljima takvih filmova fali baš ovako kvalitetnih mladih ljudi koji bi prikazali horor žanr u najboljem mogućem svijetlu."