subota, 06.10.2007.
Altered (2006)

Izmjenjeni (2006)

Redatelj: Eduardo Sánchez
Produkcija: Haxan Films (distribucija Rogue Pictures)

Glume:
Adam Kaufman............................Wyatt
Paul McCarthy-Boyington............Cody
Brad William Henke.....................Duke
Michael C. Williams.....................Otis
Catherine Mangan........................Hope
James Gammon..........................Šerif Henderson

Film je imao DVD premijeru 19. prosinca 2006 godine
Trajanje: 83 minute
Buđet: 8 milijuna $


Potraga za sadistom iz svemira...

SADRŽAJ:
"- Priča prati četiri čovjeka koji su prije 15 godina doživjeli otmicu od strane vanzemaljaca, koji su na njima vršili raznorazne bolne eksperimente. Danas nakon što je prošlo već dosta vremena, rane na proživljena iskustva su i dalje svježe...no uskoro ima se dobiva prilika za revanš, jer uspijevaju uhvatiti jednog od tih istih zlih vanzemaljaca. Nakon početnog mučenja komplikacije nastaju kad se vanzemaljac oslobodi...tad vraćanje duga dobiva drugo značenje..."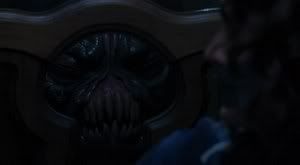 Zeleni alien ćiri iza kreveta vezanu i prestravljenu Hope

RECENZIJA:
"- Na prvi pogled kad sam čuo za ovaj film odmah sam primjetio poznato ime redatelj - Eduardo Sánchez (uz Daniela Myricka činio dvojac, koji je iznjedrio fenomen zvan "The Blair Witch Project" iz sada već skoro daleke 99'). Iako, rijetko imam takve pomisli pomislio sam da je Sánchez još jedan od onih redatelja koji žive na staroj slavi (poput nesretnog Tobea Hoopera), ali sam se prevario i to još samo kako.
To se vidi odmah od prvih nekoliko minuta filma kad odmah kreće vrlo napeta i zanimljiva priča predvođena nepoznatim glumcima (naravno ako izuzmemo glumačkog veterana - Jamesa Gammona, koji ovdje imao slatku camoe pojavu kao šerif Henderson).

Kao redatelj Kubanac ima sve uzde u svojim rukama i balansira svim prizorima kao da je u horor žanru već desetljećima što je uvijek vrlo pohvalno za ovako mladog autora. Što je još slađe uz sebe ima odličnog scenarista Jamiea Nasha (71' godište, a iza sebe ima uz ovaj film još samo jedan projekt) koji ne dopušta nikakav prazni hod ili možebitne rupe u svom scenariju (što se često događa nekim drugim filmovima sa renomiranim redateljima).


Povlačenje vanzemaljskog broda (jedini CGI efekt u filmu)

Što se tiče glumaca odradili su lavovski dio svog posla i to svatko na svoj način - čista petica, iako prije ovog filma nisu baš imali nekih velikih uspjeha. Adam Kauffman (igra pomalo izgubljenog i paranoičnog s razlogom Wyatta) glumi samouvjereno i vrlo je uživljen u svoju ulogu, pa gledatelju brzo ulazi pod kožu i tako od prvog trenutka gledatelj navija za njega.
Ako izuzmemo kraj filma uopće nema CGI efekata što je još jedan veliki plus ovom iznimnom djelu. Sve 'gore' efekte i sam kostim 'aliena' je izrađeno u dobrom starom FX elementu. Štoviše sama izrada vanzemaljca izgleda mnogo bolje nego recimo onog u "Signs", koji je cijeli izrađen u CGi-u. Uz par delikatesnih i sigurno neobičnih 'gore' scena film odlikuje nekom zlokobnom i u nekim trenutcima vrlo uznemirujuće.
Za one slabo upućene u SF/Horor žanr mogu reći da je film počinje kao:
- "Fire in the Sky" (1993) - ekipu prijatelja otmu vanzemaljci i eksperimentiraju na njima (istinit događaj), da bi se polako pretvorio u :
- "Evil Aliens" (2005) - grupa ljudi iz Walesa se bori protiv okrutnih vanzemaljaca i da bi na kraju imao poveznica sa:
- "Signs" (2002) - grupa vanzemaljaca napda kuću farmera.
Sve u svemu ako ste voljeli gledati ova tri gornja filma zasigurno ćete voljeti i ovaj, koji je još jedan dragulj nezavisne horor/SF produkcije.
Jedva čekam novi projekt dvojca Sánchez/Nash kao redatelja i scenarista i to projekta pod imenom - "Seventh Moon", a trebao bi izaći negdje u zadnjoj četvrtini 2008 godine.

THE SCENA:
"- Nakon što se vanzemaljac oslobodio napada Otisa kojem izvadi crijeva i držeći ih ucjenjiva ostale članove, a ako ovi ne pristanu baciti oružje zeleni će 'alien' (slika u gornjem desnom kutu donje slike) povuči malo jače i još živ Otis će ostati bez iznutrica..."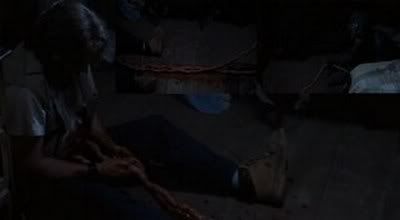 Iako neobična situacija, dokazano je znanstveno da čovjek može i ako su mu crijeva ovako izvađene živjeti..