nedjelja, 16.09.2007.
The Zombie Diaries (2006)

The Zombie Diaries (2006)

Produkcija: Bleeding Edge Films / Off World Films
Redatelji i scenaristi: Michael Bartlett i Kevin Gates

Glume: Russell Jones.........Goke
Craig Stovin............Andy
Jonnie Hurn............John
James Fisher.........Geoff
Anna Blades...........Vanessa
Imogen Church......Sue

Trajanje: 85 minuta
Izašao ravno na DVD-u 27. kolovoza, 2007 godine
Foršpan: Zombi Dnevnici (2006)


Head-shoot vrlo cijenjen u zombi filmovima....i ovdje je na visokom nivou

Sadržaj:
"- U ranom 21. stoljeću diljem svijeta počeo se pojavljivati nepoznati virus. Virus reanimira mrtva ljudska tijela. Sve veći broj reanimiranih mrtvih počnje napadati žive ljude i hraniti se ljudskim mesom. Preživjelima valja organizirati obranu, jer uskoro će biti preplavljeni oživljenim mrtvacima, ali tu su veliki problem i njihove međusobne trzavice. Engleska izgleda ima najviše problema, jer se virus jako brzo širi a ljudi su neorganizirani i nespremni na ono što im se sprema...."

Recenzija:
"- Postao sam vrlo sekptičan u pogledu filmova o zombijima, jer je većina negledljiva pa se uvijek nađem u određenom osjećaju lutrije kad naiđem na neki naslov koji mi se čini zanimljiv...pa se na kraju razočaram i čak ga ne uspijem pogledati do kraja.
Tako je bilo i sa ovim naslovom. Pitao sam se da li da ga gledam ili ne...i odluka je pala kad sam se opskrbio sa par haldnih Žuja i lijepo ze zavalio u svoj naslonjač, te upalio TV.

I na kraju svega ostao sam ugodno iznenađen ovim čistokrvnim amaterskim zombie uratkom. Kao prvo ono što me je privuklo jeste cover DVD-a na koji sam naišao (naslov i cover mi baca odmah na najnoviji Romerov film, koji se snima), te vrlo slatka ocjena od 4.9/10 na imdb-u. Sve ostalo - nekakva internet šaputanja, preporuke ili slično...e pa toga nije bilo.
Na šturim recenzijama se film predstavljao kao najbolji zombi film koji dolazi iz Velike Britanije (zar su zaboravili na fenomenalni "Shaun of the Dead" (2004)??)....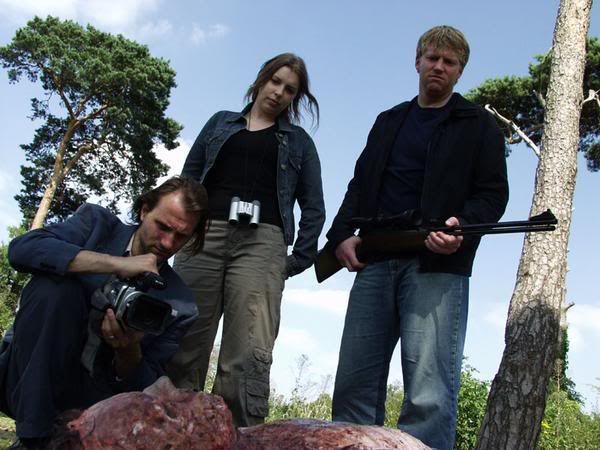 jedni od naših 'vrlih' junaka

Ono što valja kod filma:
- dokumentaristički pristup zombi problemu i samoj infestaciji, veliki plus početak filma
- veliki trud prikazu zombija (maske jednostavne i jeftine ali vrlo učinkovite), ponegdje učinci nekih scena vrlo jezoviti (pogotovo početne noćne scene na tragu Blair Witch Projecta...uz to cijeli film je i sniman običinim kamerama)
- depresivni osjećaj koji vlada filmom, scene pustoši u malom gradiću, priča prati tri grupe što je vrlo osvježavajuće

Ono što ne valja kod filma:
- scenarij nedorađen (pogotovo od 20 minute filma) i prepun nepotrebnih dijaloga, praznog hoda među nekim scenama; isto tako dobiješ dojam da scenaristi nakon početne euforije nisu znali što dalje
- karakterizacija likova ništavna (niti jedan lik u film ne dobije vašu simpatiju), ponekad kamera počne biti previše nestabilna (u mirnim scenama) pa dok gledate u takve scene počnu vas oči boljeti
- najveći problem filma jesu amaterski glumci koji su vrlo drveno odglumili svoje uloge (ovo pada najviše na pleća dvaju redatelja), te redateljsko nesnalaženje u većini scena (koje su morale biti ponovljene da bi dobro ispale)
- minus ide i bizarnom kraju filma (koji u 2-3 scene stvarno odlično izgleda) koji upoće nisam mogao povezati iako sam ga 3 puta zaredom pogledao
- priča prati tri grupe, ali nažalost pri kraju film počinje zbunjivati gledatelja i on više ne zna tko je tko (tu kronologija nije najbolje odrađena)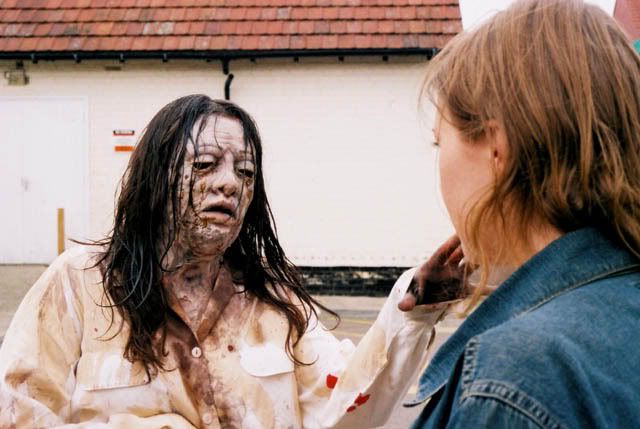 maska neloša (iako se vidi da je guma...pogled na oči)

Završno mišljenje:
"- Sve u svemu unatoć potonjem podužem negativnom opisu one negativne strane u filmu...Zombijski Dnevnici dobijaju skoro najveću ocjenu (ipak treba bodovati taj silno veliki trud da se film snimi na taj način). Imate sve - od zombija, do head-shoot/pucanj u glavu scena, zombijevskog hranjenja (vrlo ogavno...nije za svačije oči), mračnog ugođaja.
Preporučam svim onima koji kao amateri žele snimiti nešto ovakvo, ali isto tako nadam se da ćete pronaći greške, a onima koji vole gledati zombi filmove - samo naprijed bacite oko (ili dva hehe) na ovaj primjerak horor filma i sigurno nećete biti prikračeni u gledanju dobrih stvari. Uživajte...."