srijeda, 05.09.2007.
'Animal attack' filmovi ili horor filmovi o prirodi...

Nekidan sam lutao po YouTube-u i slučajno naletio na dokumentarne snimke (snimka pod nazivom "Anaconda Regurgitates A Hippo") gdje je Anakonda (Eunectes murinus čini mi se...) progutala cijelo mladunče voden konja (kako je do toga došlo da Anakonda iz J. Amerike proguta beštiju iz Afrike ni ja sam ne znam)...
To me je dalo na razmišljanje o još jednoj grani vrlo zanimljivog podžanra u horor domeni - napad životinja na ljude.
Kako znamo od samih početaka čovječanstva ljudsko biće se je borilo za svoj komadić pod nebom sa mnogim 'običnim' i vrlo čudovišnim životinjama...
No, čak i danas u modernom svijetu napad pobješnjele životinje na čovjeka dešava se svakodnevno bilo to da su napadi u prirodi ili u gradu što nam govori da priroda ima još itekako svojih aduta u rukavu...
Svako malo pročitamo u crnoj kronici kako je neko dijete napao pobješnjeli pas ili kako se u nekom dijelu svijeta neka životinja okomila na ljudsko biće...a ponekad čak imamo snimku takvih krvavih napada što dodatno ledi krv u žilama...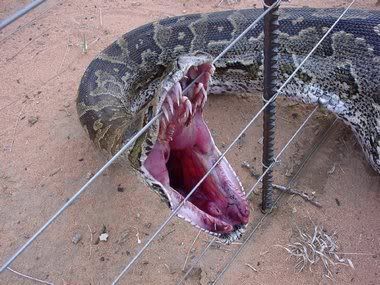 jedan od razloga zašto volim dokumentarce o životinjama (i jedan od razloga što ljudi vole animal attack filmove

Pogledajte samo već ranije spomenutu Anakondu, koju stavljaju na sam vrh najtežih zmija (250 - 320kg), no ne i kao najdužu zmiju na svijetu (prema znanstvenicima 11m), jer je opet prema znanstvenicima šiša Python reticulatus sa 12m i Boa constrictor 9 - 13m.
No, što reći na dimenzije Anakonde od 30m dužine, 55cm promjera i 3 tone čistih mišića?? Takve zmijetine su viđane 30-tih i 40-tih godina 20 st. i gdje su vidioci ljudi od povjerenja...

Pa recimo onda ako se okrenemo modrom moru koje nije niti 20% istraženo unatoč tome što smo otišli u svemir...
Što reći na Veliku Bijelu Psinu (Carcharodon carcharias) dužine 6m i težine 2,5 t sa tri reda oštrih zubina koji kidaju sve? Što reći na Kolosalnu lignju (Mesonychoteuthis hamiltoni) od kojih 20 - 30m dužine i koja je po tim enormnim brojkama prvo čudovište oceana (sjetimo se njihovog papagajskog kljuna koji drobi kamen i krakova sa pipcima koji na sebi imaju kuke)?


najstrašniji prizor koji možete vidjeti u moru

Nemojmo zaboraviti niti krokodile (npr. Gustav iz Nila dug 6m i 907kg težine, koji je do sada ubio oko 150 ljudi), lavove (slučaj Tsavo maneaters gdje su dva lava zvani Duh i Tama ubili 135 radnika), pauke (Sydneyjski pogrebni pauk (Atrax robustus) čija doza od već 0.006mg ubija miša), zmije (Inland Taipan (Oxyuranus microlepidotus) čiji otrov može ubiti 100 odraslih ljudi) i može se toga za nabrojati naći mnogo...
Ali vratimo se mi na filmove...

Ljudi su uvijek bili privučeni takvom vrstom filmova bez obzira sviđao im se horor žanr ili ne (da ne zaboravim napomenuti da ova vrsta filmova graniči sa filmovima katastrofe).
Pravi početak ovog podžanra započinje 1963 godine kad A. Hitchcock snima "The Birds" koji postaje veliki hit u kinima. Trebalo je pričekati 70-te da se sve počne velikom brzinom odvijati za sam podžanr, jer su producenti u takvoj varijanti gdje životinje napadaju ljude vidjeli bogatu zaradu i nisu bili nimalo u krivu. Od tih godina ljude nema što sve nije napalo od mrava i žaba do barakuda i ogromnih hobotnica, pa do zečeva, puževa i crva.

Uspjeh nabrojanih životinjskih aduta je bio dvojnog uspjeha, jer je tu bilo filmskog smeća (npr. "Shark Attack" serijal ili "Squirm"), ali i remek-djela koja zauzimaju visoko mjesto ne samo u horor žanru nego u filmskoj umjetnosti općenito (npr. "Ptice" i "Ralje"). Izgleda da gledatelji ipak obožavaju filmove gdje se priroda bori protiv čovjeka, jer skoro svaki film koji je zašao u kina dobrano isplati sve uloženo i jedino mala nekolicna doživi krah na kino blagajnama (izuzev onih filmova koji idu izravno na DVD medij poput "Lake Placid 2" (2007) ili "The Birds II: Land's End" (1994)).
Četiri vrste životinja prednjače u ovom podžanru - zmije, morski psi, pauci i psi. Ostale beštije iz životinjskog svijeta malo kaskaju, no to ne znači da nemaju svoje adute (Lake Placid, Ptice, Grizzly recimo). Poneki filmovi bi mogli slobodno upasti u ovaj podžanr poput "King Konga" ili "Them!" da već striktno ne upadaju u 'monster' filmove (jer određena mjerila ih baš zato svrstavaju u tu drugi skupinu). Bilo bi suludo da se usudim spomenuti baš sve važnije životinjske filmove (zato ovaj post nisam započeo sa logičnim nabrajanjem i samom povjesću ovog podžanra), pa to neću niti spominjati (za knjigu koju kad tad mislim napisati koncepcija će se naći jer je ipak lakše nego da post bude predug).
Isto nije za odbaciti to što se u ovakvim filmovima većinom pojavljuju respektabilni glumci (poput Sira Mauricea Josepha Micklewhitea Jr. kojeg znamo kao MIchaela Cainea, koji je čak glumio u 2 takva filma - The Swarm (1978) i Jaws: The Revenge (1987)), ali i tzv. zvijezde (poput Jeniffer Lopez u Anacondi (1997)). No, kako bilo u sljedećem postu sljede najbolji i najgori 'animal attack' filmovi.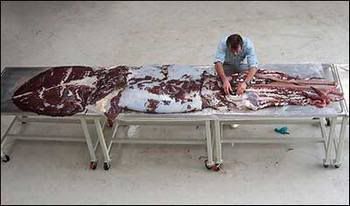 Gigantska lignja (ali ima i većih)...

TO BE CONTINUED...