četvrtak, 01.03.2007.
Deep Rising (1998)

Smrt Pod Morem (1998)

Produkcija: Hollywood Pictures/Buena Vista
Redatelj i scenarij: Stephen Sommers
Glazba: Jerry Goldsmith
Efekti: Rob Bottin Productions

Glume:
Treat Williams..........John Finnegan
Famke Janssen........Trillian St. James
Anthony Heald.........Simon Canton
Kevin J. O'Connor.....Joey 'Tooch' Pantucci
Wes Studi...............Hanover

Trajanje: 107 minuta
Film je pušten u kina: 30. siječnja, 1998 godina
Buđet: 45 miliona $
Zarada: 12 miliona $ (prvi vikend 4,737,793 $)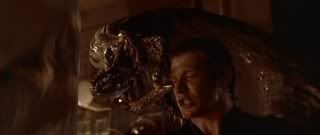 Momku se gadno sprema...

SADRŽAJ:
"- Grupa jako naoružanih plaćenika plove dobro opremljenim gliserom gdje im je namjera poptpopiti superluksuzni kruzer "Argonautic" i uz put ga opljačkati. No, problem nastaje kad pronađu brod kako pluta bez cilja, a kad se na njega iskrcaju pronalze samo tri putnika - kapetana broda, lijepu kradljivicu Trillian i vlasnika broda simona Cantona, koji im objašnjava da su brod napali mutirani morski crvi...
Plaćenicima preostaje da se sa svim sredstvima odupru naletima glomaznih mesoždernih crva, no tko će uspijeti izvući živu glavu iz takve zamršene situacije - nedužni Finnengan? smušeni Joey? lijepa Trillian? ili podmukli Canton i Hanover?"

RECENZIJA:
"- Kada bih želio nekom laiku opisati ovaj film onda bih jednom riječju rekao - "Deepstar Six" (1989) i "Leviathan" (1989) susreću "The Poseidon Adventure" (1972).
Za one koji su dotične filmove gledali znaju na što sam mislio kad sam to rekao, jer "Deep Rising" ima mnogo dodirnih točaka u pogledu radnje sa dotičnim filmova da ne mogu a da ne kažem da je redatelj Sommers mnogo puta geldao baš te filmove i onda napravio svoju verziju miksajući ta tri filma. Isto tako gledajući ostale recenzije za ovaj film, ali gledajući i komentare nekih ljudi općenito na netu svi kao da se slažu da je film loša kopija "Aliena" R. Scotta (ili neki idu u još veću krajnost uspoređujući ga sa odličnim "Species" (1995) i "Mimic" (1997)) no ja sam tvrdim da je to uvreda za takve filmova, a uz to ti filmovi nemaju ama baš nikakvih dodirnih točaka (možda jedino atmosfera).
Sam uradak spada u klasu filmova o morskim čudovištima.

Što je pozitivno u filmu:
- ovo je pravi pop-corn film i ako ga gledate kao akcijsku/horor zajebanciju u kojem nije baš važno što se u filmu događa, gdje nije važan scenarij nego samo dobra stara zafrkancija (ma koliko ja mislio da se Sommers zafrkavao dok je ovo snimao) onda film funkcionira baš svršeno;
vrlo repektabilna glumačka postava - T. Williams (samom meni odličan glumac), Wes Studi (uvijek konstantan, ali ipak to je daleko od njegovih naj uloga, poput one u Hillovom "Geronimu"), Kevin J. O'Connor (Sommersov kućni glumac i uvijek najsvjetlija točka u njegovim filmovima, a kad to kažem prvenstveno mislim na Sommersove blockbustera obe Mumije i Van Helsinga), Djimon Hansou (lijepi cameo, a još kad znaš da je nominiran za Oskara ove godine...), Anthony Heald (solidan, ali u zadnej vrijeme ga gledamo uvijek u istim ulogama...jednolično), te slatka Famke Janssen...
pojedini efekti su stvarno iznimno dobro napravljeni (ovo ispod)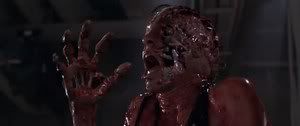 sažvakani Billy
te stvarno moram pohvaliti odličan izgled čudovišnih crva (te sam njihov koncept izgleda sasvim iznad prosjeka)...Zabavan film, ali ništa više od toga (iako se film da pogledati više od jednom)....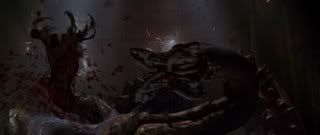 Pokolj vrsta je započeo...

Što je negativno u filmu:
- u filmu dosta toga nije kako treba (kao u svim filmovima Stephena Sommersa), ali da prvo pođemo od scenarija - vrlo je manjkav, nelogičan i ponekad tako stupidan (crvi koji misle!!) da je to za nevjerovati (Sommers je primjer da je ponekad bolje kad redatelj nije ujedno i scenarist filma), likovi su drveni i bez ikakve karakterizacije;
glumci su solidno odradili svoj dio posla (definitivno takva postava može bolje), dok najsvetliju točku predstavlja upravo Kevin J. O'Connor koji svojim pesimističnim humorom drži dosadne dijelove filma živima (da ne zaboravim lik Trillian je na početku odlično napravljen i zamišljen, no šteta je što je u nastavku to Sommers totalno zanemario i zaboravio...);
CGI efekti su u nekim sekvencama tako žalosno napravljeni da čovjeku vrijeđaju pamet a ne samo i oči (ovdje prvenstveno mislim na scene brzog kretanja monstruoznih crva), ali gledao sam ja i gorih nedjela u tom pogledu (Anaconda enibodi)...pa ipak taj dio jedva uspijeva od mene dobiti prolaznu ocjenu (definitivno u rangu "Virusa" (1999), ali opet kopiran u "Ghost Ship" (2002) barem početak filma...


KRAJ??? (po ovome se ne bi reklo...)

Za kraj mogu reći da iako sam u gornjem redu film baš izblatio, film se itekako da pogledati (bez obzira što je mnogo scena i ideja Sommers 'posudio' iz drugi filmova. Pa, ako nemate ništa pametnoga za pogledati možete se uhvatiti ovog skupog pomalo trashastog filma (kraj filma obećava nastavak, ali mi aludira da su preživjeli završili na otoku Lubanja - otoku King Konga)...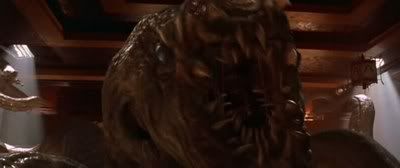 "Now there's somthing you don't see every day." - kopirana rečenica koju izgovara Finnegan (krađa rečenice iz "Istjerivača Duhova")

Zanimljivosti u vezi filma (TRIVIA):
- Claire Forlani je trebala glumiti Trillian (nesuglasice sa redateljem nakon samo 3 dana), a Harrison Ford je trebao tumačiti Finnegana (odbio ulogu) ali sve je to kasnije propalo
- jedan od likova knjige (Tricia McMillan) "Hitch-Hiker's Guide to the Galaxy" je bio inspiracija za ime Trillian
- 'pulsne puške' su zapravo modificirane podvodne puške tipa M-960 Calico
- Ime kapetana broda Athertona je posveta majstoru kamere Howardu Athertononu

THE SCENA:

Djimon Hansou dobija sjekiru u glavu (vrlo efektno i iznenađujuće...)



Spomenuo bih i scenu kad Wes Studija polako jede crv i kad naiđe Kevin J. O'Connor sa pištoljem...