petak, 26.12.2008.
Mmmmmousse



Merry Christmas!!!
I hope everyone had a wonderful day, surrounded by loved ones. I believe you enjoyed good food (probably too much as usual), great wine, and even better dessert! As you can see, I made a very special Christmas dessert. Since my parents brought wonderful unsweetened chocolate with truffle aroma (I mean truffles as mushrooms) from Venice, I decided to do something with it. With advice from a very special Chef, I made this simple, but super rich mousse. It is one of my favorite type of mousses and I included just a few pieces of this aromatic chocolate.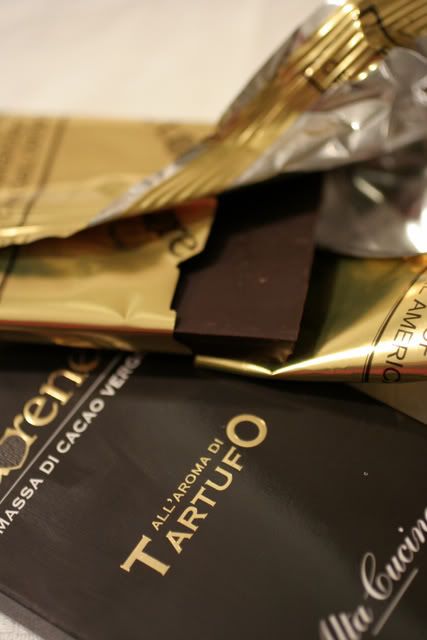 This is a chocolate mousse with Creme Anglaise base, which is why it is so rich. You can add any flavorings you like and make sure you serve it in smaller portions.
This recipe makes enough for 7 portions.

144g whole milk
72g heavy/whipping cream
6 egg yolks
20g honey (you don't really need any , but I had some unsweetened chocolate)
390g 72% chocolate (Use any kind you like. For me the darker the better!)
500ml heavy/whipping cream

Chop the chocolate as fine as possible!
Whip the 500ml cream until soft peaks form and place it the fridge.
Heat the cream, milk, and honey (optional) until it boils.
Whisk the yolks, just to break them up.
Temper the yolks with the cream and bring back to heat. Be careful now, it cannot come to the boil unless you want scrambled eggs for dessert. Keep it on medium heat and stir with a wooden spoon until it coats the back of the spoon - you will notice how it thickens.
Strain immediately, and if you get some bits of curdled egg, just blend it.
Add the Creme Anglaise to the chocolate, cover with plastic wrap and leave for 5 minutes.
Now stir the mixture until uniformed and smooth. If you see that it got separated, just blend it.
Now fold in the whipped cream, and place into glasses, jars, cups, mold, whatever you wish! Chill for an hour or so and voila!




Since I felt so creative and privileged to have that kind of chocolate in my power, I made truffles with the same flavor profile. I don't even know what to say, truffles are good in general, and with the addition of actual truffles, it was a fantastic experience, as my friend Stacey would say - Party in your mouth!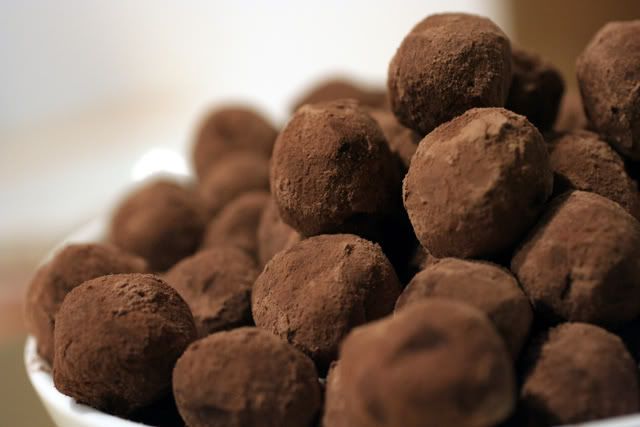 I promise to post a cookie recipe, I have a newly discovered one, it's superb!!