ponedjeljak, 31.12.2007.
My first Panettone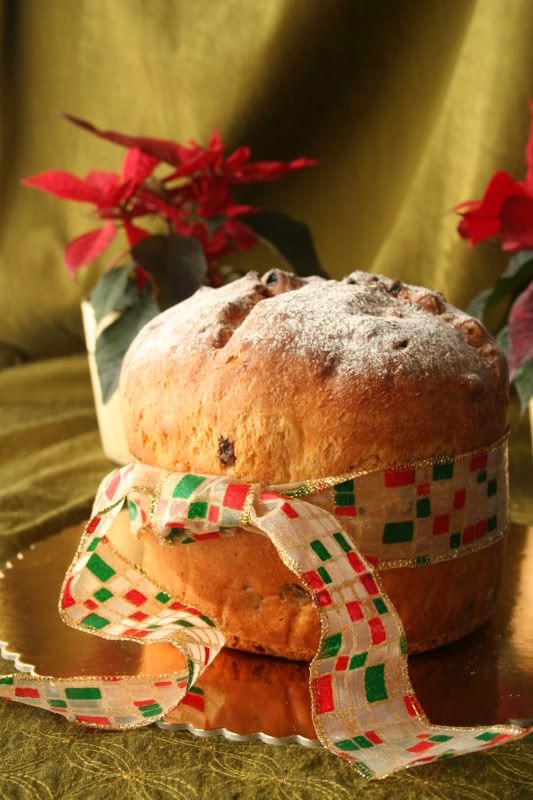 Uhh, what a job. I was determined to make the real ''Panettone'' not the quick versions of it. We always buy it during this time of the year, but this time I said, I will make it!
I made a research on it and oh how I wished that I spoke Italian. I will soon, that's for sure.

As you already know, it is a traditional Italian Christmas bread, just like Stollen in Germany. A classic Panettone comes from Milan and I read that it takes about 10 days to make it! I am sure it's not like that in the industry, but there are definitely many Italians who take the time to make it since it is for once in the year. There is also ''Pandoro'' which is usually star shaped (mm, I love that one!) with no dried fruits.
The classic one, which is the one I made, contains lots of egg yolks, dried fruits like candied orange and lemon zest and raisins that shouldn't be soaked. My version took me 3 days to make and boy how ineresting was that. I have never made something like this before!

Today is the last day in 2007 and it will be a nice treat to share with my family. I am so excited, you have no idea! By the way it looks, it should be good :))
The recipe for Il Panettone Milanese is just a click away, here!

And just a note...Make sure you have a good mixer for this, because that is way to much work to do by hand. I personally couldn't knead a piece of dough for 1 hour.
I have to go now, Panettone is waiting for me!!