subota, 10.11.2007.
Vanille kipferl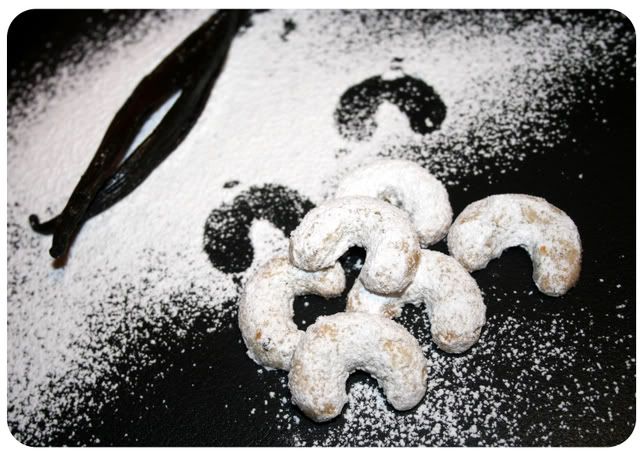 As I posted that photo of vanilla kipferl (crescent) queen, I thought of making vanilla kipferl. It was just the right thing to do on this rainy and cold day, better to say freezing! Everything in the city is slowly getting decorated for Christmas and it will be magical, I simply cannot wait.
I was actually planning on going to Demel today, but then I didn't really feel like it + I had things I really wanted to do this weekend. I need to work and learn a bit more about my camera and I still have homework to finish for monday!
Oh, I bought the cd from the Backstreet boys :)) If you didn't know, I am their fan since I was 6 and their first record was the first one I bought, actually my dad bought it for me, hehe. THere are a some good songs, but it's different from their past albums. I need to listen to it a bit more...

Ok, I guees you're not that interested in the Backstreet boys, so I'll continue with my vanilla kipferl ;) Everything turned out nice, EXCEPT, that I peeled my almonds, got them ready and then remembered that I'm not at home and that I don't have a grinder here. Ahhhhh. Thank God I had the exact amount of ground almonds (with skin though) in the fridge and so I used that. Original vanille kipferl are made with peeled almonds, but this was very good as well. You should've been here while they were baking. Oh my, that was heavenly. That smell is just........

Sooo, here are my 2 pics and a recipe to go with! :))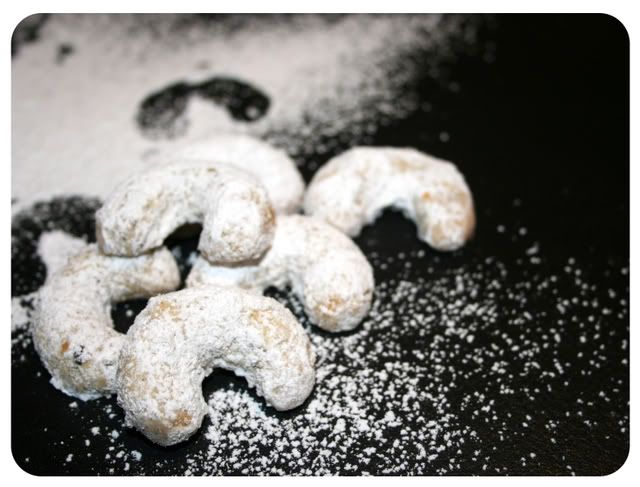 Vanille Kipferl
This recipe I got from Austrian recipes and I just added some of my ground vanilla pods in the dough.

210 grams flour
180 grams butter
50 grams powdered sugar
70 grams almonds, peeled and ground
2 egg yolks
60 grams powdered sugar
vanilla

Mix flour and butter together until it looks like breadcrumbs. Add sugar, almonds and egg yolks and knead quickly to a short pastry. Cool for 1/2 hour.

Form to a roll of the thickness of a thumb. Cut into 1 centimeter pieces. Now roll each piece in your hand to a length of about 4-5 centimeters and give it the shape of a French croissant (but much smaller of course, and this shape is what we call "Kipferl").

Bake at 180 C for about 12 mins, it depends of your oven of course. They may not get any color, so don't wait until they're brown!

Mix the powdered sugar with vanilla and roll the Kipferl in the sugar mixture while they are still hot. But be careful, those Kipferl tend to break very easily.