nedjelja, 26.08.2007.
Souffle

I am not in Demel, YET, but that doesn´t mean I can´t make some stunning orange souffle´s with very delicate bitter-orange vanilla creme anglaise! M M M , that´s all I can say ;)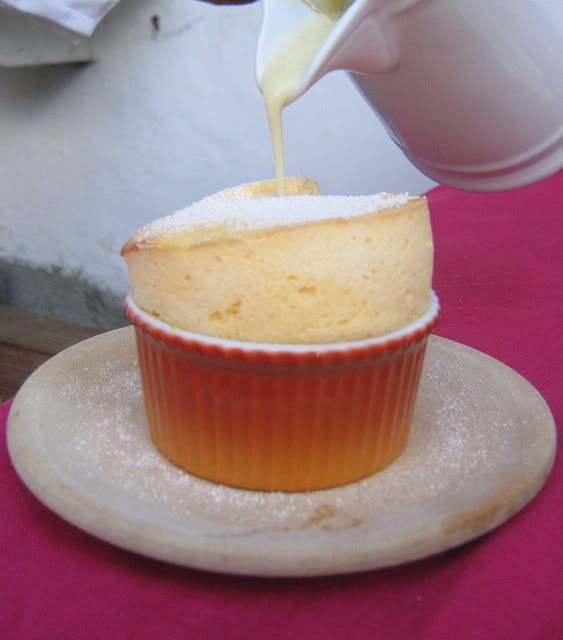 Basic Souffle from my chef Dieter :)

For 5-6 souffle ramekins:

37g butter
18g all purpose flour
1.25dcl milk (or other liquid, depense of the souffle)
2 egg yolks
4 egg whites
50g sugar

-Grease the ramekins with butter, sprinkle with sugar.
-Melt the butter in a small saucepan, add the flour, and stir until combined.
-Add the liquid and stir on heat until creamy.
-Transfer to another bowl. Whip the egg whites with sugar until medium peak.
-Add the yolks to the flour and butter mixture and fold in the whites.
-Pur into ramekins and bake in convection oven 190C for about 8 minutes, or until they get double in size (yes, they get very high!)
-Dust with some powdered sugar, and serve IMMEDIATELY.

Notes:
In this partucaular souffle I used freshly squeezed orange juice and some Contreau.
I served it with warm Vanilla sauce with addition of some bitter orange maramlade.
Perfect.