...

pisano juče:
dok je on nabrajao razloge zašto, ja sam se jednostavno isključila. vrtila sam u rukama maramicu svu natopljenu suzama i slagala od nje pravilan tuljac.. ako nije bijo pravilan gurala bi rubove unutra da bar s jedne strane izgleda savršeno. onda bi tim mokrim tuljcem opet i opet brisala područje oko očiju koje me već svo peklo od suza a i bolilo od tvrdog papira. pa nova maramica, novi tuljac.. tu i tamo bi rekla nekaj a onda potrošila još hrpu maramica.. složila hrpu tuljaca koje sam uredno salagala na kauč. i sjetila sam se one žene s faksa koja od doma donosi sendviče napravljene od šnita kruha i zamotane u foliju, jede ih više od pola sata a onda satima sjedi slažući tu foliju na savršene dijelove. prvo ju izravna pa ju polaganim pokretima spusti na koljena a onda ju slaže.. pa ju opet razmota pa opet slaže. vidjela sam ju jednom i kad je uzimala cvjetiće s papirnatih maramica i slagala ih jedan na drugi.. i na veceu kad je rukama prelazila preko svoga lica.. kao da nikog nema oko nje, kao da je sama i hoće zauvijek zapamtiti te crte lica koje gleda svaki dan, al želi ih i dotaknuti da njihov izgled sačuva i prstima, jer možda ne želi prihvatiti promjene.. u trenu kad mi se raspadao cijeli život (jer bio mi je upravo to) jedino na kaj sam mogla misliti bila je ta žena s faksa kojoj se čudim svaki put iznova kad ju sretnem. koja je njena priča? jel uopće doživljava realnost koja ju okružuje? il je folija njena realnost ko što su maramice u tom trenu bile jedina realnost za koju sam ja htjela znati, koju sam htjela prihvatiti.. jedina razlika u njenim i mojim pokretima bavljenja našim realnostima bila je u tome da su njeni bili polaki, htjela je osjetiti svaki tren tog trenutka, i sviđalo joj se ono kaj osjeća u tom trenu, dok sam ja svoje maramice grčevito svijala i slagala ih misleći da ako brže složim brže bude sve to prošlo, jer moj trenutak je bio daleko od savršenog.. čekala sam da prestane, da ode ako misli.. nije. prestala sam plakati. nakon nekog vremena reko je da ide i zagrlio me.
c r a s h . .
slomio me zagrljaj. jer sam znala da je to najsigurnije mjesto za mene, a nakon kaj ode ostat ću sama.. ostao je preko noći. ja sam ga grlila u suzama i ljubila usne koje nisu odgovarale i govorila mu da je sebičan.. ujutro smo pričali. reko je da nije sretan, a ja sam viknula nek ode.. obukao se i pokupio stvari, a ja sam ostala u suzama u stanu kojeg je mrzio..
slomljena.
i ova pjesma ispod je realnost mog srca.. koja nije bitna nakon svega.. jer On je poželio samoću.. a ja ju tolko prezirem.
bojim se.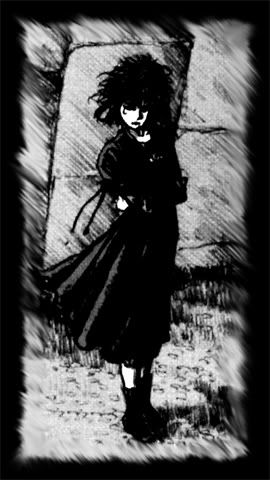 danas:
bolje sam jer nisam prihvatila njegove riječi.. jer se nadam da bude se sve opet vratilo na isto.. ja budem opet sigurna u svojoj kutiji od šibica, a on bude me volio dovoljno da se potrudi..
lažem sama sebi?
možda, al ako je ovak lakše možda dođem do faze kad bude mi lakše prihvatit i stvarnost. zasad to još ne mogu jer mi je previše značio.
04.07.2006. | 15:00 | (7) - ostavi škrabotinu | printek | # | ^