APARTMENTS VILLA BRANKA, ROGOZNICA, DALMATIA, CROATIA
Welcome to apartments Villa Branka homepage. We offer private self-catering accommodation in 3 stars certified apartments in Rogoznica, idyllic Mediterranean place sited right on the seaside of Central Dalmatian coast. We are experienced in tourism since year 2000. and have a great number of satisfied guests who are returning to Rogoznica every year. Our modern furnished and fully equipped two bedrooms apartments (4/4+1 child) or type studio apartments (2/2+1 child) are sited only 10 meters from the sea and private beach, all for your guaranteed comfort. All apartments have a separate kitchen, bathroom and a terrace with a great sea view! Contact us with confidence and enjoy unforgettable and relaxed holidays in charming Rogoznica!
CONTACT US FOR BOOKING:
Mr. Krešimir Skelac
mob. +385 99 2331 970
Mr. Željko Skelac
mob. +385 98 357 130
Rogoznica, tel. +385 22 559 479
e mail. brankaskelac@yahoo.com
web. http://rogoznica.blog.hr

APARTMENTS LAYOUT AND POSITIONS

Villa Branka has 6 apartments: 4 two bedrooms apartments (SKALE, KONI, ZAC, PRESIDENT) and 2 type studio apartments (MALI I, MALI II).

TWO BEDROOMS APARTMENT (for 4/4+1 child) each apartment has 2 bedrooms, every with french bed for two (wardrobe for clothing and two night cupboards), bathroom with shower, kitchen (cooker, oven and big fridge) and living room with pull out bed if needed for 1 child. It has a big terrace up to 25 m2 with a beautiful sea view.
TYPE STUDIO APARTMENT (for 2/2+1 child) each apartment has a bedroom with french bed for two (wardrobe for clothing and two night cupboards), bathroom with shower, kitchen (cooker, microwave and fridge) and if needed a supplementary bed for 1 child. Also has a terrace with a nice sea view.
Apartments prices include all; tourist tax, air condition and satellite TV, WiFi internet, deposit box, open grills (2), beach shower and pontoon island usage, plus private parking place behind the house. There is also a possibility for berthing motor or sailing boat on our private beach! Villa is situated just under the road (Jadranska magistrala) and the sea is just below.

APARTMENTS PICTURES AND AVAILABLE TERMINS (DATES) IN YEAR 2018:
TWO BEDROOMS AP_SIDEWISE TERRACE (4 person):
SKALE 31.08 - after
KONI 10 - 20.08, 17.09 - after

TWO BEDROOMS AP_FRONTAL TERRACE (4/4+1 child):
ZAC 15.09 - after
PRESIDENT 17.09 - after

TYPE STUDIO AP (2/2+1 child):
MALI I 03 - 12.08, 08 - 17.09, 28.09 - after
MALI II 20 - 24.07, 10 - 16.08, 10.09 - after

How to get to Rogoznica and to our house? Click here on Google map!
p.s. In contact by email, along with preferred apartment/s and rental termin, please include your mobile or telephone no., so we can contact you quicker and give thorough answer to all your questions or wishes! If we have no available apartments for requested termin, we will gladly help you find accommodation near us, after contacting our nearest neighbors.
Historical information about Rogoznica
First inhabitants for its dwelling chose in 1390. a land part of today's Rogoznica, Kopača. And near island, Kopara, on which inhabitants searched shelter from Turks, is colonized in 1518. When there was no any more danger from Turks, island is connected with a land part. On island is in 1809. during French rule, built fortress. Old church St. John of Tragurion, from 1324. on near horn Ploča, is telling us that this area was visited and before first inhabitants came there. Contribution to this give us also a chapel of St. Nicholas in a cage Loznica where on a graveyard are discovered a few ledgers (stečci).
Rogoznica today is a typical Mediterranean village whose population are around 1000. People mostly work in tourism, on a land or on shipyards. Thanks to preserved atmosphere of typical quiet little place, Rogoznica to its inhabitants and visitors offers peace and rest in front of all, completely different from a modern life. That little place will hug you as a old friend and after just few days you'll feel as a part of local people, saying hello to fisherman's watching them leaving and coming back in to a harbor, or toasting to some known face looking for a short rest under palm leafs. Moments of pleasure on some of natural beaches, soon will take you out of tensions, which gave you an idea to search a rest under a hot Mediterranean sun.
If you're one of the people in loved in a sea and in it's boat, who explores eternal puzzles of the sea, a good hidden harbor will give you a place to rest and to supply. Visit a cave Milina and enjoy in a beauty of a near lake, Dragon eye, a natural phenomena, which is connected with a sea. If you visit Rogoznica you become in loved with it, and Rogoznica will give you that love back.

Instructions - how to come to Rogoznica
By Car:
There is a new highway A-1 from Zagreb to Sibenik and the rest you go by the main road Magistrala (next to the sea) in direction of Primosten and than Rogoznica
Zagreb - Šibenik (get off the highway A1), Šibenik - Rogoznica
By Plane:
We offer the service of Airport transfer.
We will pick you up on the airport and bring you back. For detail info please contact us over mail.
If you are coming by yourself than take a plain to AIRPORT SPLIT - KASTELA and then Bus to Rogoznica.
By Bus:
Bus from Zagreb is leaving every hour same as from Split and Rijeka.
Please make sure that bus is going by Magistral road from Šibenik to Split (not over Boraja).
You can contact us on mobile so we can come and pick you up on Magistrala road.
By Train:
Easiest way to come to Rogoznica by train is to come to Split train station (from Zagreb) and than just transfer by bus to Rogoznica. Bus and train stations are next to each other so you do not need to worry about finding either.
More information about Rogoznica
Rogoznica, a small Mediterranean tourist destination close to Primosten and 25 km south of Sibenik, is placed in a wide bay, has a post office, doctor's office and stores - a great place to spend a wonderful holiday with friends and family. Rogoznica is frequently visited by boaters and yachtsmen because of Frapa marina, considered to be one of the most beautiful and safest marinas in this part of the Adriatic.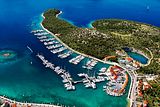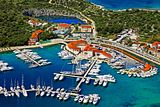 Rogoznica's many pebble beaches and several rocky beaches are surrounded by pine trees. Rogoznica is traditionally a fishing settlement and visitors can buy recently caught fish. Check out the 10 kg, 150 cm long Ugor we caught with guests from Germany!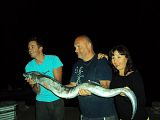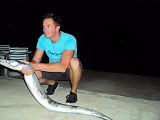 Nightlife : Aurora, one of Croatia's largest and most famous discotheques, is only 5 km away. Not to mention it's a meeting point for thousands of young people who arrive from all over Croatia, Europe and other parts of the world.

Pubs and Restaurants: In the center of Rogoznica you can also enjoy lots of various bars, restaurants with traditional Dalmatian cuisine and local taverns. There is restaurant, pizza house and a bar on every corner in Rogoznica but there are few really good ones. We can recommend you where to go and wich places offer something special. We recommend you try fish (ugor), shrimps (škampi) or mussel shells (dagnje) on BUZARA Buzara is a kind of Dalmatian traditional cooking preparation and is really good. Some restaurants offer really good meet and vegetables. Good lunch you can get from 70 kuna (9 Eur) to 140 kuna (18 Eur). Beer and wine is not expensive especially domestic ones. Beers go from 10 kuna (1,4 Eur) to 18 kuna (2,4 Eur). Liter of wine cost from 50 kuna (7 Eur) to 80 kuna (11 Eur), of course bottled wine prices are a bit higher.

Local festivals : taking place in August - Ribarska noc (Fisherman's Night) and Noc Rogoznice (Rogoznica Night) - attract many visitors including those from Split and Sibenik. Due to its indented coastline and other sports facilities, Rogoznica is perfect for water sports as well as other activities. Secluded beaches await you in numerous inlets in the vicinity of Rogoznica.
Diving in Rogoznica : Huge underwater cliffs with Gorgonia coral are specialty of Rogoznica and in combination with clearest water of all the shore places on the entire Adriatic, diving is becoming more and more popular. You can dive in underwater botanical & zoological garden which was made by biology students or visit few wreaks in the area. There are 3 diving centers in Rogoznica: DC Pongo, DC Osijek and DC Maiks
We recommend: visiting Paris church from 1615 / fortification on the hilltop above Rogoznica built by the French in 1809 / medieval churches in the Rogoznica field - examples of medieval Dalmatian architecture and visiting Zmajevo oko (Dragon's eye) lake nearby, unique high and low tide phenomenon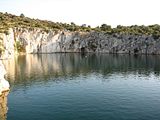 Did you know: you can try fencing in Rogoznica, the International Fencing Camp and School was founded here in 1987
Sea lighthouse Mulo ; Most of our island lighthouses are today closed as the shipping traffic regulation have been replaced by modern technology. The same destiny befall to Mulo, who has an interesting history. Mulo is one of the oldest Croatian lighthouse, which was built by navy of Austro-Hungarian Monarchy on 1873, just near Rogoznicas sea surface. It was equipped by cranes for lifting wooden fisching boats which saught the rescue during storms. During one thunderstorm in last century, early 70's, cargo ship, chock full of tropical fruits ran aground the lighthouse Mulo. Eye witnesses claim that marketplaces in Rogoznica, Šibenik and Split have been settled with oranges for months ! But along with Mulo's garrison the legends about it also vanished.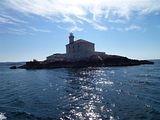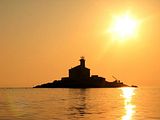 Belive it or not ; flying fish (Afrička poletuša - PAREXOCOETUS MENTO) caught in the net here in the bay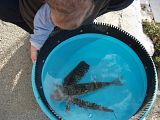 Visits :
Online Users
Copyright©2005 - today, Apartments Villa BRANKA