Sve u svemu: 1,5 / 5

Više o filmu: Imdb.com
Video

Troje prijatelja useljenjem u stariju kuću zbog blizine koledžu upoznavaju se s mračnom tajnom i nadnaravnom pojavom koja im živote počinje pretvarati u pakao, ako se njegovo ime počne spominjati i širiti među ljudima...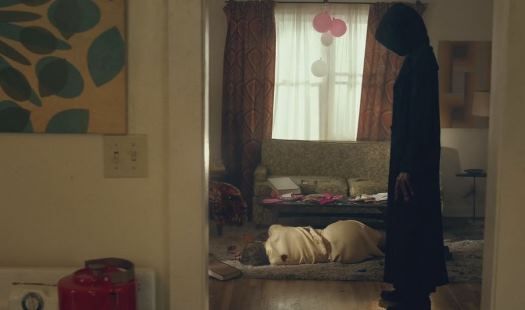 Evo ga, ako ništa drugo, jedan film među top 3 na ovom blogu s najglupljim imenom za horor, a možda i općenito. Bye Bye Man američki je moderan horor koji je upravo to - moderan i koji je pokupio sve što se moglo pokupiti od ostalih svježih hororaca koji se kreću po kinima, samo što su ostali to odradili bolje, a ono što je primarno - originalnije. Horor koji ima polazište da se ne smije ime ubojice izgovarati, odnosno te opasne pojave, gdje se uznemiravaju tinejđeri kroz razne halucinacije, a istovremeno, oni se usude u staroj kući napraviti seansu i prizivanje - može samo rezultirati klišejastim i već stoput viđenim scenarijem i ishodom. Film je snimljen za nešto više od 7, a zaradio je preko 26 milijuna, što savršeno implicira zbog čega se nije mislilo ni na što drugo osim simbola dolara u očima, gdje se atmosfera horora gubi u klišejastim događanjima, ispodprosječnom glumom, bedastim efektima i s mirisom jeftinoće. Ubojica je slendermanovski visok, s crnom 'I know what you did last summer' kapuljačom i s wishmasterovskim licem, koji uza svog paklenog psa (za kojeg nitko ne zna originse) sije strah svima koji ga pozovu izgovaranjem njegovog imena u svoj život. Sve je toliko nategnuto i nerealno loše da sam morao filmu dati skoro pa najgoru ocjenu, upravo zato što me naživciralo to namjerno izostavljanje dobrih stvari u filmu i nepromišljenost prema horor fanovima i ljubiteljima horora u kinima.




Veliki problem ovog filma njegova je nekonzistentnost i sklonost ponavljanjima gradiva na temelju ostalih filmova: likovi prebrzo prihvaćaju legendu oko Bye Bye Mana i počnu razgovarati o njoj kao da je ona duboko ukorijenjena u mitologiju tog mjesta, iako to naravno nije istina. Upravo ta nerealnost koja dodatno pobija i najmanju relevantnost materijala najveći je uteg filma, uz, naravno, nezainteresiranu glumu i neinovativne poteze likova. Kada krene zaplet, efekti postaju ubij bože, očito je kompliciranost prenošenja sadržaja bila prezahtjevna, tako da ni s te strane nismo uspjeli pronaći svijetlu točku. Postoje i pozitivni, simpatični trenutci koji mogu biti dobar hommage horor žanru - oči psa u mraku, poneki jumpovi, Bye Bye Man koji sam po sebi vraća u osamdesete. Ono što je važno za napomenuti jest da film ima počesto jump scene, no nema tu stvaranja napetosti i atmosfere, već je riječ o klasičnim, isforsiranim scare scenama koje zbog jakog zvuka, dinamike i učestalosti u trenutku tjeraju da čovjek reagira, ljudi to općenito ne razlikuju, pravi scare od ovakvog scarea, no dobro, ne krivim ih, nema u principu razlike na to kakvu čovjek reakciju napravi, nego ustvari na što je napravio reakciju. Pri kraju vidimo kako se stvara mogućnost nastavka, zbog kojeg se svesrdno nadam da ga nećemo vidjeti, osim ako inicijativu ne preuzme pravi zaljubljenik u horor, a ne Stacy Title koja očito nije kadar za dobar film strave.




Riječ je o još jednom ispodprosječnom kino horor filmu, koji je dobrim marketingom došao na mjesto i popularnost kakvu ima, no dobro, ne možemo kriviti nastojanje da se nešto zaradi, no može se uputiti izričita kritika neposvećivanju pažnje prema horor elementima, stvaranju atmosfere i malo bolje pozadine oko samog antagonista. Preskočite što više možete i recite mu: bye bye, man.