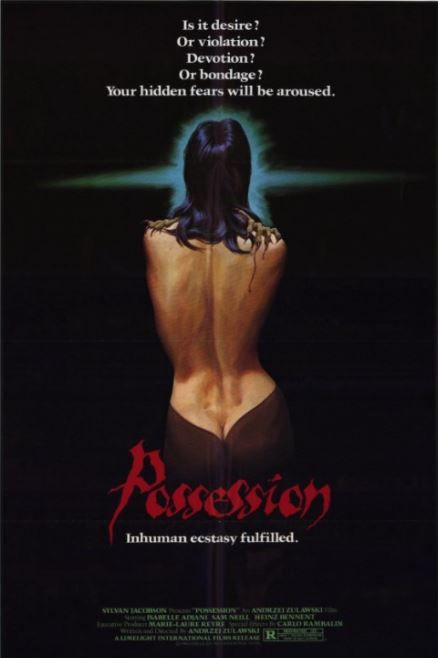 Sve u svemu: 4 / 5

Više o filmu: Imdb.com
Video

Vraćajući se iz misije, američki dužnosnik i špijun Mark u kratkom vremenu primjećuje uznemirujuće ponašanje svoje žene Anne koje postepeno raste nakon što mu obznanjuje da želi razvod. Ubrzo se počinju događati scene koje upućuju kako je iza cijelog ženinog ponašanja nešto mnogo zlokobnije...




Ok. Valja reći kako je za ovu recenziju potrebno mnogo snage i truda kako bi se moglo prenijeti ono što sam osjećao kada sam prije nekoliko tjedana gledao ovaj film. Unatoč mojim zapisima koje redovito vodim kako ne bih zaboravio o čemu se radilo u filmu kroz koji tjedan do recenzije, vjerojatno neću moći pravilnim riječima i rečenicama opisati film u njegovoj punoj snazi, moći i smislu. Idemo polako: Possession je psihološki franucko-njemački horor film, režiran od strane poljskog redatelja Andzreja Żuławskog, čovjeka koji je zaslužan za mnoge opskurne, no iznimno jake i uznemirujuće, čudne filmove. Possession je film koji se nimalo ne odvaja od takvoga koncepta, a navodi se da je Żuławski pisao scenarij za ovaj film u trenutcima vlastitog razvoda, što otprilike i može dočarati opsjednutost, uznemirenost, stres, strah, ludilo koje vidimo u ovom uratku. Film se na neki način dotiče lynchovske, cronenbergovske ili čak polanskovske manire uvrnutih filmova, gdje je glavni adut ustvari stvaranje vlastite percepcije i osjećaja, kroz prvotno gledanje gdje se film pokušava dočarati, a na drugom gledanju - analizirati. Odličan Sam Neill kojega je uvijek zadovoljstvo vidjeti i još bolja Isabelle Adjani potpuno su odnijeli film svojom perfektnom i izrazito zahtjevnom glumom, gdje se fokus stavlja na Isabelle, koja ima jednu od najekspresivnijih ludih ženskih uloga vjerojatno uopće zabilježenih na filmu,a zbog čega je iste godine i osvojila nagradu na Cannesu za najbolju glumicu, te je kroz karijeru bila nominirana za dva Oskara. Ukratko - posvetite se ovom filmu, vjerojatno ništa slično nećete vidjeti.




Sve kreće naizgled normalno, polu-staloženo, pasivno - događa se razvod u životu, bože moj, kolateralna žrtva je zajedničko dijete, tu i tamo Mark poludi, a Anna kaže da ga je ostavila radi nekog drugog, koji također postaje uključen u priču - i onda kreću nedoumice i čudnjikavost...sve dalje postepeno i gradacijski postaje splet uznemirenosti, opsjednutosti, ludosti i krajnjeg apsurda. Iako u svakom ovakvom sličnom filmu postoje objašnjenja događaja i određenih scena i kadrova, valja napomenuti kako je ovdje iznimno teško do toga doći. Svatko si može stvoriti vlastitu percepciju zaključka ovog ludila, no ostaje nam jedno, rekao bih univerzalno razmišljanje, a to su tehnikalije oko filma. Lijepi i zanimljivi kadrovi i scene produkt su odličnog snimanja i pozornosti za detaljima, apsolutno je sve odrađeno koncizno, precizno i uvrnuto, upravo onako kako i priliči filmovima koji ulaze u koštac s mnoštvom eksperimentalnih elemenata. Taman mi se nekoliko dana poslije dogodio Lynchov 'Inland Empire', tako da sam tada baš bio potrefio filmski tjedan - ništa nisam shvatio što sam gledao
. Konstantne svađe i drame drže nas u iščekivanju, a pogotovo kada se krenu fizički pojavljivati demoni, oni isti koje smo mogli vidjeti kod Anne, odnosno unutar nje. Što točno oni predstavljaju, kako se manifestiraju i što je razlog njihove pojave - morat ćete otkriti za sebe sami kako ne bismo išli u preveliko otkrivanje pogledanog. Kako se film bliži kraju, tako sve više sve odlazi u ku***, nikoga više nema na ulicama, dvojne osobnosti se rađaju, film postaje bez kraja...uistinu impresivno odrađeno, naravno dalekosežno i nemali broj puta pretjerano, uz rjeđa pojavljivanja grešaka i rupa u filmu koje to ustvari nisu, budući da nitko ne zna kako je što trebalo izgledati, a kako ne, a i budući da film uopće nema klasičnu narativnost i radnju.




Ukratko, Possession je poseban obol horor žanru iz kojega svašta možemo naučiti, a opet, dosegnuti neke granice filma koje nikad nećemo moći shvatiti. Široka percepcija i ostavljanje dojma može biti dvosjekli mač, no ja sam osobno to shvatio kao pozitivan odmak od klasičnih horor filmova, poglavito jer se posla uhvatio europski redatelj koji je svoj stil prenio i u filmove strave i užasa. Neizmjerno uznemirujuć i moćan horor.