Sve u svemu: 4,5 / 5

Više o filmu: Imdb.com
Video

Mladi Afro-Amerikanac Chris Washington u vezi je s bjelkinjom Rose, a sprema mu se posjeta njenim roditeljima na bogato imanje na kojem situacija nije onakva kakvom se čini...




'Get Out' debitantski je redateljski film Jordana Peela, izašao ove godine prilično primjetno i efektivno. S budžetom od 4,5 milijuna, film je zaradio preko 210 milijuna dolara, pobrao hvalospjeve kritike i publike i dao neku sasvim novu dimenziju atmosferičnog horor filma. Ovo je film o modernom obliku rasizma koji se manifestira kroz potpuno neuobičajenu tematiku naizgled sređenih ljudskih i obiteljskih odnosa, gdje s neočekivanom naracijom dobivamo najunosniji, highest-grossing debitantski hollywoodski film, pobjedivši The Blair Witch Project koji je držao to mjesto 18 godina. Za moćan i prikladan soundtrack zaslužan je Michael Alebs, a u filmu vidimo Daniela Kaluuyu u glavnoj ulozi Chrisa, mladu Allison Williams, Catherine Keener i Bradleya Whitforda u glavnim ulogama. Iznimno odličan posao napravili su svi glumci do zadnjega, fokus se stavlja na zahtjevnu ulogu Chrisa, a svaka gradnja napetosti među likovima popraćena je vještim reakcijama, gestikulacijama i emocijama. Iz mnogo razloga možemo Get Out smatrati najboljim hororom 2017. godine dosad, a neki bi rekli i u mnogo duljem vremenskom razdoblju.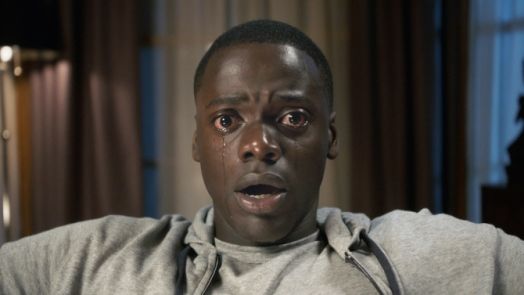 Prije svega, potpuno misterioznošću omotana radnja ne otkriva po bazičnom sadržaju mnogo toga, dobivamo zapravo veoma malo informacija o onome što ćemo tek vidjeti u filmu, a dobit ćete vjerojatno potpuno obrnutu verziju onoga što ste zamislili. Film je dinamičan, nerepetitivan i zanimljiv, posebice turbulentan u skoro pa svim susretima s likovima kroz film, bili oni ultra sporedni kao prometni policajci ili krucijalni za slijed događaja. Prilikom sredine filma odlazimo u sasvim drugu idejnu predstavu prikazanog, a da vam niti jednim spoilerom ne pokušam ukazati o čemu je zapravo riječ, stat ćemo na gruboj deskripciji priče. Veoma uredno posložena radnja nemali broj slučajeva odlazi u raznorazne obrate, koji su opetovano dobro izbalansirani, slojeviti i, malo je reći - drugačiji. Reference na brojne socio-političke aktualne teme, skriveni detalji u kadrovima i učestali twistovi uistinu su obogatili 100 minuta napetosti i neizvjesnosti. Uzbudljiv kraj, možda malo i predalekosežan i nerealan, otkriva koliko je ovaj film, inače rascjepkan na dijelove, zapravo gotovo savršeno posložen od početka, unatoč subjektivnom dojmu povremenog odlaska u apstrakciju.




Kratkim osvrtom htio bih doznačiti važnost filma Get Out za horor industriju - nema potrebe za duljenjem, samo za što skorijim reproduciranjem ovog filma. Veoma pametan i slojevit film, koji naglašava da horor žanr ima priliku vratiti se među Oskare u zavidnom izdanju.