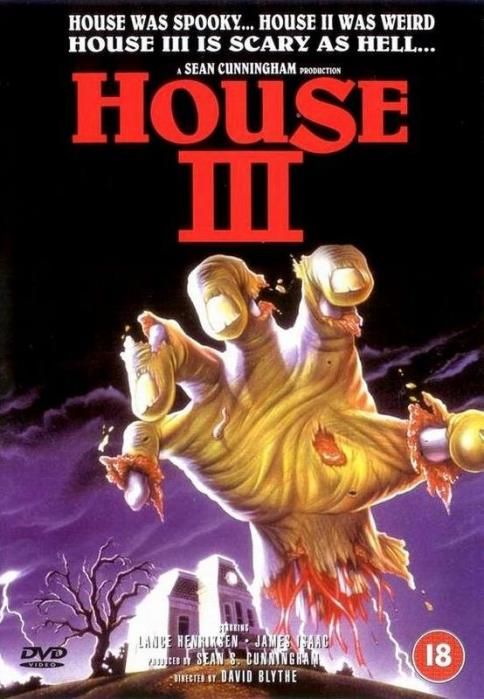 Sve u svemu: 2,5 / 5

Više o filmu: Imdb.com
Video

Lucas McCarthy policijski je detektiv kojemu je konačno laknulo kada je uhvatio zloglasnog serijskog ubojicu "Meet Cleaver Maxa", kojega čeka električna stolica. No, tijekom promatranja njegove smrti i nakon toga, čini se da je Lucasova normalnost došla u pitanje, kao i sigurnost njegove obitelji i kuće, budući da je izgledno da se ubojica vratio iz mrtvih...




Jedan od rijetkih filmova gdje ćemo moći vidjeti Lancea Henriksena i Briona Jamesa u glavnim ulogama, House III, ustvari ima zanimljivu prošlost: patio je od krize identiteta zbog marketinških propusta. Film su htjeli najavljivati u svim neameričkim kontinentima kao treći nastavak na horor serijal, tako da dok je krenula produkcija, mislilo se da će biti riječ upravo o tome. Sean Cunningham, producent, već je bio u procesu prosljeđivanja tog imena stranim distributerima, kad mu je United Artists rekao da je zvučniji naziv na američkom tlu The Horror Show. I od toga dana, za one koji se ne upute dovoljno, vladat će konfuzija, iako se na sve više mjesta bilježi kako je riječ o filmu House III: The Horror Show. A moglo bi se komotno napisati i Shocker: Prequel, budući da je Shocker izašao iste godine na jesen, a ovaj film na proljeće, a riječ je o tematski veoma, veoma sličnim filmovima. Ovo je treći nastavak horor-komičnog serijala House koji to ustvari i nije, nešto slično kao i s Halloween trojkom, no ovdje imamo odmak od fokusa uklete kuće i duhova na serijskog ubojicu koji kreće u napad i opsjedanje kuće, naravno, mrtav nakon električne stolice i nakon dogovora s vragom. Takvi elementi filma svakako su minus u usporedbi s ostatkom serijala, no kao samostalan film, radnja i sve ostalo u globalu nije ni toliko loše koliko sam mislio da će biti.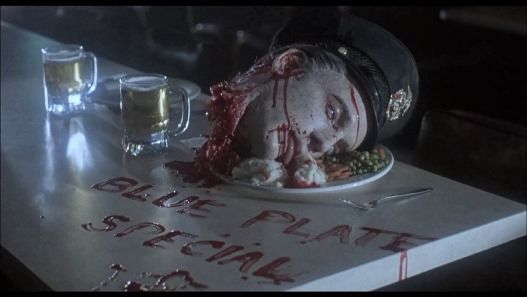 Prvih pola sata filma čisto je solidno odrađeno, dobro počinje, uvodi nas u radnju, likovi i gluma su na mjestu, općenito, efekti, zaplet i sve, no nažalost, sve se razvodnjava kada se radnja krene brže pokretati i kada neki zahtjevniji efekti, praktični ili ne, krenu uzimati maha. Splatteri se događaju tek kasnije, drago mi je što su ponovno prisutni, no u daleko manjem omjeru nego u prva dva dijela, no, ne vrijedi ni uspoređivati kada film sadrži rijetke poveznice sa serijalom osim samih događanja oko "kuće". Zadovoljstvo je Henriksena vidjeti u punoj minutaži, riječ je o veoma kvalitetnom glumcu koji se pojavljuje u bezbroj filmova A i B produkcije.
Na neki način se izgubila atmosferičnost u trećem dijelu, nedostaje scenarist Fred Dekker koji bi dostojno prenio atmosferu i tempo serijala, no i unatoč tomu, film kao samostalan također ne bi mogao veću pažnju zadržati upravo zbog dosta dugog pripremanja na nešto konkretno, a i to konkretno što je viđeno nije bogznašto. Rasplet filma dinamičniji je od ostatka filma, ali potpuno nepotrebno.




Mimo Henriksena, Jamesa i dobrog starta, House III bezvezan je prosječni film koji je preteča Shockera, a dojma sam da je od Shockera sve uzeo, iako je, zanimljivo, ranije objavljen i realiziran.