Marketing
earth then earthen, 2008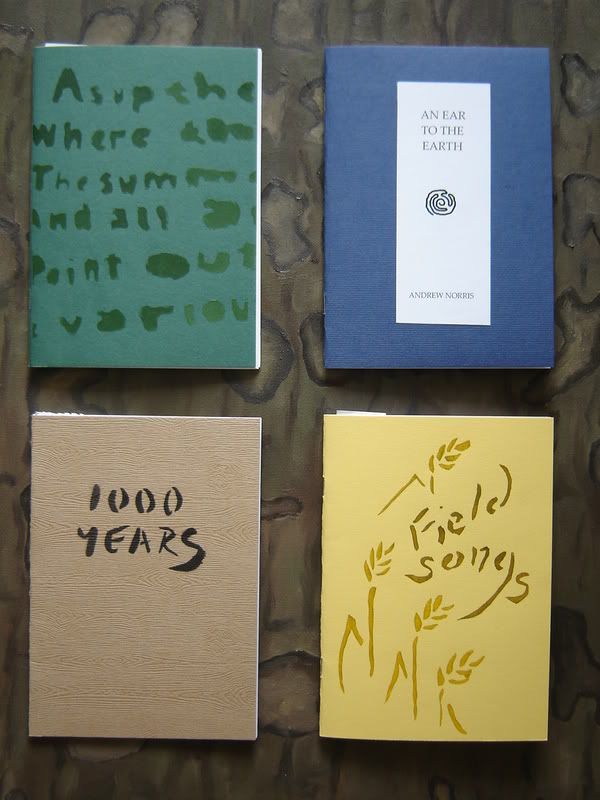 Books to go on exhibition 8th September 2008,
Gradska Knjižnica, Zagreb and Bristol, England

earth then earthen
i The Poem Tree, 2005
ii An Ear to the Earth, 2006
iii 1000 Years, 2006
iv Field Songs, 2008

The Poem Tree.
In 1844 Joseph Tubbs climbed to the top of
Wittenham Clumps in Berkshire, England,
to carve a poem on a beech tree, this is his story
which continues to resonate up to the present.

Full text appears on http://thepoemtree.blog.hr

An Ear to the Earth
is a sequence of 14 poems
written from the point of view of fields, soil, seeds,
animals, plants and trees.

1000 Years
A group of oak trees give an account
of their lives over a millennium.

Field Songs
Takes the form of a series of parallel
monologues between the present and former
owner of a house and piece of land in Croatia.
These monologues occupy similar 'spiritual'
space if not temporal.

Collectively, these four works entitled, earth then earthen,
explore identity and the nature of one's
relationships to and presence in the natural
environment.

* * * *

Video presentation of the Poem Tree filmed in 8mm and
video between 1991 and 1995





Post je objavljen 10.06.2008. u 14:28 sati.