ponedjeljak, 21.04.2008.

Life.
Nothing more than pain and misery.
Nothing more than pale image of something that lasts more than a second.
Everyone dies.
They leave only memories behind.
Memories of the moments filled with fake laughter,
Souranded with fake people
Once, your dear friends.
Nothing is forever.
And the light that stands on the very end of a tunnel that represents your life
Is nothing more than a mirror
Reflecting the light hidden within your dream.
And day turns to night...
And night becomes longer than eternity,
It becomes the only bright spot in the darkness of your soul.
When Sun is black,
Darker than the universe...
When See is red,
Sweet and warm as the blood in your veins...
And City is just an old graveyard
With tallest building beeing your own grave
You come to see
That life is just another image of demise
But seen with different eyes.
I am a vampire
And I live forever
In past, present and future.
With Grave as my bed
Crow as my friend
And Death as my Life,
I fight my demons
And I fight the light.
I live the truth
I die this day
I hide in your dreams...
Forever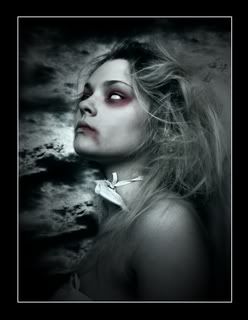 ponedjeljak, 14.04.2008.

Ponovo sama.
Ostavljena od strane svih
Koji su kraj mene bili dok sam još bila nasmijana.
Sada, u mojoj tuzi
Nikoga nema,
Svi samo odmahuju glavom
I ne žele me vidjeti,
Ne žele čuti moj vrisak
Moju bol.
Opet se okrećem starom prijatelju
Žiletu.
Saslušao je sve moje jade,
Upio je svu moju bol
I vratio mi osmjeh na lice.
Osmjeh kojeg prihvaća okolina...
Osmjeh koji daje nadu
Da će se jednog dana sve vratiti u normalu,
Da ću kao i prije
Šalom otjerati suze,
Savjetom otjerati tjeskobu,
Odmoriti se od ovih ožiljaka
I vraćanja u prošlost
Na onaj dan kad su me svi povrijedili,
Iznevjerili.
Želim se maknuti iz ove tame
Ispunjene tamnocrvenom krvlju
Koja iz mog tijela svakodnevno izlazi.
I nije ona kriva
Što ostavlja trag,
Ni žilet nije kriv
Što otvara rane zakopane u meni,
Nisam kriva ja…
Jer bol je jaka
I teško je reći ne.
Teško je samo hodati naprijed
A lancima si vezan za samo jedno mjesto
Koje najviše boli,
Koje je najteže preboljeti.
A teško je lance maknuti mišlju,
Teško ih je puknuti samo blagim osmjehom…
Zato tiha latica metala
Moje lance kida
I vuče bol moju
Na dno groba moga
Jer jedino tamo
Ponovno će se susreti
Mračne more iz prošlosti,
Uspomene iz sadašnjosti
I anđeo smrti budućnosti
Koji nagoviješta samo tamu,
Vječnu noć u paklenoj vrućini
Vatre mojih grijeha.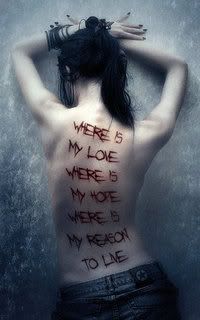 utorak, 08.04.2008.

Nisam više ona ista
Ona koju znaš.
Sve se promijenilo.
Ja... drugačija od svih,
Od sebe same.
Moja razmišljanja...
Sada leže na granicama mogučeg,
Dotiču samo dno života,
Okupana krvlju...
Sjedinjena s tamom...
Saveznici smrti.
To nisam ja...
Samo slike lažnog postojanja,
Odraz drage i tihe djevojke
Koja je u ovom tijelu nekad tražila život.
Ja sam samo sjena prošlosti,
Crna mrlja na bijelom platnu života,
Jedna od mnogih koji traže utjehu u krvi.
Jedna...
Sama...
Ne.
Ništa nije od prije.
Sad sam mrtva,
Zgažena,
Isjeckana na komade,
I padam...
Uranjam dublje,
Još dublje,
U krv...
Žile...
Srce.
I tonem...
U visine.
Ususret svemu što sam već vidjela,
Na dno svemira...
U smrt.
Plovim.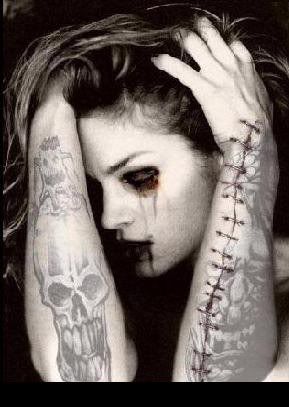 Naravno, ne smin zaboraviti čestitati rođendan mom dragom Alexiu koji je danas napunija točno 29 god.
Nek ti u životu sve gre glatko, želin ti još puno puno turneja (i da dojdeš i do Hrvatske...) i da ti se ostvaru sve želje koje si ikad poželija.

Dearest Alexi, happy birthday to you...