S ozbirom da mi je danas rođendan, mislim da je totally a-must da napišem new postek and about something special to my heart!


Nekako više imam običaj pisati u postu o dva animea, but this (kao i prošli anime post) will be one-anime-only post for a reason!
Nekako mislim da ovaj anime zaslužuje pozornost za sebe i jako mi je poseban i mislim da je krajnje vrijeme da pišem o njemu!



Anime o kojem ću vam nešto reći zove se Beelzebub

Taj anime je toliko poseban i savršen da će mi biti zbilja teško opisati to samo tako, but I will give my best!
Beelzebub anime sadrži sve! Nema manu! Jednostavno je savršen!
Mislim da me niti jedan anime nije toliko nasmijao kao ovaj! Sigurna sam!
Svaka epizoda zove na još! Svaka! Meni je pretužno što anime ima samo 60 epizoda! Mislim da bi ga trebali snimati vječno!

Takav humor nećete naći nigdje! I mean it!
Sama priča je toliko orginalna i unique - svatko bi trebao pogledati ovaj anime barem jednom!


I mislim da ne postoji ništa slađe od Baby Beel-a! Ništa! Little demon-king-to-be koji dođe na zemlju i promjeni život nekolicine - sama ta priča je predobra!



Baby Beel (Beurbo) ... the cuttest being ever!
p.s. my current blog avatar



Nedavno sam baš pogledala anime ponovno i to je jednostavno life-experience! Onaj tko je stvarao Beelzebub mora da je svjestan koliko je to special! Mora!

Anime ima divnih 60 epizoda koje MORATE pogledati!
If you love anime, it is a must!

Ima i jedna OVA epizoda that is also very adorable!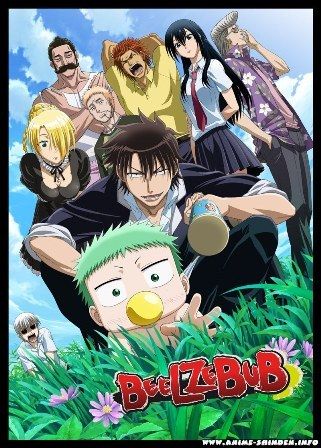 I love them all! All characters are suuugooooi





Enjoy watching,
matta ne!