NBA Trade Rumors See Devin Harris Shopped by Jazz During NBA Draft

Devin Harris is a former No. 5 pick.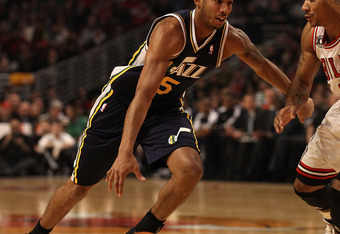 He was an All-Star in 2009.

And he averaged 15.2 points and 7.1 assists last season.

So why on earth would the Utah Jazz think about trading him during the 2011 NBA Draft?

Harris was widely rumored as a trade chip for the Jazz on draft day, and you have to wonder whether the Jazz believe he's the answer for them going forward at point guard.

Sure, he's no Deron Williams, but he certainly has talent, and he's not too old at 28 years of age.

His production did decline with the Jazz, averaging 15.8 points and 5.4 assists in 17 games, but part of that was because he was dealing with a hamstring injury at the time.

Not helping matters was the Jazz went 8-16 when Harris arrived in Utah.

MUST READ: 10 NBA Free Agents Ready to Join Contenders

But after the Jazz opted to draft Turkey center Enes Kanter at No. 3 overall in the draft, and grabbed shooting guard Alec Burks of Colorado at No. 12, it appears with no trade in place for Harris, the Jazz have opted to ride it out with him and see what he can do.

At this point, he's all they have.

And it's not a bad plan. If the Jazz really felt better about Kanter and opted for him over former Kentucky point guard Brandon Knight at No. 3, then it made sense for them to give Harris another chance in Utah.

Harris is, after all, a former All-Star. He'll never be the best shooter, but he's a solid distributor and can penetrate the lane the way a true point guard should.

I, for one, thought the Jazz were a bit hasty putting Harris on the trading block during the draft. Less than half a season isn't enough time to judge a player.