Club Penguin Fans 4-ever
31.05.2008., subota
Nova kapa!

CPIP testeri,provjerite svoju Player Card i naći ćete novu kapu!Izgleda kao radnička ali je crvena.Evo slike:




Ovo sam ja kad ju nosim:




I na kraju,kada stavite samo nju i plešete,bušite crvenom bušilicom:




To je sve u vezi kape,evo još nešto s CPIP bloga-

Penguin Mail Update


Hello Penguins!

I hope all of you who received the CPIP Server Test thank you item are enjoying it! There's been a lot of talk recently about the release of the new features and I want to give you an update on all of them, but to make it easier, we're going to focus on one per post.

First--and the feature I'm most excited about--is Penguin Mail. A couple of weeks ago I talked briefly about an update to the postcard system. If you missed that post, you can check it out in the archives of this blog.

The team has been working really hard on this feature.

Here's the logo they're playing with.

It will also be way easier because you be able to send buddies a postcard even if they are not logged in, and you'll also be able to delete and SAVE your mail.

As always, we would love to know what you think. So keep up the feedback--it helps a lot!

I'll have more info on Penguin Mail, the new player card and login next week.

Until then...waddle on!

-The Club Penguin Team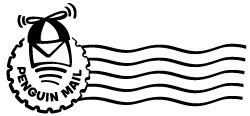 To je sve,pozdrav!

29.05.2008., četvrtak
Thank You Item for Server Test helpers!


Hello Penguins!

Many of you have been waiting VERY patiently for the thank you item for helping with Server Test in March and I wanted to be the first to let you know it will be added to your inventory on May 30! I don't want to ruin the surprise about what it is so you'll have to login on Friday to find out.

This item is only for those who helped with the Server Test event in March. If you logged in to help test you will receive the item. We wanted to deliver the item through Penguin Mail, but this feature along with the new login and player card won't be ready for the end of May like we had originally hoped. The team has run into a few really big bugs that will take some time to sort out. They hope to have the new features ready to launch later in June.

In the meantime, we'll be posting some updates on the new features--they may still have a lot of bugs to squash but they've done a lot of great work that we could definitely use your feedback on.

Check back in the next few days for an update on Penguin Mail!

Until then...waddle on!


-The Club Penguin Team

23.05.2008., petak
NOVI PIN I JOŠ NEŠTO...

STIGLI SU NOVI KATALOZI.TO SU:KATALOG SA NAMJEŠTAJEM ZA ŽIVOTINJE,KATALOG IGLUA I KATALOG NAMEŠTAJA.TKOĐER JE STIGAO NOVI PIN,KOJ SE NALAZI U Boiler Room-u.EVO SLIKE:



PARTY SE PRODULJUJE DO 25.5.2008.!
MEMBERI,POČELO VAM JE NATJECANJE IGLUA.SRETNO!

I ZA KRAJ NEŠTO SUPER,STIGAO JE NOVA(STARA) BESPLATNA STVAR.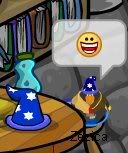 KAPA ČAROBNJAKA KOJA SE NALAZI U Lighthouse!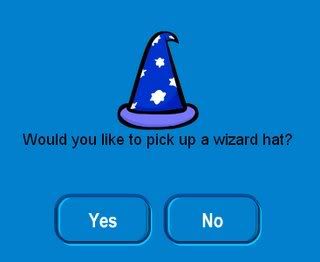 Za pomoč o CP-u otiđite OVDJE!

TO BI BILO SVE,POZDRAV!

21.05.2008., srijeda
New Feature update: new world selector!

Hello Penguins!

Meeting up with buddies in Club Penguin is really important--I know because it's something a lot of you say is difficult right now. In fact, it has been on of the top things sested for improvement from many players! Your feedback on this issue has been a huge help. The team knew right away that one of the first improvements they wanted to work on was to make it easier to find your buddies when logging into Club Penguin.

Some of you had great ideas about making the login function better--a popular one was grouping worlds based on those you visit most often!

That's part of what the team is working on right now. They are totally rebuilding the way you login to Club Penguin! The new login feature will make it a lot easier to locate your friends online--and the worlds will be grouped in a way that will help you stick with the buddies you play with most often.

The feature is still being worked on and as always, any sestions or ideas you have will help make Club Penguin even better! So let us know what you think!


Until then...waddle on!

-The Club Penguin Team

16.05.2008., petak
REZULTATI

NAŽALOST, NA NAŠ NATJEČAJ SE JE PRIJAVILO SAMO 2 NATJECATELJA, Ja SaM jA i ana0layevska . ZATO JE NATJEČAJ SKREAĆEN I OBJAVA JE DANAS. DAKLE EVO REZULTATA...

1. MJESTO - Ja SaM jA
2. MJESTO - ana0layevska

OBAVIJEST ZA ana0layevska :

KAO ŠTO SI VIDJEO/LA, MORAŠ NAM POSLATI KOR. IME I LIZINKU SVOG PINGVINA KAKO BI TI MOGLI OSVOJITI MNOOOOOGO NOVČIĆA. DAKLE... ČEKAMO TE DO PONEDJELJKA (19.05.2008.)... UNAPRIJED ZAHVALJUJEMO...

A TI, Ja SaM jA, OSVOJIO SI GLAVNU NAGRADU, PINGVINA ČLANA IZEYA82... NADAMO SE DA ĆEŠ SE DOBRO BRINUTI ZA NJEGA...

PINGVINSKI POZZDAV!!!

NOVI PARTY!

STIGAO JE NOVI PARTY!SVE IZGLEDA KRALJEVSKI.IMA TAAKOĐER I JEDNA BESPLATNA STVAR,A TO JE MAJCA SELJAKA KOJ SE NALAZI NA DOCKU.SLOBODNO JU UZMITE!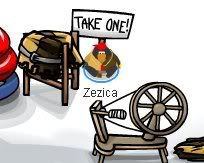 NAJBOLJA SOBA MI JE PIZZA PARLOR ZATO ŠTO SADRŽI OKRUGLI STOL.TAKOĐER JE I SNOW FORTS ZAKON!

TO BI BILO SVE,POZDRAV!

14.05.2008., srijeda
New feature update: Penguin Mail!

Hello Penguins!

Wow! Thanks for all your great feedback on the feature updates we've shared so far. It's totally helpful!

Because of all your help, you are going to be the first to hear about one of my favorite new features the team is working on! I'm really excited about it and could hardly wait to let you know about it!

Over and over again, we've heard great ideas from you about improving postcards and now that the new servers are up and running we can add some of them.

The feature is called 'Penguin Mail' and it will be launched in the next few weeks along with the other features. It will be the first of a few big updates to the current postcard system in Club Penguin.

The coolest thing you'll be able to do as soon as it is launched is SAVE all the post cards you've received and you'll finally be able to send post cards to buddies even when they're not online!

I'll have more details on Penguin Mail as it gets closer to release. As always, let us know what else you'd like to see and what you think of things so far!

Until then...waddle on!

-The Club Penguin Team

11.05.2008., nedjelja
PARTY I NATJEČAJ!!

EVO JEDNE NOVOSTI O PARTYU.BIT ĆE SVE U OBLIKU DVORCA I KULA IZ SREDNJEG VIJEKA.EVO JEDNE SLIKE SA CP BLOGA: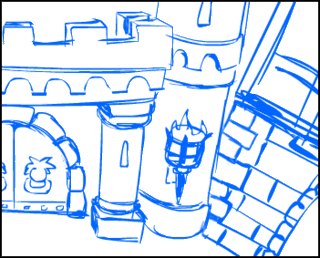 NATJEČAJ!!

ORGANIZIRAMO MALI NATJEČAJ.ZADATAK JE NAPISATI KRATKU PRIČU NA TEMU ˝MOJ DAN SA ROCKHOPPEROM˝.PRIČU MOŽETE NAPISATI NA HRVATSKOM ILI ENGLESKOM JEZIKU.PRIČU NAM POŠALJITE NA NAŠ MAIL KOJI SE NALAZI U BOXU (clubpenguin3@net.hr).
NATJEČAJ POČINJE DANAS,11.5.2008. U 18.30 SATI,A ZAVRŠAVA U ČETVRTAK,15.5.2008. U 18.00 SATI!
REZULTATE OBJAVLJUJEMO U SUBOTU,17.5.2008.
NARAVNO,IMAJU I NAGRADE.EVO I KOJE:

1.MJESTO-KORISNIČKO IME I LOZINKA ČLANA
2.MJESTO-MNOGO,MOOOOOOGO NOVĆIĆA
3.MJESTO-AVATAR VAŠEG PINGVINA

O NAŠEM ZAJEDNIČKOM PINGVINU:

-NAPRAVILI SMO GA ZAJEDNO PRIJE VIŠE VREMENA
-ZOVE SE Izey82
-STAR JE 226 DANA
-ČLAN JE
-BOGAT JE
-FALI MU PAR STVARI ALI IMA TOGA PUNO
-BOGATO UREĐEN IGLU
-IMA 7 OD 100 PRIJATELJA
-MUŠKO JE (MOŽE I ŽENSKO,NARAVNO)
-RADI KAO:AGENT,VODIČ,KOVAČ I ŠEF PIZZERIJE
-VOLI SPORT,NAJVIŠE BASEBALL I HOKEJ
-PRIJATELJSKI RASPOLOŽEN,ZABAVAN,KREATIVAN I VOLI BITI UREDAN
-IMA JEDNOG CRNOG PUFFLIĆA IMENOM Spy
-EVO SLIKE: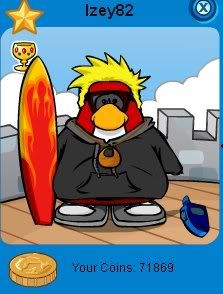 (PRIJE NISMO OBJAVLJIVALI POSTOVE S NJIM JER SMO SE TEK NEDAVNO SJETILI LOZINKE!)

U VEZI NOVČIĆA,KADA BUDETE 2.MJESTO,POŠALJITE NAM IME I LOZINKU(OSTATI ĆE SIGURNA) I ZARADITI ĆEMO VAM NOVČIĆE.

AKO OSVOJITE 3.MJESTO,POŠALJITE NAM SVOJU SLIKU PINGVINA I NAPRAVIMO VAM VLASTITI AVATAR.

PRIČU NAM POŠALJITE MAILOM.POZDRAV OD Club Penguin3 TIMA!!

09.05.2008., petak
PREDSTAVA I PIN

STIGAO JE NOVI PIN.NALAZI SE U Coffe Shop-u.NA LUSTRU JE I KADA KLIKNETE NA NJEGA PASTI ĆE DOLJE.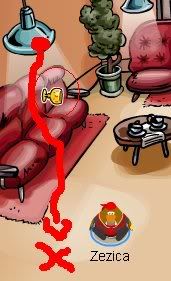 TAKOĐER JE STIGLA NOVA I STARA PREDSTAVA ˝The Twelfth Fish˝.PREDIVNA KLASIČNA PRIČA.MENI SE JAKO SVIĐA,JEDINO MI JE GLUPO ŠTO SU MAKNULI ˝Switch Box 300˝!ALI TO SU ZBOG ZABAVE NAPRAVILI.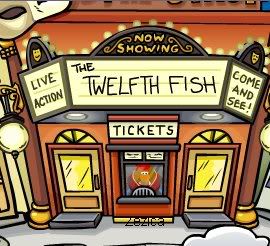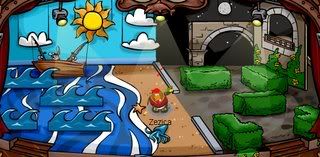 KAO I UVJEK,MOŽETE SI KUPITI PODLOGU KOJA SE NALAZI NA KRAJU KATALOGA SA KOSTIMIMA.




TO BI BILO TO,UŽIVAJTE U PREDIVNOJ PREDSTAVI,POZDRAV!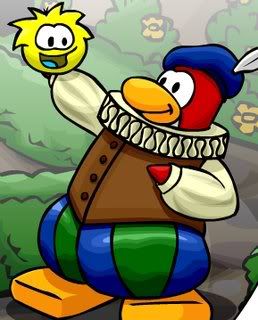 08.05.2008., četvrtak
NOVINE

STIGLE SU NOVE NOVINE.LINK JE SA STRANE PO OBIČAJU.EVO OSTALIH DOGAĐANJA:

9.Svibanj:
-Povratak predstave ˝Twelfth Fish˝
-Novi pin skriven

16.Svibanj:
-Novi party

23.Svibanj:
-Novi katalog namještaja
-Novi katalog namještaja za životinje
-Novi pin skriven

NOVI PARTY....

NOVI PARTY ĆE STIĆI 16.5.2008.!IMATI ĆE VEZE SA KRALJEVSTVOM.IMA JEDNA SKRIVENA PORUKA U KATALOGU,NA KRAJU.KLIKNETE NA PROZORĆIĆ U KOJEM SE OBJAŠNJAVA KAKO DOBITI NOVĆIĆE I POVUČETE DOLJE.VIDJETI ĆE TE PORUKU.KLIKNITE NA NJU I PROČITAJTE JE.JA SE NADAM DA ĆE PARTY BITI SUPER!SIGURNO ĆE BITI NEŠTO BESPLATNO.
UZ PUT,EVO VAM JEDNE IGRE:KLIKNI!

TO BI BILO SVE ZA SAD,POZDRAV!

06.05.2008., utorak
New feature update:Player Card

Hello Penguins!

A lot of you have mentioned that it's really hard to find the item you're looking for in your inventory and it can take a long time. It can get confusing too, especially for those of you with a lot of items!

I wanted to let you know that the player card inventory is being improved at this very moment! When the new features launch at the end of May, all of your clothing and accessories will be better organized and really easy to find. The team has been working really hard on a new design for the inventory--a lot of you have sested grouping items and making separate tabs for them and I think you'll be happy with how it turns out!

As always let us know what you think! I'll have more info next week on the next feature!

Until then...waddle on!

-The Club Penguin Team

(KOPIRANO SA CPIP BLOGA)

*M*A*G*I*C*