subota, 23.05.2009.
Ashley i Scott



evo videa Ash i njenog novog decka Scotta Speara...procitajte u casopisu BRAVO...uhvatili su ih kako se ljube!!!!!!!!!!!Evo videa kako idu iz Malibua...

HSM2



Ovo je jedna od Ashleyni pjesmi iz "HSM2" ona je najbolja!!!!!I Ashley i pjesma...zato poslusajte i kommmmajte pjesmu "Fabulous" i Ashley tj. Sharpay...kiss...
Ashley Tisdale "Kiss the girl"

petak, 22.05.2009.
malo o modi...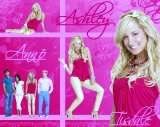 Ashley na setu HSM3 nosi one "zlatne" hlace sa cute crvenom majicom....sweet poza...kisssss for Ashleyyyyy



ova slika je dosla sa Ashleynog photoshoota i intervjua.Obratite paznju na haljinu...PRESLATKA je!!!!!!!!


Kommmmmajteee


...tako joj cool stoje naocale...!!!!!!!!!!!
utorak, 19.05.2009.


Ashley na "Kids choice awards 2009"tj. premjera za mlade talente
ponedjeljak, 18.05.2009.
Red by marc Ecko

Ashley Tisdale Ads > red by Marc Ecko > red by Marc Ecko - Behind the Scenes 2
Vanny i Ash

nedjelja, 17.05.2009.
javascript:;

Ashley Tisdale
Ashley u cvjetnom izdanju

Ashley Tisdale

Na premjeri HSM3 Ashley izgleda FENOMENALNO!!!!!!!!!!!
subota, 16.05.2009.
sweet



Ashley kao bebach.Ma ista ja kad sam bila malla sa isto kovrdzavom kosom!!KOmajte bebicah
I can t take my eyes of you

Tko ce osvojiti Ashleyino srce??



Ashley je sa svojim dugo godisnjim deckom Jaredom Murillom u igri su tri preslatka decka a da prvo vidimo ovu sliku!!To je slika na kojoj su Zac i Ash bili na interviju i stalno si dodirivali ruke...dok je Zac u vezi s Vanessom...izmedu Zaca i Ashley blista ljubav...sweet!!!Evo slike da se uvjerite
malooo animacija

Disnney channel



Ashley je jedna od najvecih zvijezda "Disnney channela."Proslavila se ulogom Maddie iz "Hotel Zac and Cody" s tom je ulogom glumila i u "Hannah Montana."Ali najvecu slavu joj je donio film "High school musical"Film je predobarrr!!!Ashley ima svoju reklamu na "Disney channelu" koja glasi:Hi! I am Ashley Tisdale and you are watching "Disnney channel."Ovo je slika s te reklame zato komajte mi punooo punooo...kiss...
Ash 4-ever

petak, 15.05.2009.
smori vas ja sa ANIMACIJAMA

uhh...animacije

...jos animacija...

Animacije

Ash



Ovo je slika sa spota "It s alright it s ok"
cute

<$Kalendar$>




Komentari On/Off


<$Banner$>



design by Bynna



COMING SOON ( new elites)










Real name:Ashley Michelle Tisdale Morris
Date of birth:02.07.1985.
Bussines: Singer and actresse


Ashley Tisdale is famous actress and singer.Her career
start with comersial.And when she came on audition
for Hotel Zac & Cody,she got the role,she was acting
Maddy Fitzpatrick.But real famous experienced in High
school musical with Sharpay Evans role.Sence than,
she started to play music.And with great voice she has.
She start to work on her first album-Headstrong.
The album was one of the best albums in 2007.
But her second album Guilty pleasure
is one of the best albums in 2009.
From that album she made 7 singls-
It`s alright it`s ok,I`m back,Masquerade,
What if,Overrated,Crank it up.




Hellcats





Sharpays Fabulous Adventures






















Linkovi
Dnevnik.hr
Video news portal Nove TV

Blog.hr
Blog servis

Forum.hr
Monitor.hr
petak, 15.05.2009.
<$NaslovPosta$>
<$TekstPosta$>
<$TekstKomentara$>
(<$AutorKomentara$> <$DatumKomentara$>
<$VrijemeKomentara$>)


Ashley dizic

http://rapidshare.com/files/232954339/Dizajn_Ashley.doc
srijeda, 13.05.2009.
SHIPE



Ashley krasi naslovnicu teen casopisa "Shipe"
...peace...

NAJNOVIJE slike



odsad stavljam najnovije slike Ashley tj. sa smedom kosom koja joj bas cool stoji...zato komajte...
Chad Danforth



Corbin Blue glumi Chada Danfortha najboljega prijatelja Troya Boltona(Zaca Efrona)On je potajno zaljubljen u Taylor(Monique)


Monique Coleman u ulozi Taylor McKessie koja je dobra,marljiva i potajno zaljubljena u Chada(Corbina)
Ryan Evans



Ryan Evans(Lucas Grabel)je razmazeni bogatas i brat Sharpay Evans(Ashley Tisdale)Oni su uvjek u centru paznje=)
Gabriella Montez



Gabriella(Vanessa)je siromasna,stidljiva cura.Koja se zaljubila u Troya(Zaca)Njena mama se seli od mjesta do mjesta tako da cemo vidjet u HSM4 dali ce Troyova i Gabriellina veza opstat.
Troy Bolton


Zac u ulozi slavnog kosarkasa srednje osnovne skole.Najbolji je igrac svog tima "WILDCATS"Posto mu se cura Gabriella(Vanessa)stalno seli trudi se ne zapustiti svoju vezu.
HSM2


disney channel se proslavio sa svojim mjuziklom "High school musical."Ashley glumi razmazenu bogatasicu Sarpay Evans ima brata Ryana Evansa(Lucasa Grabela)Zaljubljena je u Troya Boltona(Zaca Efrona)najpoznatijeg kosarkas "WILDCATS" tima.Gabriella Montez(Vanessa Hudgens)glumi siromasnu,stidljivu curu koja ide u isti skolu sa Sharpay(Ashley)Sharpay ju mrziiiiiiii i najveca joj neprijateljica ali na kraju svi se vole i svi se maze...kiss...
animacije

Zac i Ashley...love...

utorak, 12.05.2009.
jos $llykyc@

komajte tu slatku i zanimljivu Sharpay Evans
HSM


Ashley u HSM-u ima ulogu Sharpay Evans gledala sam sva tri djela filma i zakon su a pogotovo ASHLEY!!!Evo slikica komajteee
FOTKEEE

...jos fotki...

Hotel Zac and Cody

Ashley je glumila u popularnoj americkoj seriji Hotel Zac and Cody...imala je uloge Millie.Ovo je fotka iz serije kako Zac ljubi Ashley!!!KOMAJTEEEE
Miley i Ash

Miley i Ashley na teen premjeri
subota, 09.05.2009.
Ashley 4-ever

noviiii album



Ash je dala par dobrih fotki za najnoviji album it`s alright it`s ok.To je njen 5 album!!!!Evo jedna od fotki....KOMAJTE...
petak, 08.05.2009.
Jashley



Jared i Ashley...sweet...nakon prekida sa Zacom ashley je nasla novu ljubav Jareda Murilla.Cak je sebi na ruci oslikala njegovo ime(olovkom)I oni su dobili nadimak

Jashley

It`s alright it`s ok

Ashley i Jennifer Tisdale



Ashley sa svojom sekom Jennifer.Ashley nosi preslatku,leprsavu,bijelu haljinicu sa srebrnim detaljima.Njena seka nosi lijepu,crvenu haljinicu sa zlatnik detaljom.Prelijepe su...zar ne???Zato komajte
Ash i Nessa

Zac Efon i Ashley Tisdale bili su zajedno mnogooo prije Zaca i Vanesse.I mnogo su bolji par od njih dvoje!!!Ashley je sada sa Jaredom Murillom.Zac i Vanessa su se trebali vjencati na Havajima ali Zac je otkazao vjencanje zbog golisavih slika Vanesse....mozda se vrate stare ljubavi jedne drugoj...tj. Zac i Ashley.Zac i Ashley su dobili nadimak dok su bili u vezi




Zashley
!!Zashley!!

Ashley 2009=)

Ashley 2008

Ashley 2007

Ashley 2006

Ashley 2005

Ashley 2004

Ashley 2003